The Chick Fil-A Secret Menu Breakfast Biscuit You Need To Know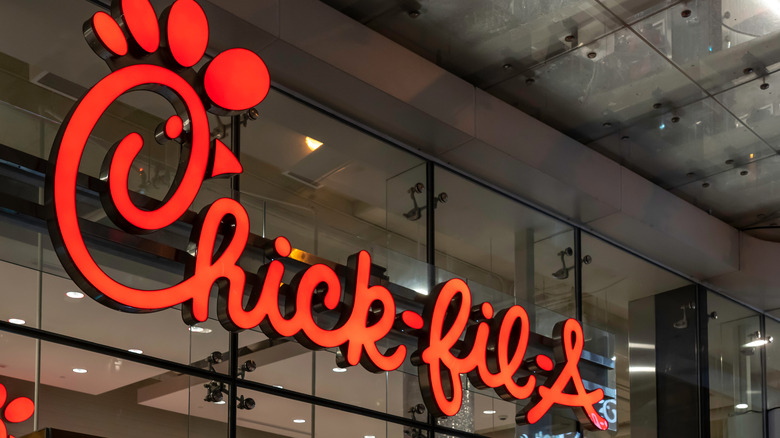 JHVEPhoto/Shutterstock
Chick fil-A's breakfast menu is seriously underrated. While the chicken fast food chain is known for its mouthwatering chicken nuggets, waffle fries, and thirst quenching lemonade, its breakfast menu is equally as delicious. For those who are unfamiliar, Chick-fil-A offers their signature Chicken Biscuit and Chick-n-Minis in the mornings along with other breakfast staples like the Bacon, Egg & Cheese Biscuit; Sausage, Egg & Cheese Muffin; Greek Yogurt Parfait; and more (via Chick-fil-A). You can also order items à la carte like a buttered biscuit, English muffin, and hash browns from when the restaurant opens to about 10:30 a.m., depending on location.
Like many fast food chains, Chick-fil-A has adopted a secret menu over the years. Patrons have voiced support for their favorite off-the-menu items, which include the Buffalo Chicken Sandwich, Extra Crispy Waffle Fries, Mac and Cheese Sandwich, and Strawberry Peach Milkshake. Within the last few years, Reddit users have joined the conversation, nominating the Chicken, Egg & Cheese Biscuit as the number one breakfast item on Chick-fil-A's secret menu.
Reddit calls it "breakfast sandwich heaven"
Because Chick-fil-A's breakfast isn't uber-popular, there aren't as many secret menu items as there are for its lunch and entrées. Reddit is changing that. In a thread about favorite fast food secret menu items, one Reddit user shared their go-to Chick-fil-A breakfast order: the Chicken, Egg & Cheese Biscuit. The comment didn't include how you can order it at the store, but if we had to guess, we'd recommend asking for the Chick-fil-A Chicken Biscuit with egg and cheese.
Another interesting note is that the Reddit user didn't mention how much this secret menu item costs, but did say it already exists as an option to ring up at the cashier counter. Additionally, they note Chick-fil-A has pre-printed wrappers for this item, which begs the question: how secret is it really? Secret or no secret, you should know that Reddit describes this creation as "breakfast sandwich heaven." 
So, the next time you're craving chicken or a warm buttery biscuit for breakfast, do your taste buds a favor and swing through a Chick-fil-A drive thru to give this secret menu item a whirl.