Why American Airlines Won't Serve Some Passengers Alcohol Until 2022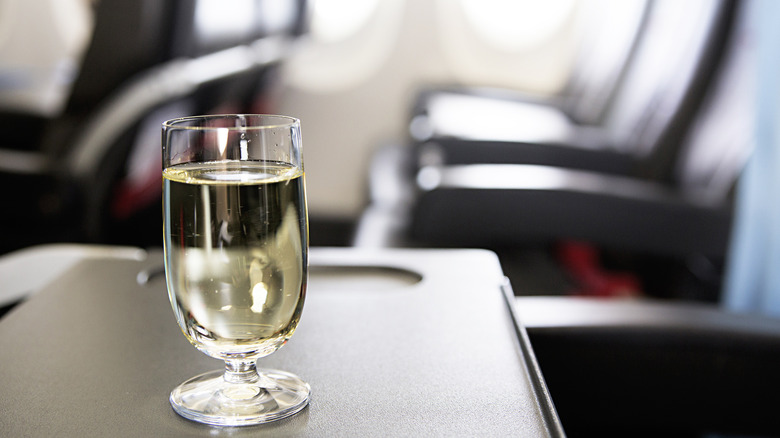 Yuliya Yesina/Shutterstock
American Airlines is extending its ban on in-flight cocktails yet again, this time to coincide with the most recent update to the federal transportation mask mandate which has been extended to January 18. According to Travel & Leisure, American Airlines suspended alcoholic beverage service for Main Cabin, or economy, passengers in March 2020. Initially, the airline explained the policy as a means to limit person-to-person contact and to ensure passengers kept their facemasks in place during the flight (via USA Today). This most recent policy update follows a previous delay in May, when the carrier extended the suspension through September 13. At that time, the company cited crew and passenger safety as key components of its decision. 
As reported by The Points Guy, an internal memo distributed to flight attendants at the time of the May extension alluded to an industry-wide uptick in the number of in-flight altercations involving passengers and crew as a contributing factor in the decision. "Over the past week we've seen some of these stressors create deeply disturbing situations on board aircraft. Let me be clear: American Airlines will not tolerate assault or mistreatment of our crews," wrote Brady Byrnes, vice president of flight service, American Airlines. "While we appreciate that customers and crewmembers are eager to return to 'normal,' we will move cautiously and deliberately when restoring pre-COVID practices."
Air rage incidents increased significantly this year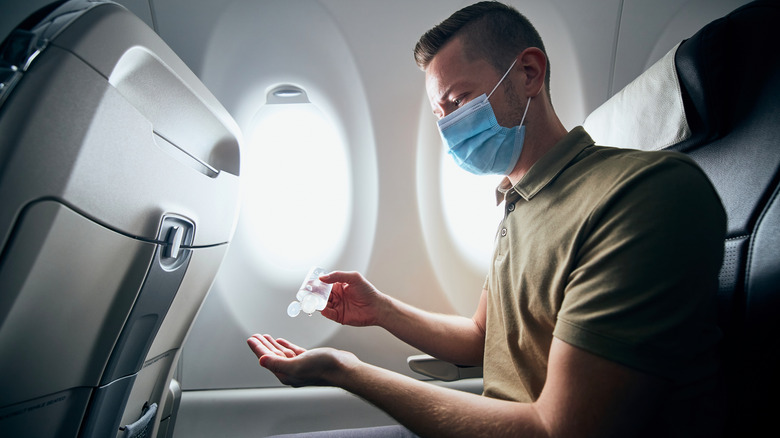 Jaromir Chalabala/Shutterstock
Shortly before American Airlines announced the extension of its alcohol ban last May, a flight attendant for Southwest Airlines lost two teeth when an irate passenger, angry about being reminded to follow in-flight instructions, physically assaulted her, according to USA Today. So far this year, the FAA has cases for 3,889 incidents involving unruly passengers. Of those, 2,867 involve passengers unwilling to abide by the in-flight mask mandate (via The Seattle Times). 
This week, the FAA proposed $532,000 in fines against 34 airline passengers accused of disruptive behavior ranging from sprawling in the aisle and grabbing a flight attendant's ankles to mask non-compliance and non-consensual physical contact with another passenger. The most recently proposed fines brings the tally of FAA fines so far this year to more than $1 million. According to NBC News, the FAA typically receives fewer than 150 formal complaints about passengers per year.
Is it the alcohol or something else?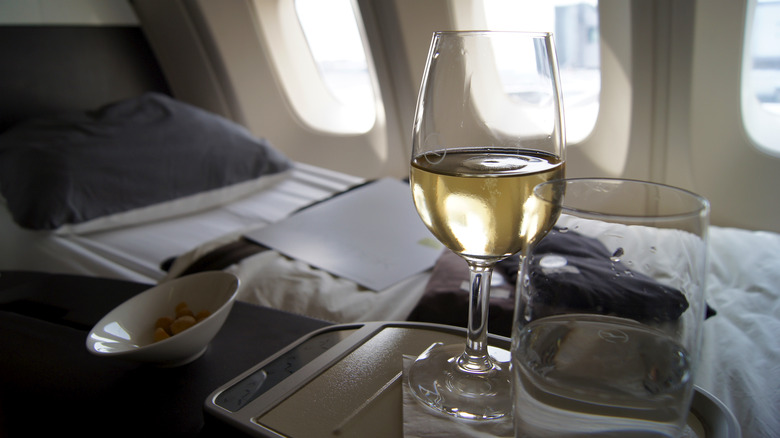 Christian Heinz/Shutterstock
Some industry observers connect the uptick of in-flight altercations to on-board service of alcoholic beverages, but it's not clear exactly how many of the almost 4,000 complaints against unruly passengers this year were fueled by alcohol consumption. And some airline insiders question the efficacy of a carrier's decision to deny alcoholic beverages to passengers in the main cabin or economy while continuing service in premium-class cabins. Under the extended policy, American Airlines continues to serve alcoholic drinks in first class and offers non-alcoholic drinks and in-flight snacks upon request in the Main Cabin for flights under 250 miles (via Travel & Leisure).
According to a report in Forbes, that kind of two-tier policy feeds into concerns about social inequality. Forbes cites a Bloomberg article suggesting air rage is more about passengers feeling marginalized than alcohol and shrinking legroom. In an interesting twist, Bloomberg mentions a 2016 study that found in-flight altercations were almost four times more likely to occur on aircraft with separate classes of service. As far as the current complaints are concerned, The Seattle Times reports eight of the 34 proposed fines announced this week by the FAA involve complaints about passengers accused of drinking alcohol that was not provided by airlines.