Wendy's Is Giving Out Free 6-Piece Chicken Nuggets. Here's How To Get Them
Yesterday, two chances to get yourself free chicken nuggets from Wendy's emerged.
The first, which was pointed out by Lifehacker, says that until August 31, any purchase made with the Wendy's app will also snag you one free six-piece order of chicken nuggets. This offer can be used weekly, allowing you to get at least two free servings of nuggets. Chewboom reveals a similar deal. Until September 19, any app order will get you six free chicken nuggets. According to Chewboom's reporting, you have nearly a month to get free chicken nuggets, which is far more generous than timeline described by Lifehacker.
In all likelihood, one has made a mistake. Cynicism suggests that it is Chewboom as their freebie sounds too good to be true. In both cases, however, it should be noted that you must sign up with and order through the specific Wendy's app. This means that you cannot use a third party delivery app like GrubHub.
It's all about the Hot Nugg Summer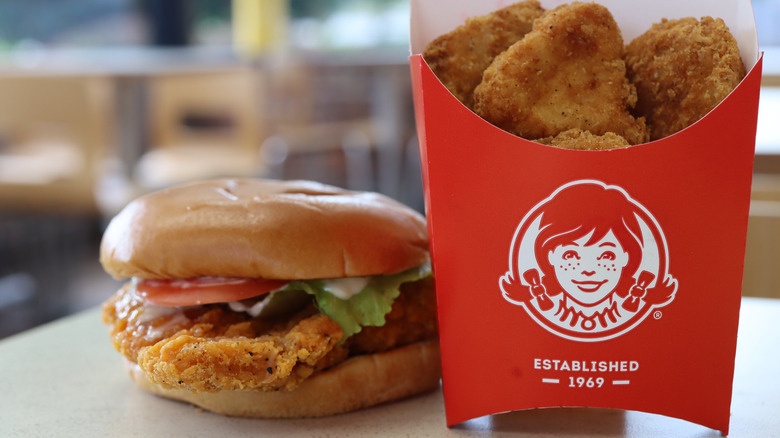 Deutschlandreform/Shutterstock
The second reason to give Lifehacker more credence is that they relay the information that Wendy's has called their promotion "Hot Nugg Summer." The same phrase can be found on Wendy's website.
This summer promotion seems to be specifically centered around the chain's Spicy Crispy Nuggets and their Ghost Pepper Ranch. These, Wendy's says, come free with any purchase, though you can also get the non-spicy nuggets if that's what you prefer. Presumably the chain wants to drum up interest in its relatively new dipping sauce.
On Friday, Brand Eating took the restaurant up on its offer and tried the ranch. Reportedly, it tastes like ranch but with a spicy kick — we hope so, considering ghost peppers are over 100 times hotter than jalapeños. However, the heat level is about that of the spicy nuggets, and it pairs well with both spicy and regular nuggets as well as fries. If such a sauce inspires interest, you should download the app quickly and make your order. After all, we know the deal will extend at least to the end of the month, and if we're lucky, even longer.