What Fans Need To Know About Doritos' Latest Fiery Flavor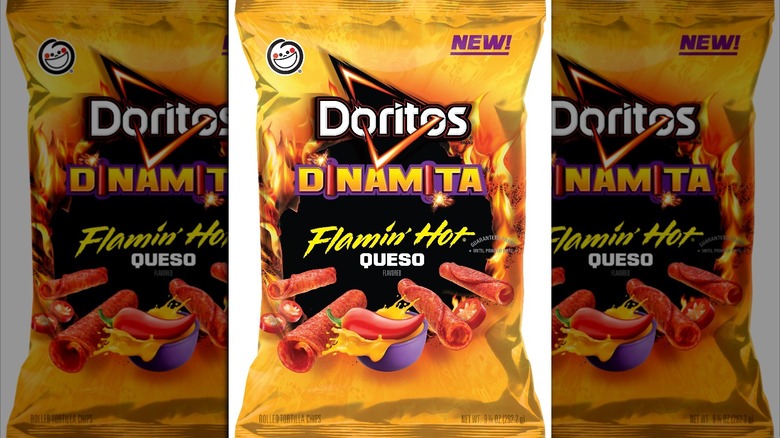 Doritos
Over the years, Doritos have never had a shortage of flavors. With its original Nacho Cheese, the brand managed to strike the prefect balance of corn chip to powdered flavor (via Doritos). From that point forward, the snack company pushed the boundaries to include mind-blowing products that featured flavors like Cool Ranch, Flamin' Hot Limon, Sweet Spicy Chili, Salsa Verde, and more.
Doritos didn't stop there, and have released products with inventive tastes like Baja Picante, Zesty Taco Chipotle Ranch, and After Dark Southern Fried Chicken (via Taquitos). Thrillist even ranked every single flavor of the chips, and while the brand has tons of snacks to choose from, the iconic Nacho Cheese took the win. So when Doritos announces a new product, you know it's going to get fans fired up — and the brand's latest snack has to potential to give a whole new meaning to that phrase.
Doritos turns up the heat
Doritos plans to release a flavor that will send summer off with a taste bud explosion. The heat outside may start to dissipate, but the heat in your mouth won't go away quite as quickly thanks to Doritos new Dinamita Flamin' Hot Queso flavored tortilla chips. According to a press release sent to Mashed, the latest product combines Doritos' Dinamita shape with the Flamin' Hot bite to give any chip lover "a bold tasting experience of queso with the Flamin' Hot kick consumers can't get enough of."
Bags of the new Dinamita Flamin' Hot Queso chips hit shelves on August 23 throughout the U.S. on the heels of the brand's other recent creations — Tangy Ranch Doritos and the relaunch of Doritos Tangy Pickle. Doritos Dinamita Flamin' Hot Queso Flavored Tortilla Chips retail for $2.99 per 9 ¼ ounce bag, while a four-ounce bag goes for $1.99. If you call yourself a Doritos fan and love a good snack that brings the heat, these chips have your name all over them. Thanks to Doritos' track record when it comes to creating amazing flavors, you know these chips are sure to be fire!