Fast Food Menu Items We Wish Would Make A Comeback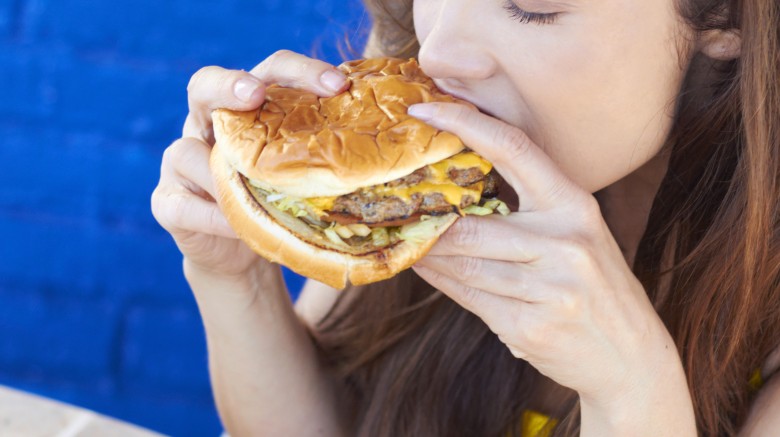 Shutterstock
The comforting thing about a fast food restaurant is that you know what to expect. You aren't headed to KFC for a burger; you want chicken. You're not going to Subway for a taco; you want a cold cut combo. So when your favorite menu items go away, whether from lack of love or because they were seasonal, you're stumped. At a loss. You end up standing at the counter frantically looking for the McDLT, the McLean, or the infamous Arch Deluxe. You whisper to the cashier at Wendy's, "What do you mean 'no Frescata sandwiches'?"
Eventually you have to make a decision: pick a new item or walk out in defeat. Dim the lights and cue the funeral music because these items deserve to be remembered.
Wendy's fresh stuffed pitas
The discontinued chicken Caesar pita sandwich at Wendy's may be the hardest one for me to write about. I loved these things! Introduced in 1997, they were available for about three years, and then one day I walked into a Wendy's and poof they were gone. The pita bread was warm and fluffy and soaked up just enough of the zesty, peppery dressing. Garden ranch chicken, classic Greek, and garden veggie were the other options available, although I personally only stuck to the Caesar. For now, you can either hack the recipe or substitute the taste with a chicken Caesar wrap, but it's not the same and your heart will know the difference.
Sonic Fritos chili cheese wrap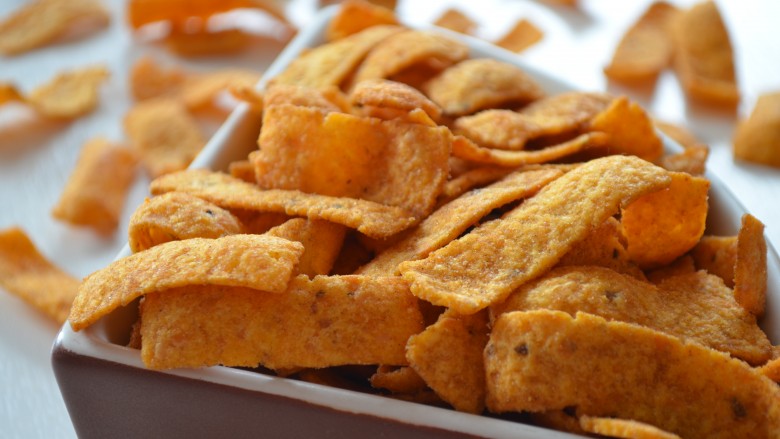 Shutterstock
I've literally been to a Sonic once. The Fritos chili cheese wrap was the only thing I had. Well that and cherry limeade. Unfortunately, I'll never get the chance to order another one. Sure you can still make them at home or get a walking taco, but something about the drive-in experience made it even more delicious.
Oversized pizza
There's never been too much pizza, right? Well, thanks to the good old-fashioned pizza war of 1993, consumers had their choice of huge pizzas. Pizza Hut had the Bigfoot to answer Little Caesar's Big! Big! Pizza. They were both about to get terminated by The Dominator from Domino's. As the pizzas got larger, the prices got smaller, in hopes of attracting more business. Unlike Arnold, the Dominator wouldn't be back. Alas, none of them would. I can't help but wonder: if foot-long hoagies can be a thing, why not a 3-foot pizza?
Burger King sliders
Burger King tried to introduce sliders three times: Burger Bundles (1987), Burger Buddies (1990), and Burger Shots (2009). I'm stumped as to why these never took off considering there are companies whose business models are based entirely on the notion of sliders. But, as the review on The Impulsive Buy states, they "didn't taste as flame-broiled as [the] Whopper." Isn't that the reason you go to BK in the first place?
​Domino's pasta bread bowls
It turns out that Domino's had something else cooking in that conveyor belt pizza oven. The year was 2009 and Domino's decided to laugh in the face of low-carb dieters. Enter the pasta bread bowl, also known as carbs on carbs on carbs. The bowl was crafted from pizza dough and filled with a choice of pasta primavera and chicken Alfredo, among others. For some reason, the other pizza chains didn't want to start a pasta bread bowl war. While you can still order pasta from Domino's, the bread bowls seem to have disappeared.
McDonald's salad shaker
The new millennium brought with it one of McDonald's most inventive items, but alas it was gone by 2003. The salad shaker was a surprising casualty in a robust group of wayward items from McDonald's. It was handheld and cup holder-sized for true salad eating on the go. It seems the only flaw was an uneven dressing distribution toward the bottom of the container. If you're still not over this, there's a Facebook group where you can talk about the bygone shaker, or you can check Pinterest for literally thousands of Mason jar salad ideas.
Burger King International chicken sandwiches
You can still find the classic chicken sandwich at Burger King, with its signature oblong roll. But ooh la la for a limited time in 1991, your taste buds could take a trip. The French chicken sandwich was paired with ham, Swiss cheese, and mayo reminiscent of chicken cordon bleu. The Italian was topped with mozzarella and marinara sauce. They aren't around anymore, but thankfully you don't even need that much ingenuity to recreate them at home. Mangia.
Wendy's spicy chicken nuggets
I take no pleasure in breaking this news to you, but did you know that Wendy's has also phased out its spicy chicken nuggets? This seems to be a very recent dismissal and I can't figure out what they are thinking! I'm still not over the pita and it's been 20 years. You can still order the spicy chicken sandwich (insert small sigh of relief), but those delectable little morsels were a perfect companion to a Frosty, so now what? The spicy nuggets may still be available in some stores, but don't say I didn't try to warn you.
Jack in the Box Frings
According to the Jack in The Box website, Frings, a combination side of french fries and onion rings, were introduced in 1979. The product didn't last very long, though, because most customers just wanted one or the other. Really? Who would turn down this combo? It's like finding the rogue onion ring in the french fries at Burger King and knowing your day's going to be okay.
​Burger King Shake 'em up fries
Burger King has been shaking up its fry game since the 1990s. But nothing shook up the menu as much as the "Shake 'em up" fries that debuted in 2002. Marketed primarily at kids, the fries were served with a packet of cheese powder that you could pour in the bag, then shake to coat all the fries. Do you miss having orange fingers? There's a Facebook group to help you commiserate.
​Sonic Pickle-o's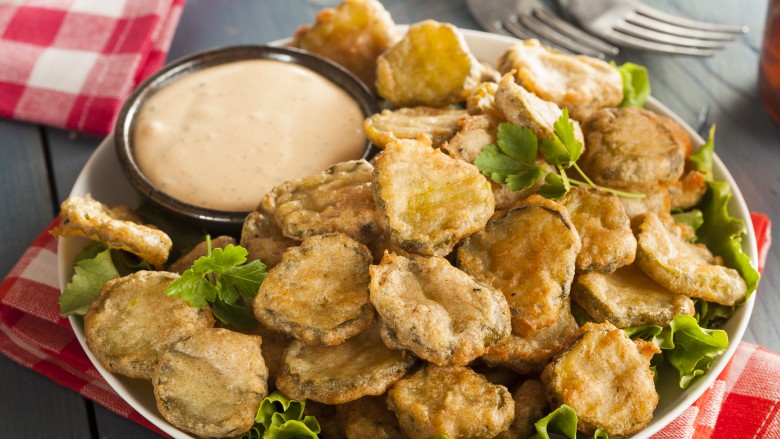 Shutterstock
If there was the option of getting a side of fried pickles instead of french fries, I'd always choose pickles (with a side of ranch for dipping). Pickle-o's were a staple of the Sonic menu and brought back for a limited time in 2003 for the chain's 50th anniversary. Rumor has it that you can get still get an order of fried pickles if you ask nicely. I've never been one to inquire about secret menu items, but if you have the gumption, go for it.
Dairy Queen Breeze
The DQ Breeze sounds just like a treat fit for the low-fat, frozen yogurt-loving 1990s, right? That's how soft-serve giant Dairy Queen tried to draw in more business. The Breeze consisted of soft-serve yogurt blended with your favorite mix-ins. Sounds a little familiar, right? Dairy Queen didn't just get rid of the Breeze; it discontinued frozen yogurt across the board. Thankfully, since the Blizzard is firmly rooted in company branding, I think it's safe to say consumers have been able to let go of the forgotten Breeze. #CookieDoughBlizzard4ever.