Starbucks Has Bad News For Fans Of Its Princi Bakeries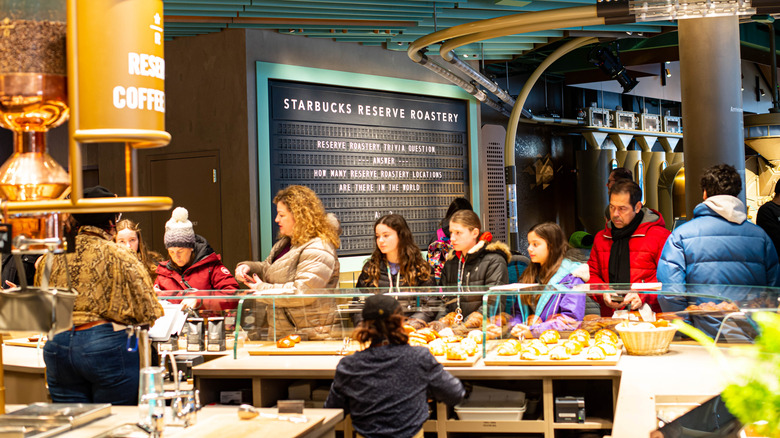 SB Freelancer/Shutterstock
If you've ever been to one of Starbucks' three Princi bakeries in New York, Seattle, or Chicago, you know that eating there is an experience like no other. Princi is more than just baked goods and coffee. Sure they taste delicious, but according to Christian Davies, Vice President of Creative Global Design and Innovation at Starbucks, "When you first walk into a Princi bakery, you're suddenly hit by the energy, the theater, the smell" (via Starbucks).
Starbucks first announced its Princi bakeries partnership in 2016, and opened the original location in Seattle a year later (via Reuters). The endeavor came to fruition as a result of a global licensing deal and partnership with the original Princi, a Milan-based artisanal bakery, per the article. Long-term plans included opening Starbucks-operated Princi bakeries around the world, and for Princi to provide food for select Starbucks locations.
As of 2021, however, this plan has hit a roadblock. Though Starbucks successfully opened three Princi bakeries in the U.S., all of them will close their doors for good by September, Eater reports, so if you were planning to make a pilgrimage to one in the near future, do so quick! The final date of operation is reportedly September 3.
Princi baked goods will now only be served at select Starbucks
A Starbucks spokesperson explained to Eater that pulling the plug on Starbucks' standalone Princi bakeries was "due to a shift in corporate strategy," but it's clear that the COVID-19 pandemic had a direct impact on business and operation. Starbucks closed their Princi location in New York's Times Square in March 2020, and it never reopened.
The good news is that the closure of America's only Princi locations doesn't mean customers won't ever again be able to have the bakery's signature Roman-style pizza or freshly baked pastries. In Starbucks' bigger roasteries, more specifically the ones equipped with commercial kitchens that have the capacity to produce baked goods, Princi products will still be served. 
Eater clarifies that Chicago, Seattle, and New York are among these cities, along with Shanghai, Milan, and Tokyo. Unfortunately, most Starbucks locations simply don't have the means to add Princi products to the menu, as the kitchen space can only accommodate re-heatable or grab-and-go food items. If you want the full Princi bakery experience through, unfortunately, you'll no longer find that in the U.S. once these three standalone shops close their doors.