Hell's Kitchen Fans Can't Agree On The Most 'Toxic' Contestant Ever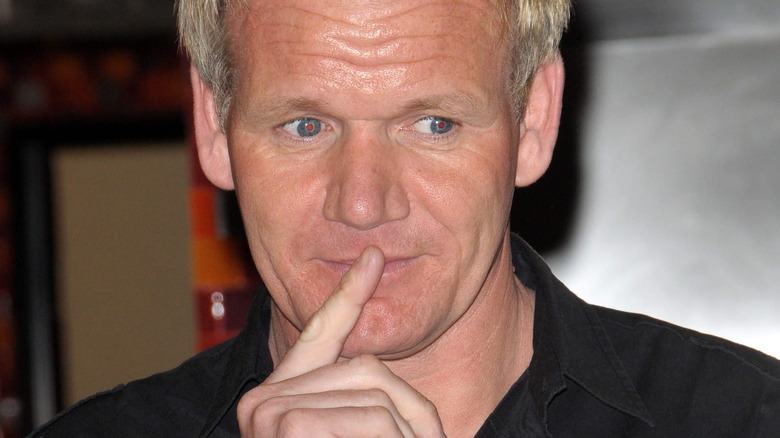 s_bukley/Shutterstock
"Hell's Kitchen" is arguably one of the top reality shows of today. Having been on air since 2005, per IMDB, which is a feat in and of itself, the cooking competition series offers an inside look at the way in which participants attempt to prove their cooking skills under the guidance, and pressure, of celebrity chef Gordon Ramsay while trying their best to meet his always-high expectations.
According to The Things, when you sign up to be a part of the show, you need to brace yourself for a plethora of difficult challenges. You'll be dealing with tasks that you probably haven't thought of ever before. For example, in one episode, contestants traveled to BLT Steakhouse for what they thought would be a meal. However, upon arrival, they learned they would be cooking in formal wear.
Considering "Hell's Kitchen" has become quite the sensation, viewers of the long-running show have all kinds of opinions on the show. And, in one particular thread on Reddit, fans' feelings towards the toxic behavior of certain cast members were examined.
Hell's Kitchen fans have a lot to say
As Reddit users discussed "Hell's Kitchen" and some of its most difficult contestants, they came up with several names regarding who exhibited the most toxicity thus far. Along the way, they pinpointed outrageous incidents from memorable episodes, one of which featured Season 15 contestant Jackie Fuchs. "She dumped an ashtray on another contestant to try and provoke a fight. Nobody else in the history of Hell's Kitchen has ever done anything close to as toxic as that," one person recalled. 
Another spotlighted the behavior of Season 10 cast member Tiffany Johnson, saying, "Never has one contestant ever been less tolerable for me than Tiffany." According to Reality TV Revisited, Johnson was eventually eliminated from the show for her bad leadership choices and lack of passion. Another Reddit user said she was one of the worst contestants in the show's history and shaded her toxic attitude and mediocre cooking.
As Reddit users continued to weigh in on the topic, someone mentioned Anton Testino of Season 12, slamming him as "arrogant and toxic," while another person said it was a tie between Russell Kook of Season 8 and Matt Hearn of Season 16.