The IHOP Pumpkin Pancake Beer You Probably Never Knew About
Fall is fast approaching, and that can mean only one thing: a deluge of pumpkin-flavored items are being added to seasonal menus everywhere. Whether it's pumpkin pies, pumpkin lattes, pumpkin beers, or just about every other dessert and beverage you can imagine, this flavor is undeniably a fall favorite. But while pumpkin beer isn't exactly a new thing, the popular breakfast chain IHOP took the pumpkin trend a step further back in 2018, releasing a seasonal pumpkin beer that was brewed with actual pancake mix.
IHOP partnered with the New York-based brewery Keegan Ales in September of 2018 to bring the experience of its classic pumpkin pancakes to the next level with the release of the IHOPS Pumpkin Pancake Stout. The unique craft beer featured a smooth blend of classic autumn flavors, including notes of pumpkin, vanilla, and other seasonal spices, but with a breakfast-themed twist. HOP's World Famous Buttermilk pancake mix was also added to the beer to create what IHOP called a "rich, smooth stout" that was unlike any other seasonal beverage on the market, according to Food & Wine.
The IHOPS Pumpkin Pancake Stout made its debut at seasonal festivals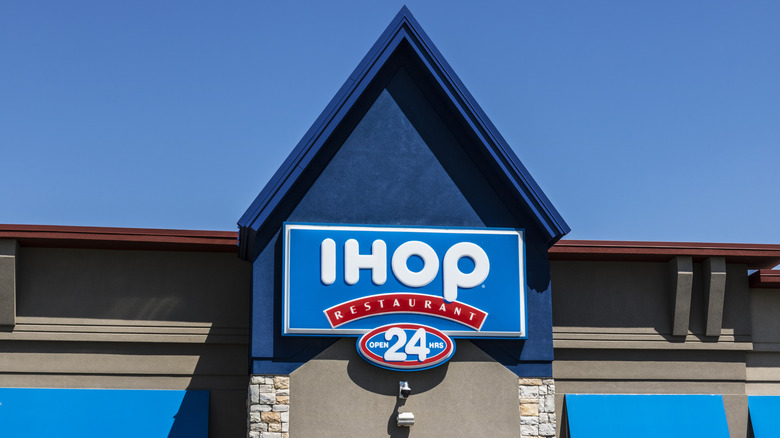 Jonathan Weiss/Shutterstock
Unfortunately for regular customers, the beer was never sold at standard IHOP locations but did make the rounds at several festivals and bars across America's Northeast region, including the Brew U Festival in Hyde Park, New York, and the Widow Jane Distillery Anniversary Party in Red Hook, New York, according to Food & Wine. Keegan Ales founder  Tommy Keegan was enthusiastic about the brew, saying, "We're excited to partner with IHOP on this first-of-its-kind brew and bring fans a unique craft beer that blends the deep, roasted flavors of our stout with hints of pumpkin, vanilla, and IHOP's iconic pancake batter." 
Keegan also saw the big picture – beer for breakfast, apparently – and knew the pancake pumpkin beer had a great venue for its debut: "Being able to showcase it at the Bacon and Beer Classic was the perfect launch pad – nothing elevates breakfast or bacon better than pancakes. Now fans can get the taste of IHOP's famous fall pancakes in a beer" (via PR Newswire). And while IHOP may not have an innovative new beer on the menu this season, customers can hope it will soon be bringing back some of its more traditional fall favorites, like its decadent Cinn-A-Stack or classic Pumpkin Spice Pancakes.