Healthy Drinkable Yogurt Recipe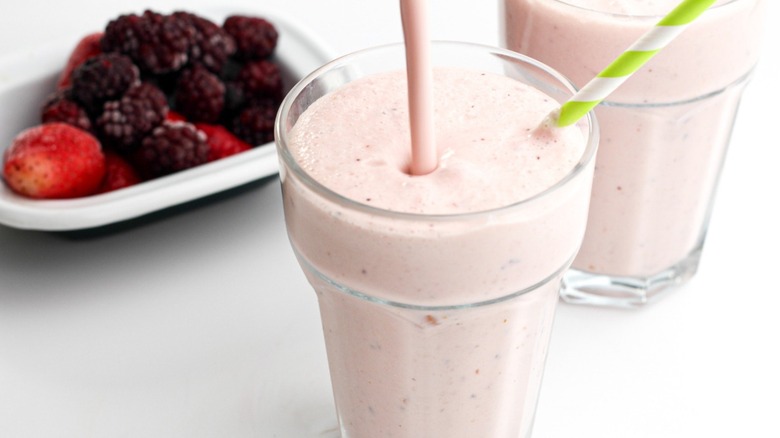 Susan Olayinka/Mashed
Yogurt has been around for thousands of years, perhaps ever since Neolithic peoples discovered that you didn't necessarily have to throw out the milk once it got all thick and chunky (via BC Dairy). But what about yogurt now? There are so many different varieties to choose from when you wander through the dairy aisle. However, most of those yogurt brands are going to offer yogurt that's more of a food than a drink.
While the term "drinkable yogurt" might bring to mind the thin type of yogurt you buy in single-serve containers, this yogurt drink from recipe developer Susan Olayinka of The Flexible Fridge is something most of us would call a smoothie. Olayinka explains that, "We call them yogurt drinks here in the UK," and goes on to say, "We have smoothies too, which don't tend to have yogurt in [them]." Whatever terminology you use to describe this drink, it's as quick and easy as it is healthy.
You won't need too many ingredients to make this yogurt smoothie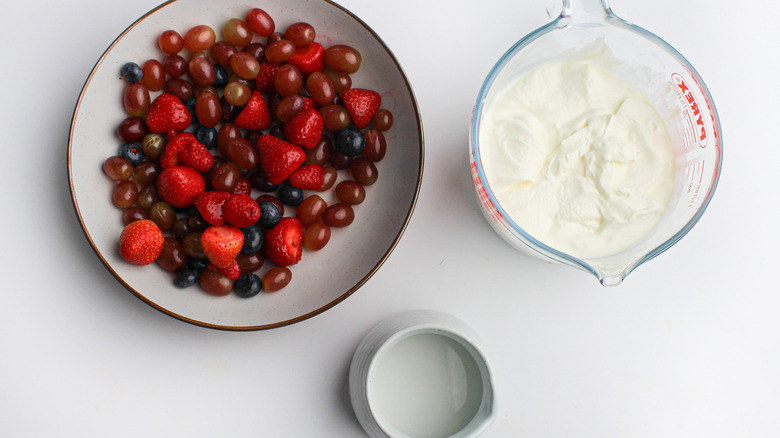 Susan Olayinka/Mashed
Your shopping list for this smoothie is short and sweet: Greek yogurt, coconut milk, and mixed berries. Of course, each ingredient in this list can be swapped out if you so choose. In place of the Greek yogurt, you could use just about any other type of yogurt. Sure, Greek yogurt has its health benefits, but so do other yogurts. One suggestion Olayinka has is to use coconut milk yogurt for a vegan version. Bear in mind, though, that if you use a thinner variety, your smoothie will be a bit thinner than one made with Greek yogurt. You could always balance this out by tossing a handful of crushed ice into the blender or perhaps by straining the yogurt before using it.
As for the milk, use whatever type you like. Coconut milk adds its own special flavor, but there's no reason you couldn't use almond, soy, or dairy milk instead. For the fruit, feel free to improvise with any or all of your favorites, be they fresh or frozen. Olayinka's berry combo included strawberries, blueberries, and blackberries, but she included some red grapes in her mix as well. She also says, "You can make this more tropical and add pineapple and mango," while bananas, peaches, and cherries are some other popular smoothie additions. Relatively soft, yet not too acidic fruits will work best in a smoothie, as they'll blend nicely without making the milk curdle.
Making the smoothie itself won't take more than a few seconds of your time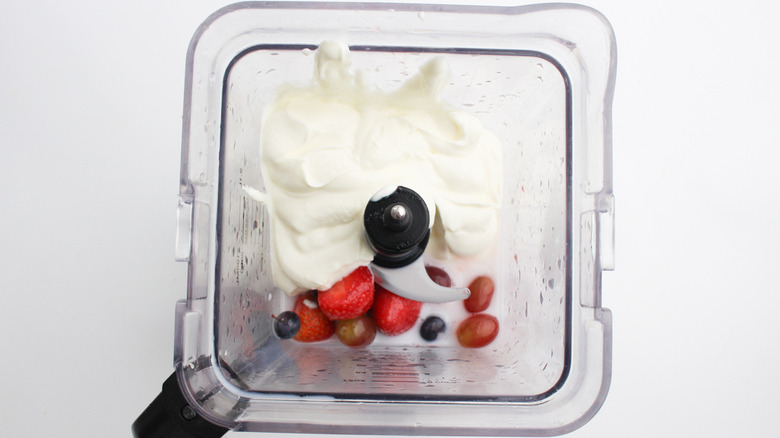 Susan Olayinka/Mashed
In addition to the necessary ingredients, there's one piece of equipment you're going to need to make this smoothie: a blender. You might be able to fake it with a food processor, but a hand mixer just won't do unless you want to splatter your walls and ceiling to turn them into an edible Jackson Pollack painting.
You may, if you use fresh fruits, also need to prep them before you toss them into the blender: De-stem the strawberries, peel the banana, slice up the peaches, etc. If you're going with frozen fruits, though, this step probably won't be necessary. Once your fruit is ready, toss it into the blender along with the yogurt and the milk. Press the button, count to 10, and voilà! You now have a drinkable yogurt fruit smoothie.
This smoothie makes for a healthy pick-me-up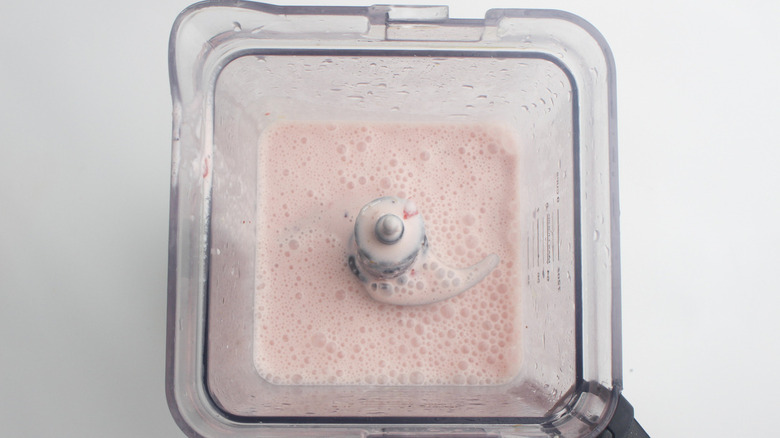 Susan Olayinka/Mashed
Olayinka says that this beverage is best when served immediately (she likes drinking hers through a straw), but she also says "if [the container] can be completely sealed off and stay cold, one could definitely take [it] in a thermos" to pack in your lunch or your kids' school lunches. You could also pour the smoothie into a travel mug and take it with you to drink in the car. Not only does this beverage make for a delicious thirst-quencher, but as Olayinka describes the drink, it's "high-protein, high-calcium, and quite filling."
You can always repurpose any smoothie leftovers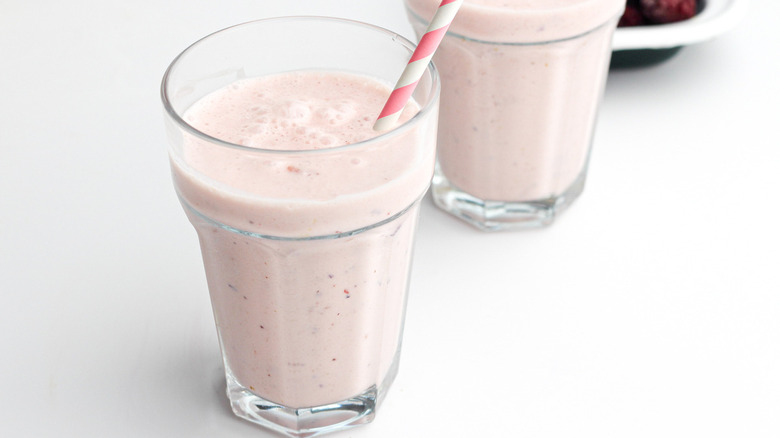 Susan Olayinka/Mashed
This drinkable yogurt recipe makes four and a half cups of liquid in all, which comes out to two 20-ounce servings. If even one 20-ounce glass is a bit much for you to drink in a single sitting, don't worry! Even if you don't want to do the math necessary to cut down the recipe, there are a number of ways to use up any smoothie leftovers.
You could use this smoothie in place of milk to make pancakes or waffles, blend it with uncooked oats to make overnight oatmeal, or pour it over next morning's bowl of cereal. You can also freeze it, perhaps in molds to make smoothie sorbet or popsicles, or else in ice cube trays so you can quickly thaw out and re-blend a few cubes next time you feel like drinking a smoothie.
Healthy Drinkable Yogurt Recipe
This yogurt drink from recipe developer Susan Olayinka of The Flexible Fridge is something most of us would call a smoothie.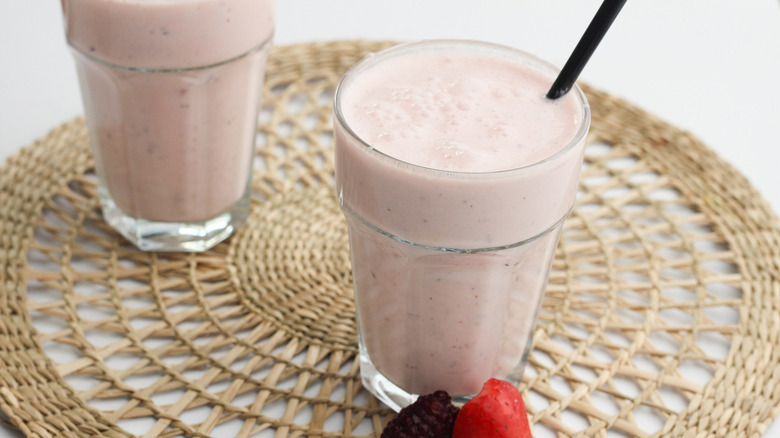 Ingredients
2 cups Greek yogurt
1 cup coconut milk
3 cups mixed berries
Directions
Combine Greek yogurt, coconut milk, and berries in blender.
Blend on high for 10 seconds.
Pour into serving glasses.
Nutrition
| | |
| --- | --- |
| Calories per Serving | 600 |
| Total Fat | 40.1 g |
| Saturated Fat | 30.9 g |
| Trans Fat | 0.0 g |
| Cholesterol | 38.3 mg |
| | |
| --- | --- |
| Total Carbohydrates | 44.8 g |
| Dietary Fiber | 5.3 g |
| Total Sugars | 31.6 g |
| Sodium | 151.3 mg |
| Protein | 24.9 g |