Friendly's Is Teaming Up With This Unexpected Chain To Open Co-Branded Stores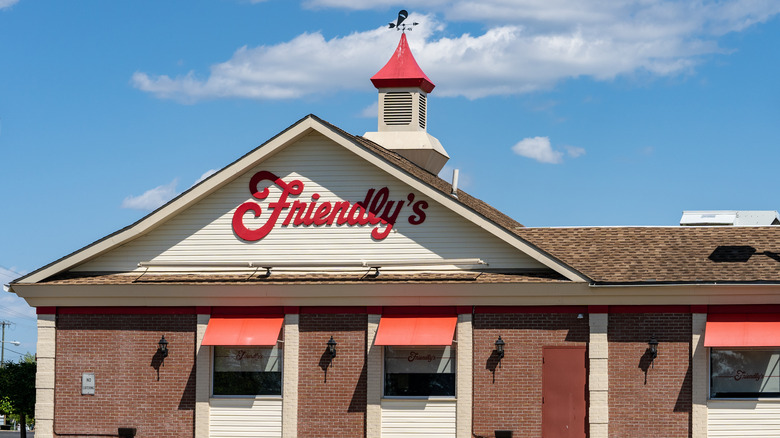 Rosemarie Mosteller/Shutterstock
If you are fortunate enough to have collected some fond memories from dining at the fast-food chain Friendly's, chances are those memories were made on the East Coast and involve some incredible ice cream dish like a Reese's Pieces Sundae or a Fantastic Float made with Barq's Root Beer and your favorite scoop (via Friendly's website). If you don't have any of those sweet recollections, we're not sure what you're waiting for, but if it has anything to do with a healthy lifestyle, you might be in luck.
According to QSR Magazine, Smoothie Factory, home of "America's Healthiest Smoothies" has opened two locations inside of Friendly's Restaurants, one in Vernon, CT, and the other in North Haven, CT. The move comes after Brix Holdings, operator of Smoothie Factory (as well as Red Mango and RedBrick Pizza), bought Friendly's out of Chapter 11 bankruptcy, making the two chains sister companies, according to Eat This, Not That!. For those who live nearby, this has opened up a world of smoothie-and-ice cream combinations the rest of us can only dream of — for now.
What the Friendly's - Smoothie Factory mashup entails
Now there is a place where you can actually pick up a Triple Decker Bacon Cheeseburger and an After Workout Formula smoothie all in one stop. According to QSR Magazine, both of the Connecticut Friendly locations with Smoothie Factories inside them will have the Smoothie Factory menu available for online and delivery ordering. To sweeten the offer, there are some grand opening specials like free delivery and a $3 discount on smoothies for Friendly's Sweet Rewards members until September 30th. Also, flashing a gym membership card will get you a dollar off a smoothie every day.
In addition to smoothies with fun names like Aloha Cooler and Power Beets, Smoothie Factory sells juices and Power Bowls, which are blended fruits topped with even more fruit and granola (via Smoothie Factory's website). Time to get those unique food combination creative juices flowing! President and CEO of Brix Holdings Craig Erlich said even more Smoothie Factories could into Friendly's locations in the future if this co-branded relationship proves successful. So, Connecticuters, this is your mission should you choose to accept it: go out and make this store-in-store a success, so the rest of us can get to experience this blissful-sounding union. Please and thank you.