Costco Has Good News For Fans Of Its Popular Pumpkin Pie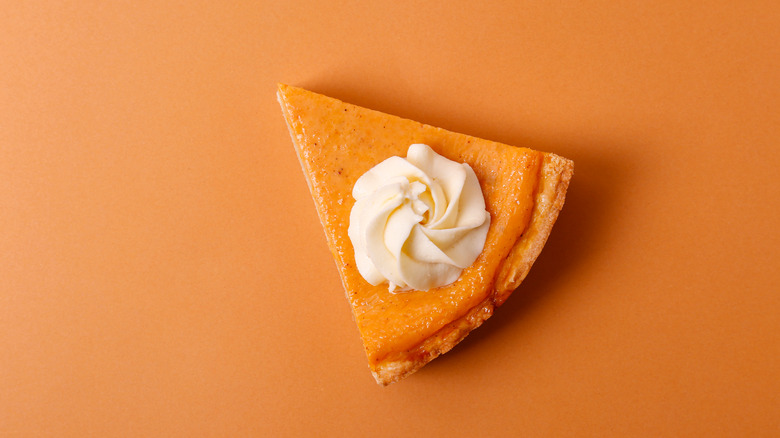 evrymmnt/Shutterstock
Anyone else getting those end-of-summer feels? Today marks a new month, and the grim knowledge that we're only about three weeks away from the last day of summer. Although this time of the year is always somewhat depressing — after all, it's hard to say goodbye to summer activities such as lake swimming, rooftop parties, and lazy afternoon barbecues — we have to admit we're already getting excited for fall. Wool sweaters. Leaf-peeping. And, of course, Thanksgiving, the favored holiday of food lovers everywhere. 
We don't know about you, but we're already looking forward to that table heaped with roasted turkey, marshmallow-capped sweet potatoes, golden-brown stuffing, and — the piece de resistance for many of us — a perfect, creamy pumpkin pie. While we love to make this classic holiday dessert from scratch, we don't always get around to it, what with roasting the bird and simmering the cranberries and all. That's when we'll happily turn to a store-bought version, such as the perennially popular pumpkin pie baked up by bulk-shopping giant Costco.
Costco's pumpkin pie is back on shelves
Have you ever tried a slice of Costco's pumpkin pie? The wholesale chain has been baking it up for customers since 1987, according to Insider, and since then, the sweet squash dessert has attained something of a cult status. The 12-inch, nearly four-pound pie is so beloved by shoppers that it even has a dedicated Facebook page, as well as a Twitter account. According to Insider, the revered pie is a simple mix of canned pumpkin, eggs, and spices, very similar to what you'd bake up at home. And Costco shoppers absolutely adore it — in 2015, the chain sold 5.3 million pies, decimating an incredible 3.4 million pumpkins in the process.
So it's with much fanfare that the popular Instagram account @costcobuys announced in a post today that the famous pumpkin pies are back on Costco shelves, with plenty of time to spare before Thanksgiving. "Costco's legendary pumpkin pie is a fall staple...we basically always have one in our fridge from September to November!" the post's caption read. The pie's price increased one dollar from last year, currently retailing at $6.99. But judging from the pastry's perennial popularity, customers will happily shell out for it.