Traditional Russian Tea Recipe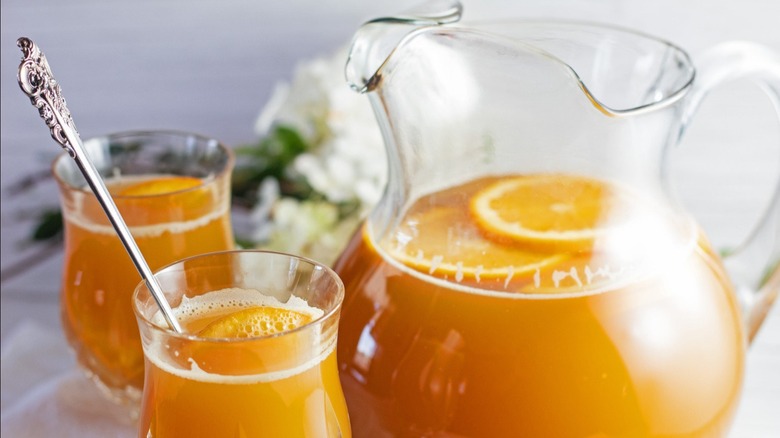 Angela Latimer/Mashed
There's nothing better than a hot cup of tea on a cold day — and, actually, a hot cup of tea tastes pretty good on a warm day, too! Tea is a universally soothing drink and comes in a seemingly endless variety of flavors. It's pretty easy to get creative with tea and add a number of sweeteners, juices, or spices — and Russian tea does just that!
Recipe developer Angela Latimer from Bake It With Love has a traditional Russian tea recipe that is as comforting as it is delicious. If you've never had Russian tea before, you may be wondering what it tastes like. "The flavor of Russian Tea is a lot like mulled apple cider," Latimer explains, adding that the beverage is best enjoyed during the cold winter months.
With black tea as the base, Russian tea also incorporates lemon juice, pineapple juice, and orange juice, along with a number of spices, to create a unique and delicious flavor combination. If you want something to sip on as the weather cools down, this traditional Russian tea recipe is exactly what you're looking for — keep reading to learn how to make it.
Gather the ingredients to make this traditional Russian tea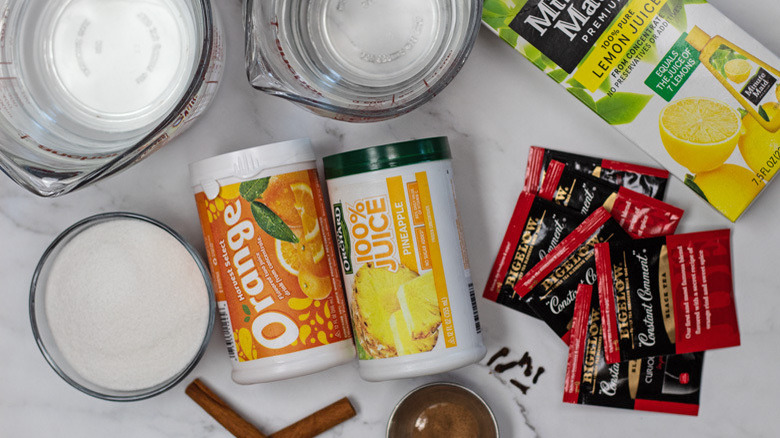 Angela Latimer/Mashed
Before you can make this traditional Russian tea, you'll want to make sure that you have the right ingredients. The tea base for this beverage is black tea, so you'll need six bags of your favorite plain black tea. You'll also need water as well as whole cloves, cinnamon sticks, ground allspice, sugar, pineapple juice concentrate, orange juice concentrate, and lemon juice concentrate or lemonade concentrate. All of your ingredients will be boiled down to create a warm, spiced beverage that is packed with flavor as well as essential nutrients like Vitamin C.
Start by steeping the black tea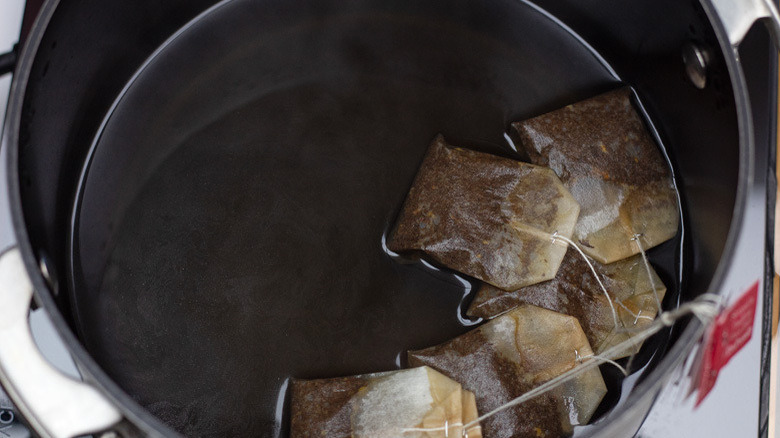 Angela Latimer/Mashed
Once you have your ingredients sorted, you can begin making your Russian tea by starting with the black tea bags. Bring four cups of water to a boil, and then steep your six tea bags for at least five to 10 minutes — the longer you steep, the stronger your tea will be in flavor. Latimer notes that while five minutes is the minimum to steep the tea, it's actually best to steep the bags for up to 30 minutes to get the best flavor. Once you're done steeping the tea, you can simply discard the tea bags and set the black tea aside.
Boil water with the cinnamon and cloves, then bring all of the tea ingredients together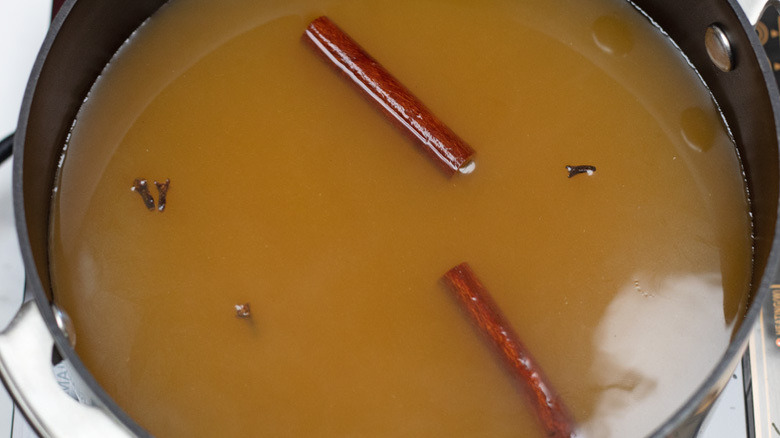 Angela Latimer/Mashed
In a separate large pot, you can begin getting the other half of the Russian tea going. First, add the rest of the water (six cups) to the pot along with the cinnamon sticks and cloves, and then bring everything to a boil. Once it's boiling, add in the sugar along with the steeped black tea. Mix everything thoroughly, ensuring that the sugar evenly dissolves into the boiling water.
Next, go ahead and add the pineapple, orange, and lemon juice concentrates, as well as the allspice. Then, lower the heat so your mixture comes to a simmer. When you reach this point, you can remove your tea from the heat altogether and get ready to serve. 
Serve your Russian tea hot and enjoy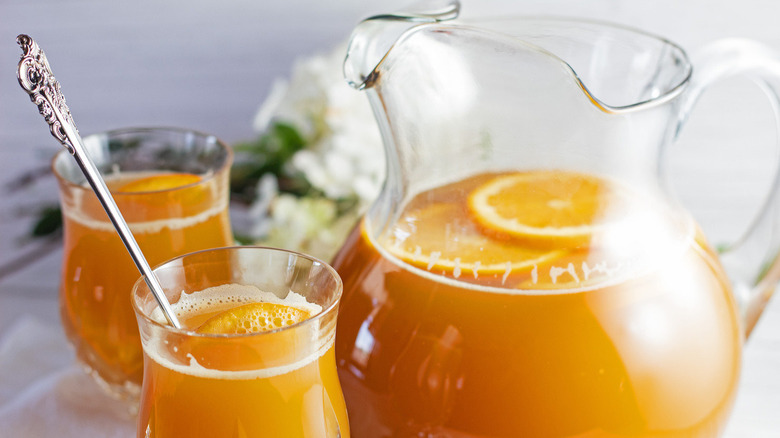 Angela Latimer/Mashed
You're finally ready for the best part: enjoying your traditional Russian Tea! As Latimer notes, this beverage is best enjoyed warm, and you'll notice that the warmth is incredibly soothing and comforting, especially if you're a little under the weather. There's plenty of flavor in Russian tea thanks to the juices and spices, and we think that it will quickly become a winter staple in your household. You can serve Russian tea with fresh orange slices or simply enjoy the warm, spiced flavors as is. Either way, you'll soon realize why this tea is perfect for the colder months.
Traditional Russian Tea Recipe
It's pretty easy to get creative with tea and add a number of sweeteners, juices, or spices — and Russian tea does just that!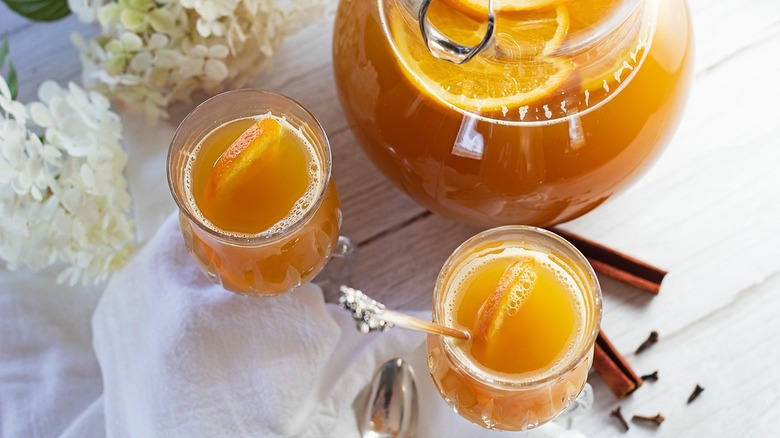 Ingredients
10 cups water, divided
6 black tea bags
6 whole cloves
2 cinnamon sticks
1 cup sugar
6 ounces pineapple juice concentrate
6 ounces orange juice concentrate
3 ounces lemon juice concentrate (or 6 ounces lemonade concentrate)
1 teaspoon ground allspice
Directions
Bring the first 4 cups of water to a boil, then steep the tea bags for 5 to 10 minutes or as long as desired. Discard the tea bags when done.
In a large pot, combine the second portion of water (6 cups) with cloves and cinnamon, then bring it to a boil.
Once boiling, add the sugar and the steeped tea, and stir to combine. Next, add the juice concentrates (pineapple, orange, and lemon) and allspice.
Bring to a simmer, then remove from heat and serve. Leave the Russian tea at a simmer until ready to serve (if serving later).
Nutrition
| | |
| --- | --- |
| Calories per Serving | 81 |
| Total Fat | 0.1 g |
| Saturated Fat | 0.0 g |
| Trans Fat | 0.0 g |
| Cholesterol | 0.0 mg |
| | |
| --- | --- |
| Total Carbohydrates | 20.7 g |
| Dietary Fiber | 0.3 g |
| Total Sugars | 19.5 g |
| Sodium | 9.3 mg |
| Protein | 0.2 g |