Trader Joe's Fans Are Divided On Its New Sour Jelly Beans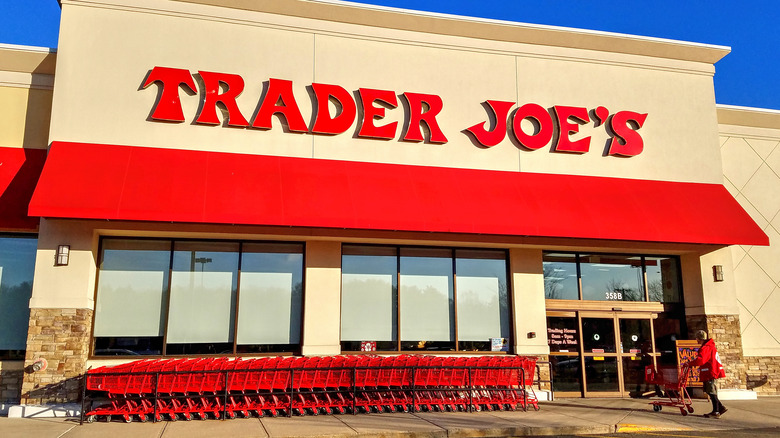 QualityHD/Shutterstock
Trader Joe's is one of those stores that cultivates a die-hard following, there are even entire blogs and Instagram accounts dedicated to items and recipes for shoppers. The hype is entirely accurate, too, with their amazing items that you can only find there (hello, cookie butter and cauliflower gnocchi), great prices, and awesome variety. They also do a great job of catering to those with special diets, with a wide array of vegan, vegetarian, and paleo options on their shelves. 
They're also always introducing new items to their lineup to keep things fresh, and while some are major hits with nearly everyone, others lend to a more divided opinion. Their new sour jelly beans are one such product that people can't seem to agree on, some are saying they're incredible while others are claiming they're the absolute worst. What about these jelly beans is so polarizing that so many people are chiming in with differing opinions?
People are saying they're way too sour
We know there's a huge divide between team sour candy and team sweet candy, so it's not altogether surprising that not everyone would be thrilled with a new product catered towards the sour-lovers, but even some of them are saying that these candies are too sour. On an Instagram post from @traderjoeslist, an account with 1.7 million followers that shares different finds from Trader Joe's, a photo of the new sour jelly beans was posted and the comments were all over the board. 
One user wrote on the post, "These are wayyyyyy too sour," while another agreed saying, "They were wayyyyy too sour! Won't be buying them again." Other members of team sour chimed in, like one follower who said, "Actually more sour than I thought! Would get again!!!!" And another user wrote, "So good! So bomb! I love them!" Maybe they're only for the true fans of sour candy, or maybe these jelly beans aren't for everyone. Looks like we'll need to try them and decide for ourselves!