Golfer Collin Morikawa Refuses To Change This Strange Cereal-Eating Habit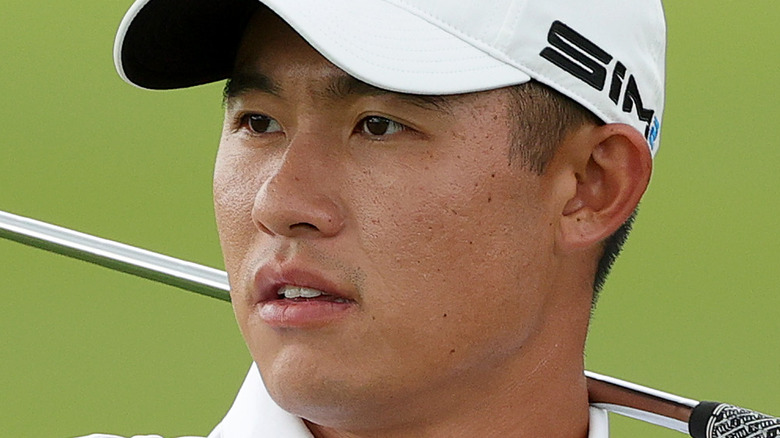 Stacy Revere/Getty Images
Have you ever wondered what golf champion Collin Morikawa eats for breakfast every morning? According to an Instagram video posted by TaylorMade Golf, a brand that sponsors Morikawa, the athlete always makes time for a bowl of cereal, even while on the golf course. While this breakfast option seems as ordinary as any, fans who viewed the footage of Morikawa eating it were quick to point out the strange manner in which he does so. Morikawa not only stores his cereal inside a golf club head cover, he also pours the cereal into the bowl after, not before, the milk. 
The comments section of what was clearly intended to be a casual video of the golfer eating breakfast has turned into a forum for poking fun at Morikawa's apparently backwards ways. "Milk first... what is this sorcery," one user commented. Another added, "Did he pour the milk first before the cereal... no no NO." Morikawa may know exactly what he's doing on the golf course, but fans seem to agree that preparing cereal isn't one of his strong suits.
Collin Morikawa has perfected his cereal eating routine
Despite all the controversy over the Instagram video, Collin Morikawa isn't going to stop pouring in milk before his cereal. "This is just what I do," he told TODAY. "My parents never did it, I don't know who I picked it up from."
Morikawa went on to share that his teammates have been making fun of him for it since college, but he still insists that the milk-first method is the best way to enjoy cereal because texture is an integral part of the cereal eating experience. He explained that his preferred cereal is Cinnamon Toast Crunch, and putting the milk in first helps preserve the integrity of it, especially considering he likes his cereal heavy on the milk. He adds so much extra milk that after he finishes golfing, he will come back to his bowl of milk and finish it with a straw. "Just give it a try," he urged his fans during his TODAY interview. "If you really hate it, I get it, send me some hate. But I'm never going to change."