15-Minute BBQ Chicken Pizza Recipe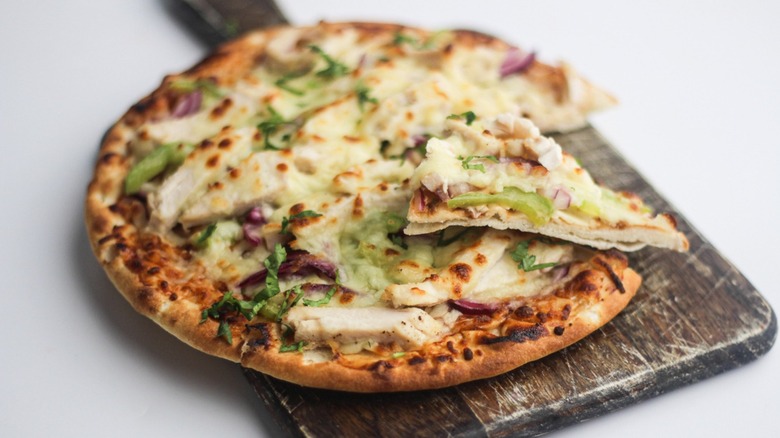 Susan Olayinka/Mashed
Once upon a time in U.S. pizza history, there was really just one kind of pizza. Sure, you could vary your toppings all the way from cheese to pepperoni, with maybe some sausage or mushrooms if you really wanted to go wild. Still, the only kind of cheese on offer was mozzarella, while the sauce was always tomato-based. Well, no more. While the "foodie revolution" may have been a quiet one, it nevertheless shook up eating habits all over the world. Even such a simple item as pizza is now available any way you can imagine. Goat cheese, vegan cheese, no cheese, cauliflower crust, Buffalo sauce ... If you can dream it, you can pizza it.
Recipe developer Susan Olayinka of The Flexible Fridge tells us that one of her absolute favorite pizzas is actually a non-standard type: BBQ. As she tells us, '"I actually used to have this almost every week when I was in university." The reason, she says, is that "I just find that a barbecue base is so much more superior to a tomato base!" The recipe she's provided for us here is not only just as tasty as something you'd order from a pizzeria, but it can be available in less time than it takes for the speediest pizza delivery.
Let's take a look at how to make it.
This BBQ pizza needs just six ingredients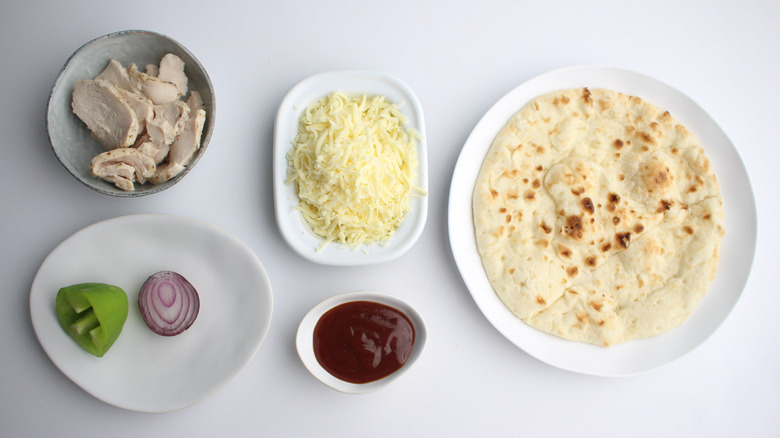 Susan Olayinka/Mashed
You won't need too many ingredients to make this super-quick pizza. Olayinka made hers with a few fresh veggies: a red onion and a green pepper (though she only used partial amounts of each). She also used some cooked chicken. If you have any leftover chicken on hand, that will work, or you could pick up a rotisserie chicken and put it to use. For the crust, she says she used a sourdough style, but says you can use "any semi-thin base to keep [the baking time] to 15 minutes." The sauce will be your favorite bottled barbecue sauce, and for the cheese, you'll be using shredded mozzarella.
You'll need to do a little prep work before you make the pizza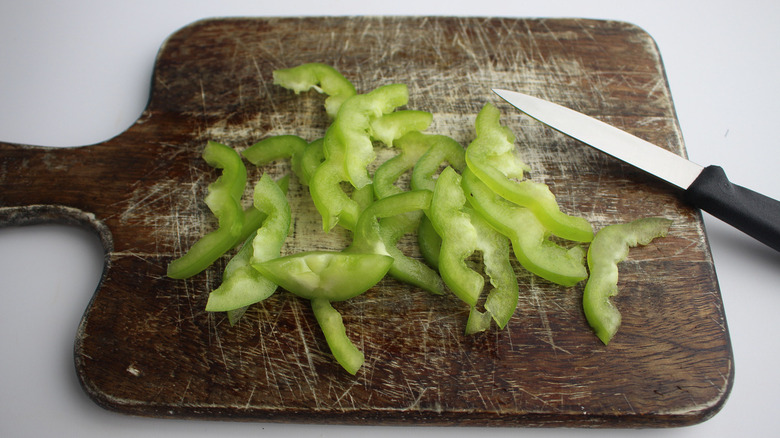 Susan Olayinka/Mashed
Preheat the oven to 350 F, then roll up your sleeves and start off with the hardest part of preparing this pizza: peeling and chopping the onion. You'll only be using a small amount of that onion, though, so it shouldn't hurt too badly. You'll also need to slice up the green pepper, removing the ribs and seeds and stem as you do so. Finally, chop up the chicken into bite-sized chunks or strips. You could also, if you like, shred the chicken, or else just use the pre-shredded kind.
Top the pizza before you bake it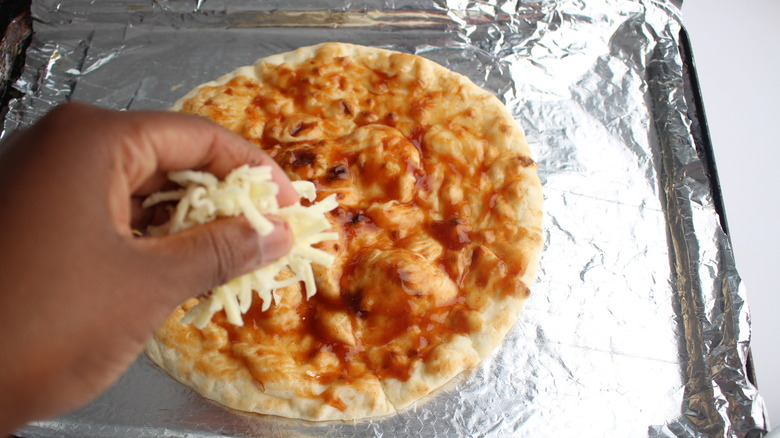 Susan Olayinka/Mashed
Spread the barbecue sauce over the pizza crust. In order to do a nice, even job, Olayinka suggests using a pastry brush. Sprinkle the saucy crust with a quarter of your mozzarella, then arrange the veggies and chicken over the top. Finish the pizza by sprinkling it with the rest of the mozzarella.
Bake the pizza for eight minutes, then set the oven to broil and cook it for two more. This last blast of heat will allow the cheese to brown nicely and come out all hot and bubbly.
You can change the pizza to suit your preferences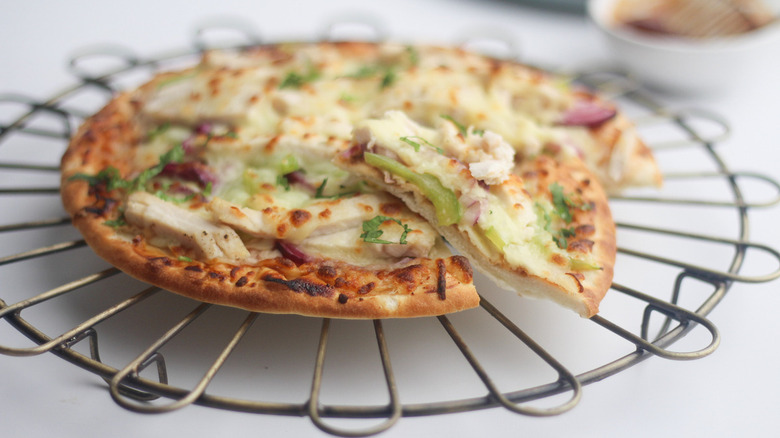 https://www.traderjoes.com/home/products/pdp/068388
While chicken is a natural partner for barbecue sauce when used to top a pizza, Olayinka says that "pepperoni [and] tomatoes [would work] as well," and she also feels that pulled pork "would work great."
As to what to pair with this pizza, she tells us, "When I was having takeout, I used to have it with some garlic bread or some salad." As for her favorite beverage to wash it all down with, she tells us, "I'm a big juice fan, so apple and mango will be my favorite selection." In keeping with the BBQ theme, though, you might also enjoy this pizza with a side of cornbread and an ice-cold Coke or a glass of sweet tea.
15-Minute BBQ Chicken Pizza Recipe
This delicious BBQ chicken pizza can be available in less time than it takes for the speediest pizza delivery. Give it a try today.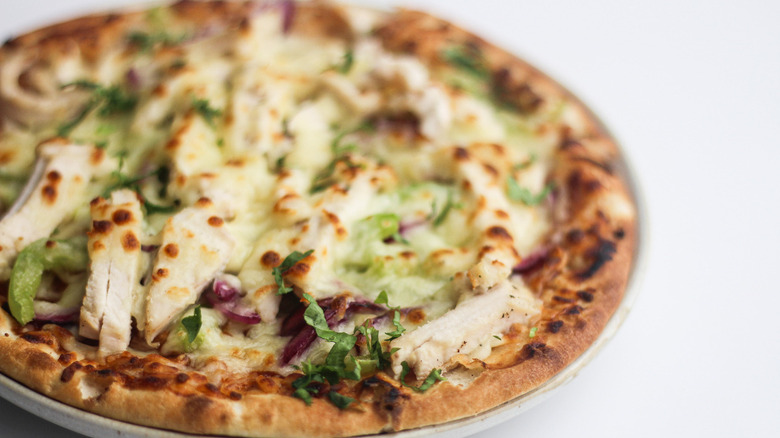 Ingredients
¼ red onion
¼ green pepper
5 ounces cooked chicken
1 pre-baked pizza crust
⅛ cup barbecue sauce
1 cup shredded mozzarella cheese, divided
Optional Ingredients
Directions
Preheat the oven to 350 F.
Slice the red onion, green pepper, and cooked chicken into thin strips and set aside.
Spread the pizza crust with barbecue sauce.
Sprinkle the sauce with ¼ cup of the mozzarella, then top with the sliced red onion, green pepper, and cooked chicken before finishing off with the rest of the mozzarella.
Bake the pizza for 8 minutes, then turn the oven to broil and cook for 2 more minutes.
Sprinkle the pizza with chopped parsley before serving, if desired.
Nutrition
| | |
| --- | --- |
| Calories per Serving | 503 |
| Total Fat | 21.2 g |
| Saturated Fat | 11.4 g |
| Trans Fat | 0.0 g |
| Cholesterol | 84.4 mg |
| | |
| --- | --- |
| Total Carbohydrates | 46.3 g |
| Dietary Fiber | 2.5 g |
| Total Sugars | 4.8 g |
| Sodium | 1,070.6 mg |
| Protein | 30.2 g |