See's Candies Is Celebrating Its Founder With Birthday Cake-Inspired Treats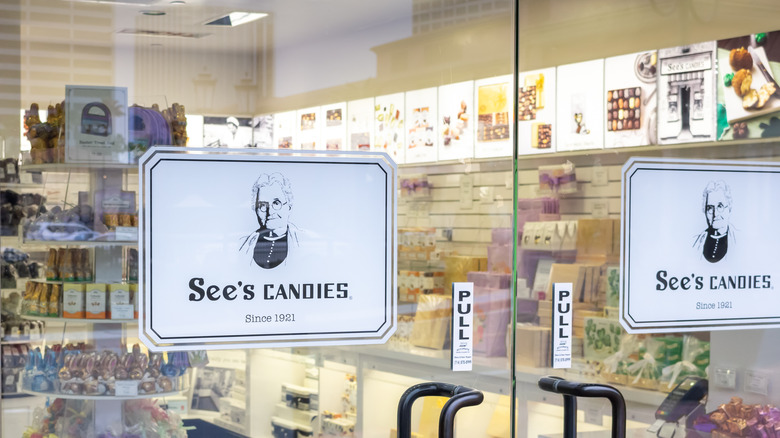 TonelsonProductions/Shutterstock
Candy lovers are swooning over the celebratory confection See's Candies created in honor of their founder's birthday. According to the company website, Mary See was born on Howe Island in Ontario, Canada, on September 16, 1854. She married Alexander See in 1874 and ran a hotel on Tremont Park Island (about 3.5 hours from Toronto in the northeast corner of Lake Ontario) until his death in 1919. Following her husband's death, See moved with her son and daughter-in-law to California, where her son planned to market candy made according to recipes Mary developed while running the hotel. And the rest, as they say, is history. A quick look at the company's website shows more than a 100 different varieties of candy, including a few — Peanut Brittle, Victoria Toffee, and Chocolate Walnut Fudge — still made according to the original recipes.
The Birthday Cake candy created in honor of Mary See's birthday feature a vanilla buttercream middle coated in white chocolate and decorated with rainbow sprinkles. Responding to See's Candies' Instagram announcement of the limited-edition candy, some commenters shared that the Birthday Cake candy came just in time to help them celebrate their own birthdays. 
"Happy Birthday to Mary! It's my birthday month too," wrote one. 
"Omg just on time for my birthday too," chimed another.
According to Brand Eating, the six-piece Birthday Cake collection ($9.50) is available in stores and online while supplies last.
Here's another surprise: In addition to their limited-time Birthday Cake candy, See's Candies is also running a Deal of the Day promotion, from September 9-18, to mark their founder's birthday. Check in stores or online for the daily deal.
Here's even more reason to celebrate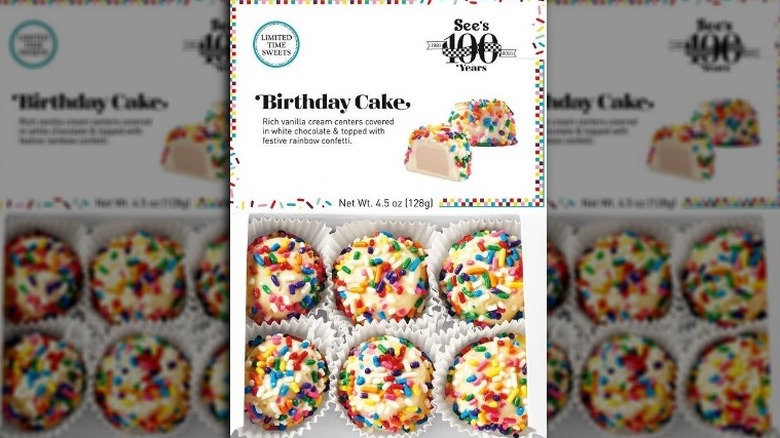 See's Candies
As much as we love the fact that See's Candies is observing Mary See's birthday with a sweet treat, it's not the only cause for celebration. In November, the company will mark its centennial. In fact, according to a company statement, Mary See's Birthday Cake candy is just one component of a year-long celebration that kicked off in January with "What's Your Sweet Idea?" — a contest challenging fans to submit suggestions for their ultimate candy creation. 
The contest is closed, but we're waiting for the big reveal. The winning idea will take the spotlight as the November Centennial Sweet of the Month. In addition to September's Birthday Cake confection, previous sweets of the month for the company's Big 100 include Milk Raspberry Heart Truffle (February), Dark Chocolate Butter Egg (March), and Lemon Drops (July).
"See's has a sweet history, and we look forward to bringing some new pieces and memories to our customers," said Pat Egan, president and CEO of See's Candies. "For our 100th anniversary, we've combined our backstory with fresh, innovative thinking to inspire new, and delicious, ways to celebrate."