The Duchess Of Cornwall's Victoria Sponge Cake Has This Eyebrow-Raising Twist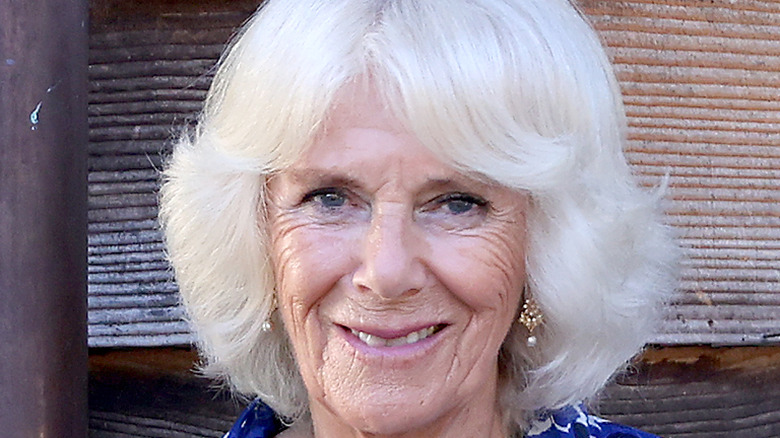 Chris Jackson/Getty Images
We don't think we're going out on a limb by saying that Britain's Royal Family are traditionalists, not just in manner but in food choices too. According to former royal chef Darren McGrady, Queen Elizabeth is not particularly adventurous when it comes to food. "Prince Philip was the foodie. He'd want to try any new dishes all the time and got excited about new ingredients whereas the Queen, if we had a new recipe, she'd have to look at the whole recipe before saying, 'Yes ok let's try it'. But for the most part she stuck to the same dishes week in week out," the former royal chef said (via Hello!).
So it may come as some surprise that Prince Charles' wife Camilla, Duchess of Cornwall, is willing to go out on a limb when it comes to the way she chooses to enjoy a distinctly royal dessert known as the Victoria sponge. This teatime treat is made with eggs, sugar, butter, flour, and baking powder and is closely associated with Queen Elizabeth's ancestor Queen Victoria, who reportedly enjoyed this cake with her tea in the afternoon. Back in the day, the little two-layer desserts were served with a filling of jam or marmalade, with whipped cream as an additional option (via What's Cooking America).
Camilla's versions depart from the usual jam filling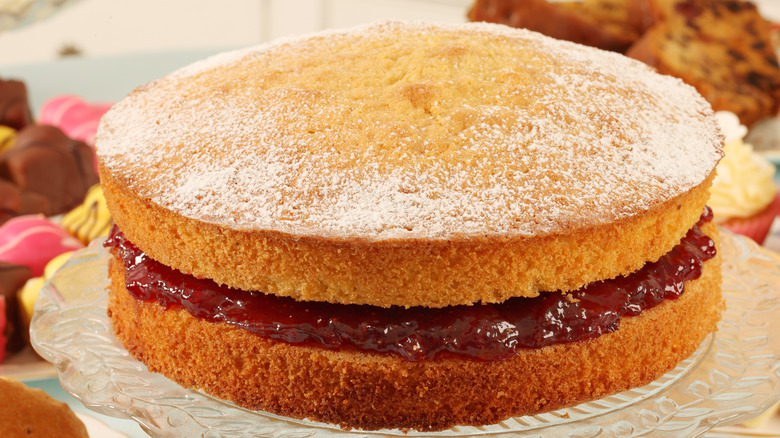 CKP1001/Shutterstock
The version Prince Charles' wife prefers involves two decidedly more modern choices of filling — lemon curd or Nutella — neither of which are mentioned in the original versions of Queen Victoria's sponge. Camilla's surprising twist came to light in a recipe she shared with the charity Poetry Together, and also appears on the Hello! site.  Her version has raised the eyebrows of traditionalists like those who belong to the Women's Institute, who say only a jam filling can make a cake a Victoria sponge. 
But the adaptations have the seals of approval from Britain's top culinary experts including veteran cookbook author Prue Leith, who gave Camilla's inventive take two thumbs up saying, "I think they sound delicious and a very good idea" (via Telegraph). McGrady also weighed in on the tempest in a cake pan saying, "While it's not a classic Victoria sponge, getting people to make it by adding Nutella in there, or lemon curd, or apricot jam or set honey, I think is a fantastic idea." He added, "If it gets people together, baking again, then it's fabulous. I'm all for it."