Twitter Is Losing It Over This Savage Sports-Themed Cake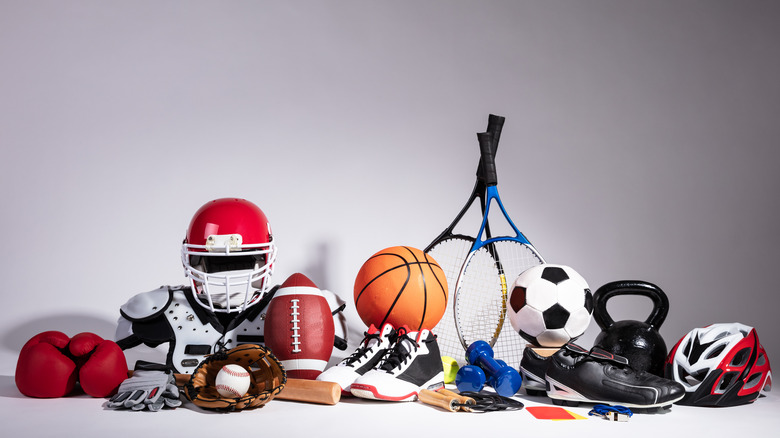 Andrey_Popov/Shutterstock
This sports-themed cake as seen on Twitter is so conflicting, we can't decide who to root for (unless we're talking about the baker, because he's the real champ here!). 
The 3-tiered beauty is a mashup of several unrelated teams, starting on top with an homage to the Los Angeles Lakers (featuring a basketball and the jersey of the famous #24 Kobe Bryant). The next tier down is a Dallas Cowboys theme, with a blue- and gray-striped fondant and a #8 jersey for great footballer Troy Aikman. The bottom layer finishes it off and is dedicated to baseball, specifically pinstriped for the New York Yankees and sporting a #2 Derek Jeter jersey with a cap, ball, and bat along the base. 
Yes, these are all legendary players — but they are not from the same sport, same city, or even the same generation, which has a lot of Twitter followers both confused and in awe at the same time.
Says the original poster, "My buddy just sent me a picture of his brother-in-law's birthday cake from tonight. I'm truly stunned that this is a real thing."
This cake was made for a fan of sports - a lot of sports
There's a whole bunch of jokes about this cake that's currently making a stir on Twitter, about it representing a certain type of fan — the type that only likes the winning team. As Barstool Sports said in their post, "The perfect cake for the biggest a**hole on the planet." And shares another person, "Tell me that you turned off Madden mid-game every time you started losing despite playing with the 2004 Falcons and Mike Vick every time, without actually telling me. Props to who ever made it tho. Its detail is fantastic." 
To reiterate, this cake baker did a fabulous job. A true work of art, the fondant and detailing are crisp, clean, and leave no doubt about what these images are trying to represent. It's just its choices of combined decorations that have social media confounded — though it's likely a custom order for a big sports fan who loves all three teams.
And sports devotees have been quick on social media to suggest many other teams that would fit in well with this mishmash of sports fame. Says one person, "Need another bigger layer for all the Colts and Patriot fans that were suddenly Bronco Buccaneer fans after Manning and Brady switched and won" (via Twitter).
Rarely have we seen such a lovely cake be so controversial. Go team! All of them!