Why Twitter Is Claiming Duff Goldman Was 'Robbed' In The Buddy Vs. Duff Finale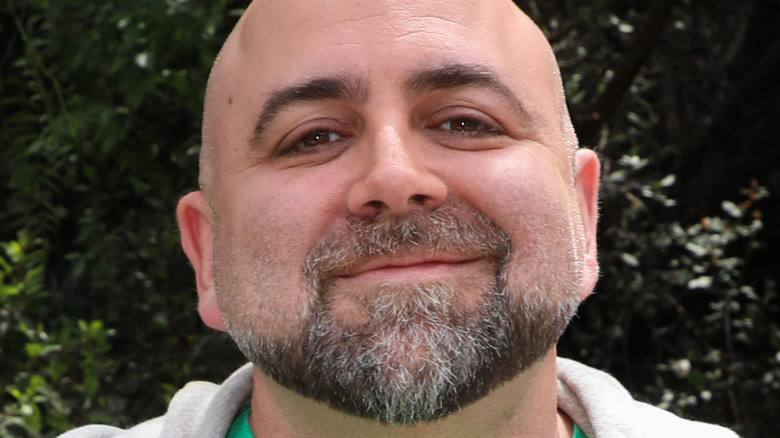 Paul Archuleta/Getty Images
It's no secret that there is a major rivalry between Duff Goldman and Buddy Valastro on their Food Network show, "Buddy vs. Duff." And the fans backing both of the incredibly talented bakers are just as divided down rival lines. However, the Season 3 finale of the show prompted some fans of Goldman to question the legitimacy of the whole system after he lost (via FoodSided).
In the finale, each baker was challenged to make a "monster mashup" creation. Team Buddy pulled together a "radioactive dinosaur" that took home the winning title while Team Duff made a "Frankenstein's monster cake of mismatched doll parts." And Goldman's fans had a lot of thoughts on his loss and the show's scoring system altogether. Both bakers made truly massive cakes, but Goldman's fans felt he and his team put much more detail and creativity into theirs. A recent Twitter post by Goldman only added fuel to their objections to the judges' reasoning.
They thought the scoring system was way off
Goldman shared some photos of his stitched-together monster on Twitter, writing, "ITS ALIVE!!!!!! Team Duff went BIG for the finale! By big we went scary, gory, and creepy! This cake pushed us to every limit possible. Please take your time to look at all these toys and our big monster! There's a lot of details to look at. It's just wicked." That's when the flood gates opened, and fans voiced their support and opinions on the losing creation. Rather fittingly, the tweet had created a monster made up of different people. But it was Duffenstein's monster that would wield the pitchforks and torches.
One fan declared, "you were robbed yours was the best." Another posted, "The scoring in this season didn't make sense. ... It only tells me that the show was rigged." One fan couldn't wrap their head around how Team Buddy could have walked away victorious: "Your cakes were amazing tonight Duff!! I really thought that there was no way his team was going to beat 245! I'm sorry." Showing similar disbelief, a third person commented, "I don't understand how a weak version of Godzilla beat your imaginative version of a monster. I don't feel like the scoring was fair this year." 
A number of people simply declared Goldman the true winner. One user was so upset with the actual outcome that they threatened to quit watching the show if things didn't change with the judges. Either Goldman has some die-hard fans or the audience really disagreed with the judges' opinions.