Easy Smoked Salmon Fettuccine Recipe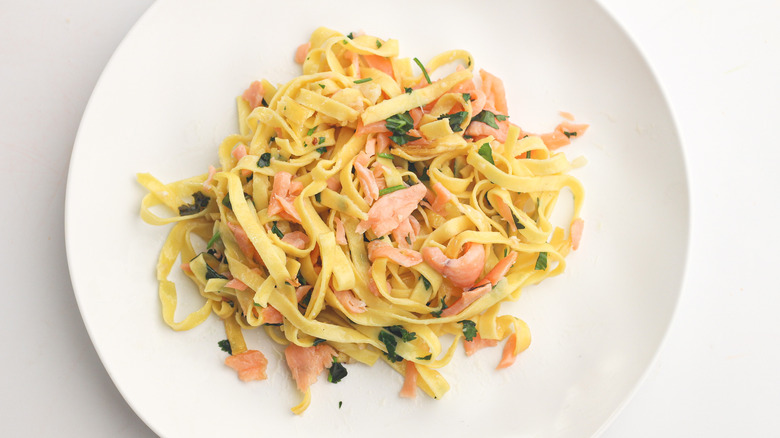 Susan Olayinka/Mashed
Are you in the mood for a great pasta dish? If so, then we have something that is right up your alley. This recipe is great because it's super easy to make, and it tastes fantastic. All you need are a few ingredients, including some smoked salmon, making it easy and tasty since you don't even need to cook the salmon. A little bit of garlic and parsley add the perfect flavor to the pasta, and trust us when we tell you that this dish is one that you are not going to want to miss out on! It's great for anything from a family meal to dinner with friends and everything else in between. 
Recipe developer Susan Olayinka is the brains behind this tasty pasta recipe that will fill your belly and heart. She says there is plenty to love about this recipe, but one thing in particular sticks out. "I love how simple ... it is. It doesn't require any sauce and comes together in literally minutes when the pasta is cooked," Olayinka shares. 
Keep reading to find out how to make this yummy smoked salmon pasta that will leave you wanting more.
Gather the ingredients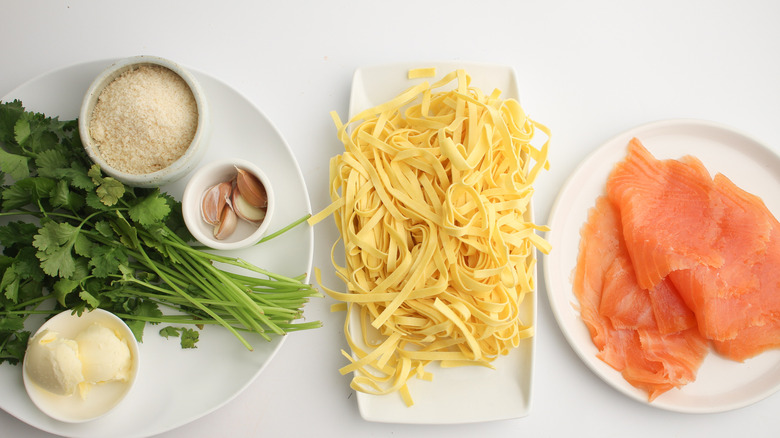 Susan Olayinka/Mashed
The first thing you will need to do is gather all of the ingredients needed to make this tasty recipe. For starters, grab a few cloves of garlic and some parsley. In addition, you need to get some smoked salmon, which is the perfect protein for this recipe. The next item that you will need for the recipe is some fast-cooking fettuccine pasta.
You will also need some butter, and if you cook a lot, you may already have some at home. Last but not least, add some Parmesan cheese to the list. Once you have all the required items, you can begin cooking!
Dice the garlic and parsley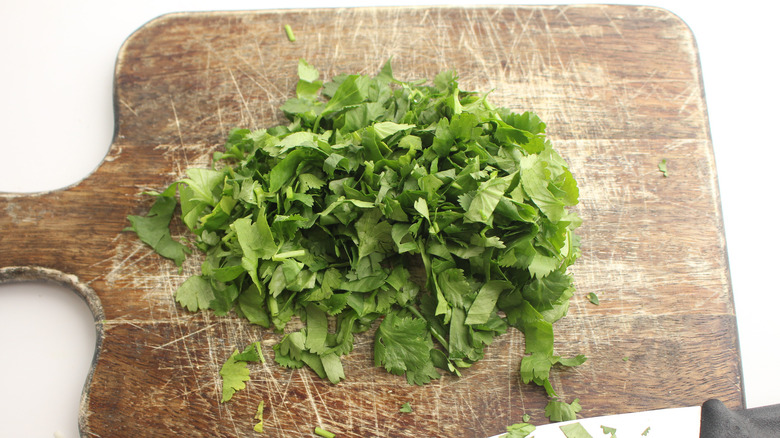 Susan Olayinka/Mashed
Okay, are you ready to get this cooking party started? Because we are! The first thing you will need is a cutting board and a sharp knife. First, grab the garlic and dice it. Then, toss it in a bowl and set it aside for later use. Next, place your washed parsley onto the chopping board. Cut it into small pieces, and like you did with the garlic, put it in a small bowl. Then, set the bowl aside for later use.
Slice the salmon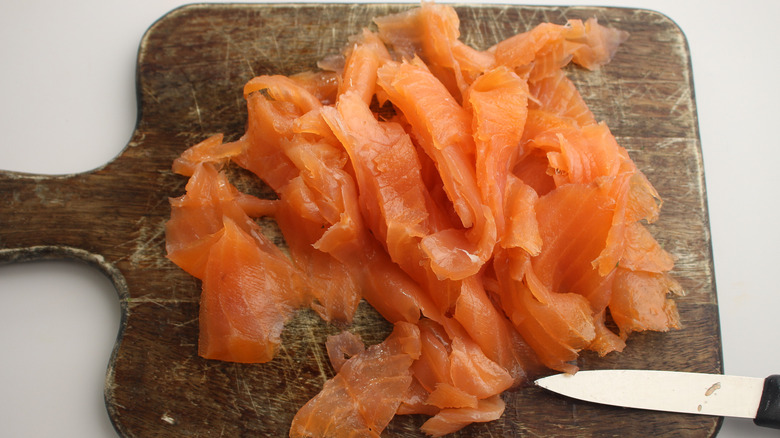 Susan Olayinka/Mashed
Now it's time to work with your salmon. Take it out of its packaging, and then slice the salmon into half-inch pieces. "I placed the salmon all on top of each other, and then I sliced them into thin strips together," Olayinka explains. It should be pretty easy to slice once you get the hang of it. As long as you're using a sharp knife, the salmon should cut like butter. 
Cook the pasta and fry the garlic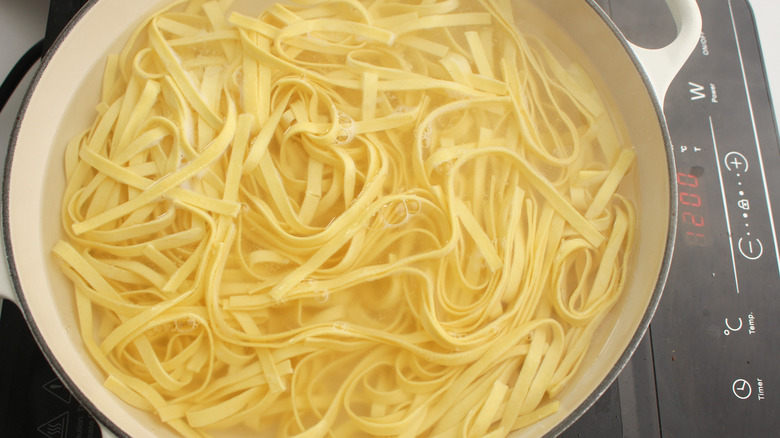 Susan Olayinka/Mashed
Now, take out a large pot for your pasta. For this step, you can use any type of fettuccine that you like. However, since all brands of pasta vary slightly in terms of directions, you should follow the instructions on the back of the box to see exactly how to cook it. Then, drain the pasta and set it aside. Again, you will need this for later use.
Now, take a saucepan and turn the heat to medium-high. Grab your sliced garlic and throw it in the pan, allowing it to cook for one to two minutes.
Add the other ingredients to the pan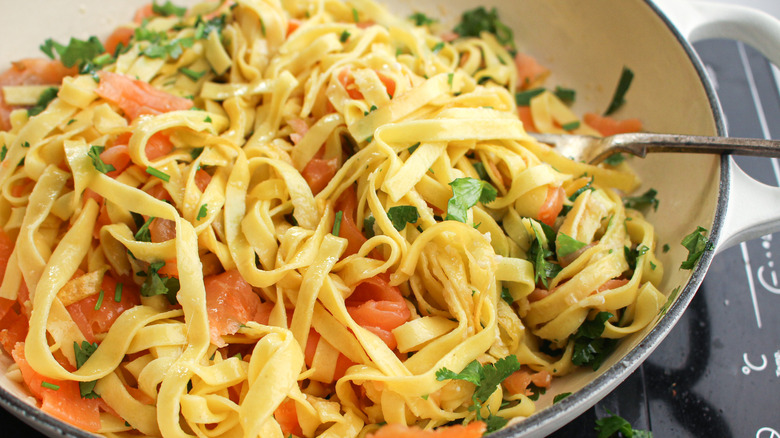 Susan Olayinka/Mashed
Once your oil has gone in the pan and cooked for a few minutes, it's time to toss in everything else. First, add the fettuccine pasta to the saucepan, and then mix everything together. The next item that you will want to dump in is the Parmesan cheese. Now it's time to add the star of the show: your salmon. 
Throw it in the pan and mix everything together again. Last but not least, place add the chopped parsley. Give it a few good stirs, and voila, you're set!
Serve the pasta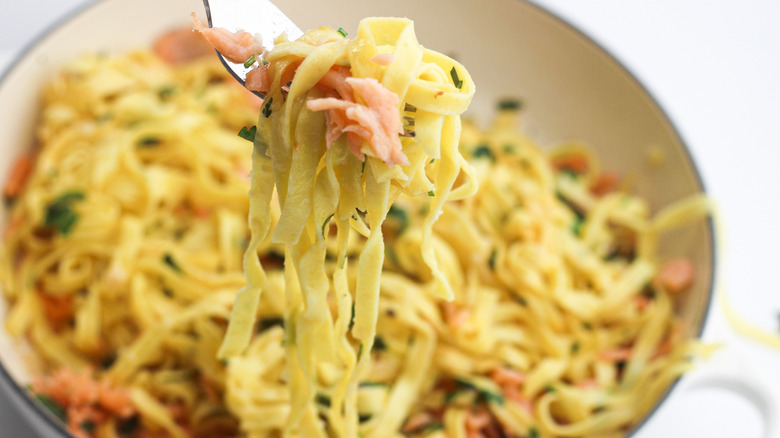 Susan Olayinka/Mashed
Are you ready for the last and best step in the process? Okay, so are we! Take the pasta out of the saucepan and use either plates or a bowl to serve. Olayinka recommends serving this dish "with some garlic bread or with salad." It's also plenty filling to just serve on its own. 
Even though the dish features salmon, you can still keep the leftovers. Olayinka shares that any extras "will last two to three days." She also says that the smoked salmon will cook in the microwave, but it shouldn't change the flavor too much.
Hopefully, you enjoy this delicious main course as much as we do! 
Easy Smoked Salmon Fettuccine Recipe
Recipe developer Susan Olayinka is the brains behind this tasty smoked salmon pasta recipe that will fill your belly and heart.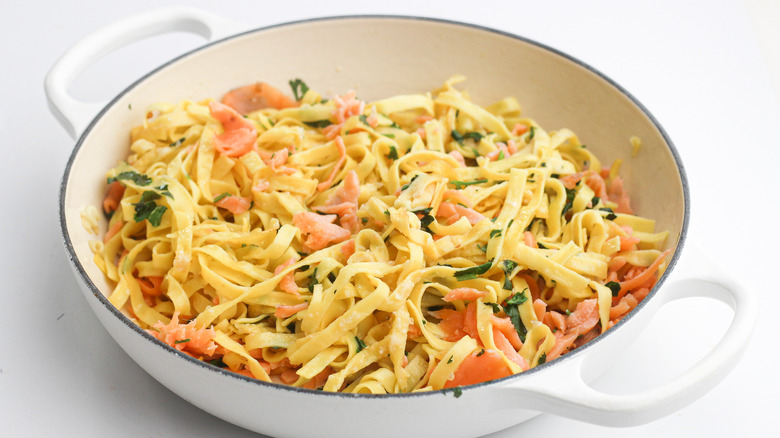 Ingredients
3 cloves garlic
3 tablespoons parsley
7 ounces smoked salmon
9 ounces fast-cooking fettuccine pasta
2 tablespoons butter
½ cup Parmesan
Directions
Dice the garlic, and slice the parsley. Set aside.
Slice the smoked salmon into half-inch pieces, then set aside.
Cook the pasta according to the instructions, then drain.
Place the butter into the saucepan turn the heat up to medium-high heat. Fry the garlic for 1 to 2 minutes.
Add fettuccine, Parmesan, and salmon to the saucepan and mix together. Add parsley.
Serve and enjoy.
Nutrition
| | |
| --- | --- |
| Calories per Serving | 423 |
| Total Fat | 13.7 g |
| Saturated Fat | 7.3 g |
| Trans Fat | 0.2 g |
| Cholesterol | 39.3 mg |
| | |
| --- | --- |
| Total Carbohydrates | 49.2 g |
| Dietary Fiber | 2.2 g |
| Total Sugars | 1.9 g |
| Sodium | 595.8 mg |
| Protein | 24.3 g |