The Hilarious Prank You Didn't See Meghan Gill Play On Hell's Kitchen - Exclusive
Pranks might not immediately come to mind when you think of "Hell's Kitchen," but Gordon Ramsay always knows how to get contestants and the audience laughing. In an r/HellsKitchen thread, Redditors came together to remember their favorite pranks Ramsay played on the show, ranging from making the contestants cook for 50 children, all the way to when he had the contestants ready to cook with chicken — but then revealed their main ingredient was king crab (via Reddit). While the star host of the show could easily pull pranks on the contestants, he had some competition in the form of Meghan Gill, the series' Season 14 winner.
This "Hell's Kitchen" winner cut her teeth at top D.C. restaurants after finishing her professional training at L'Academie de Cuisine, according to Dormie Network. While this chef has some serious talent, Gill can pull pranks like few others and took her talents to the set. While her tricks never made it onto the air, she revealed her favorite one of them all in an exclusive interview with Mashed.
Meghan Gill's favorite off-air prank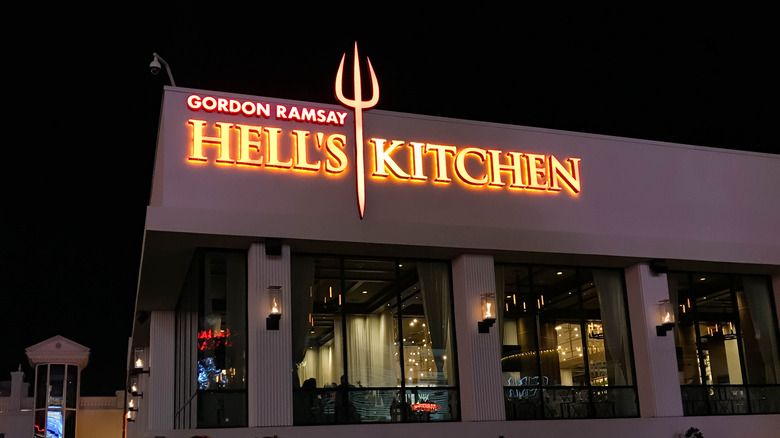 Ceri Breeze/Shutterstock
"Yeah, I put gummy bears in people's shoes," Gill said in an exclusive interview with Mashed. "I did all this prankster stuff and nobody saw it, so I was just like the villain the whole time and I'm like, 'I did funny things, okay?' And I was solo on doing it. Maybe I'm the only one that thought it was funny, but I took gummy bears and filled people's shoes and pillowcases."
While Gill loved to pull pranks on her fellow competitors, Ramsay also got in on the action. "There was a boa constrictor," Gill explained. "There was an episode where they had snakes and spiders and whatever, and at the end of that, we went up to the dorms [...] And Milly, who is huge, he has me in front of him and he's like, 'Get it away from me.' And I'm like, 'Oh my God.' And we're both screaming bloody murder. And that night, Chef [Ramsay] had taken all of us, one by one, in the office, and it was kind of a serious talk. And then, as I left, he's like, 'So how about that snake?' And I was like, 'You know what? F off, guy. What the hell?' And he starts laughing, and I was like, 'Oh my God. That was you? That's not funny.'"
Make sure to check out the latest episodes of "Hell's Kitchen" every Wednesday on Fox and keep up Meghan Gill's latest adventures on Instagram or Facebook.