Easy Pumpkin Streusel Muffins Recipe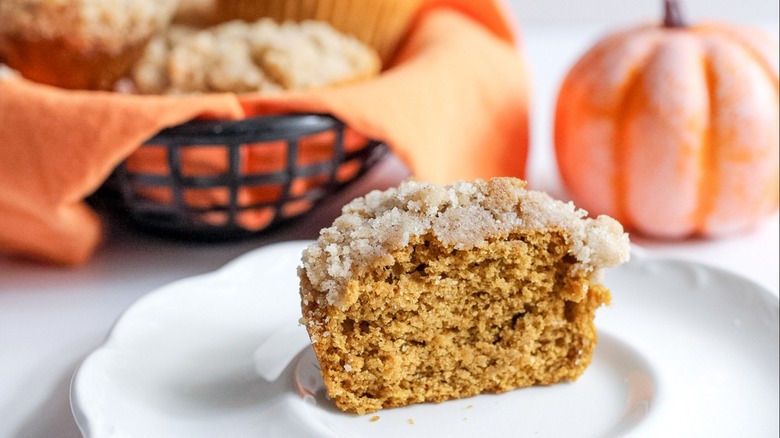 Jessica Morone/Mashed
When fall comes around, there are two things that come to mind: football and pumpkin spice. There's just something about the crisp weather that goes hand-in-hand with pumpkin flavors, and we're not going to lie about loving all the things pumpkin spice. We're only human, right? These pumpkin spice streusel muffins are some of the best you will ever taste, and they are sure to be a hit for kids and adults alike. These go well with coffee in the morning, and they're also great for an after-school or after-dinner treat.
Recipe developer Jessica Morone came up with this incredible recipe that is sure to fill your belly and your heart. If you're a lover of anything pumpkin-related, then this recipe is right up your alley. "I love the flavor of these — they immediately make you think of fall," Morone raves. "I also love how easy these are because you are using cake mix rather than having to put everything together yourself." 
Keep reading to find out how to make these delicious pumpkin streusel muffins.
Gather the muffin ingredients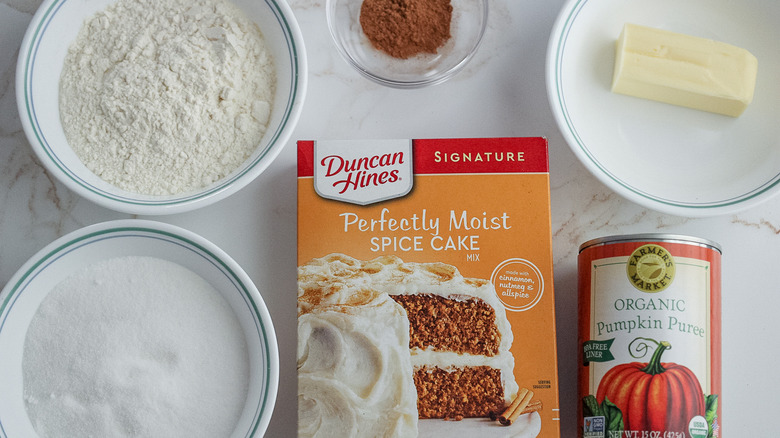 Jessica Morone/Mashed
The first order of business is to gather all of the items necessary to make this fantastic dessert. For these yummy muffins, you will only need a few ingredients, and your trip to the store should be a breeze. First, make a stop in the baking section and grab a box of spice cake mix. You will also need some pumpkin puree. In addition, get some granulated sugar and all-purpose flour. If you bake a lot, you may already have a lot of these items at home.
The last two ingredients you need are pumpkin pie spice and salted butter that's been melted. Once you have gathered everything together, we can begin!
Preheat the oven and prep the baking tins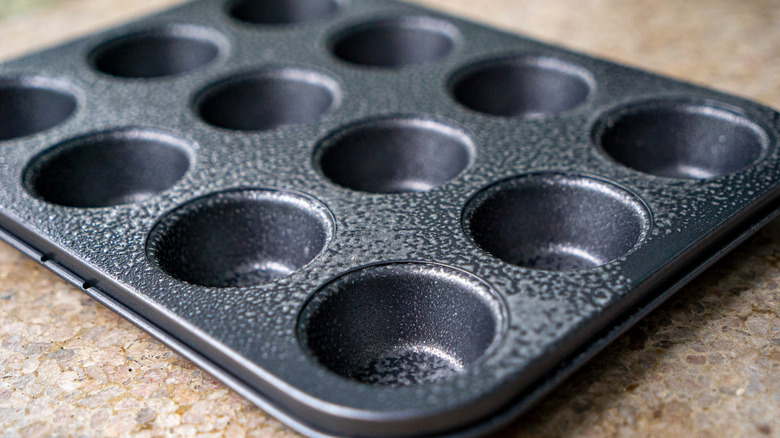 KristenLynnWolfePhoto/Shutterstock
Are you ready to get baking? We are! Turn on your oven on and preheat it to 350 F. That way, it'll get nice and hot by the time your muffins are ready to go in. Preheating is a vital step in the baking process, as it ensures your muffins will bake properly. Then, grab a muffin tin and spray each section with cooking spray so the bottom doesn't stick. If you don't have cooking spray, you can use baking cups instead. It's totally up to you how you would like to do this part.
You can also use a mini-muffin tin if you'd like. "You can definitely do mini muffins by putting the batter in a mini muffin pan and baking them for 10 to 13 minutes instead of 18 to 20 minutes," Morone shares. 
Make the pumpkin mix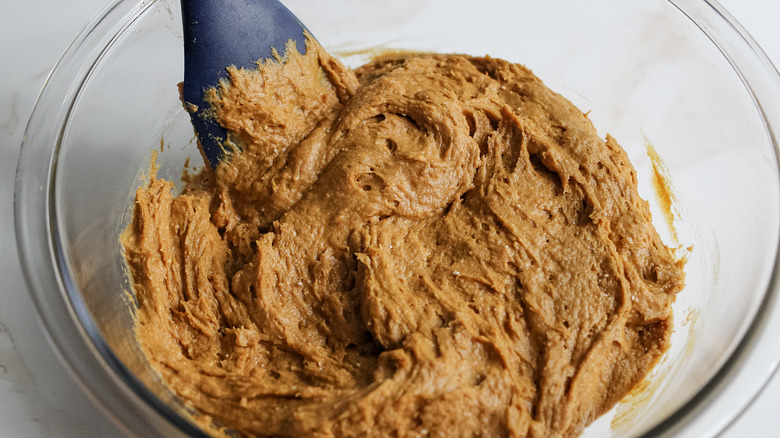 Jessica Morone/Mashed
Now we're about to pumpkin spice all the things. As you're waiting for your oven to get hot, grab a large bowl to make the mix. Pour in the spice cake mix and the pumpkin puree. These are the only two items that need to go in at this time. Then, mix them together until they're well combined. 
Once you have a nice, smooth batter, scoop it into each muffin tin until they're about three-quarters of the way full. This serves as the bottom base of your cupcakes, and it's so yummy. Now, let's make the mix for the tops.
Mix the remaining ingredients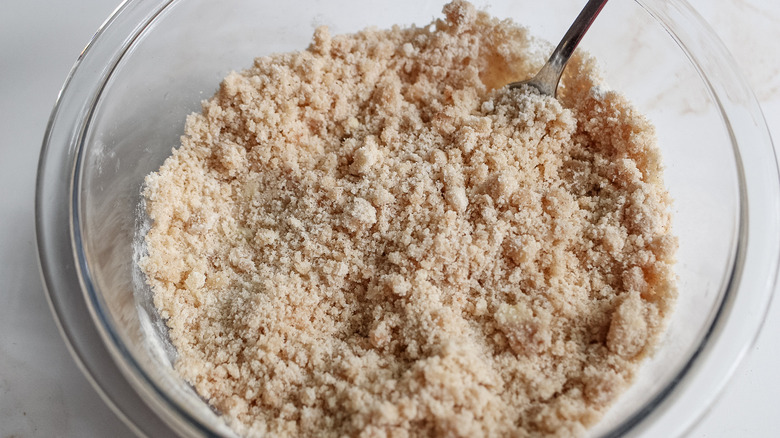 Jessica Morone/Mashed
Okay, here's the part where we mix up the remaining items. Take out a medium-sized bowl and add in the sugar, flour, and pumpkin pie spice. Then, pour the melted butter over the top. This will help the dry ingredients stick together. Using a fork, toss the dry ingredients together and continue mixing until the batter gets crumbly. Spoon out about a tablespoon of mixture over the top of each muffin. Voila, that's all you need to do for the muffin prep. Wasn't that easy? 
Bake your muffins and enjoy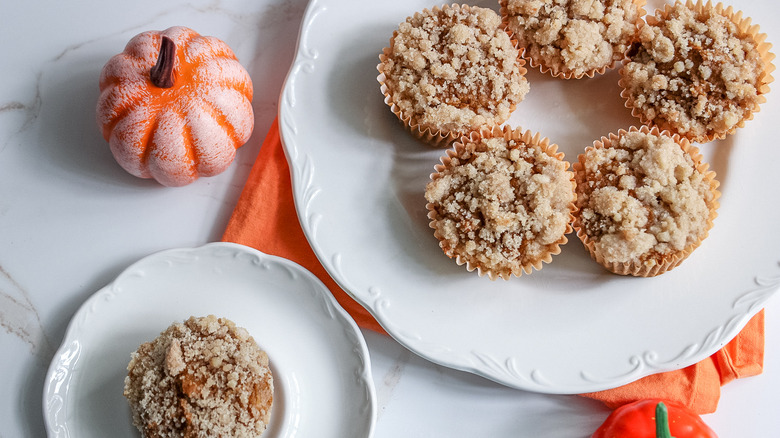 Jessica Morone/Mashed
By now, your oven should be fully preheated. Set your timer for 18 to 20 minutes until the muffins are golden. If you want to check for doneness, you can insert a toothpick into the center of a muffin and see if it comes out clean. If it does, you know that the cupcake is done.
Once you take the muffins out of the oven, allow them to cool before you serve. These are great by themselves, but you could also serve them with a scoop of ice cream for dessert. "I think these go great with your morning coffee," Morone shares.
As for leftovers? "You can store these covered at room temperate for up to three days," Morone notes. We hope you love this little taste of fall as much as we do. 
Easy Pumpkin Streusel Muffins Recipe
These pumpkin spice streusel muffins are some of the best you will ever taste, and they are sure to be a hit for kids and adults alike.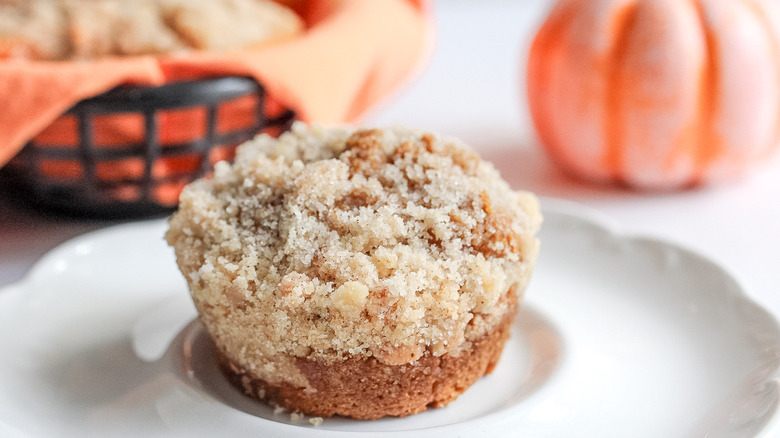 Ingredients
1 (15 ¼-ounce) box spice cake mix
1 (15-ounce) can pumpkin puree
¾ cup granulated sugar
¾ cup all-purpose flour
1 ½ teaspoon pumpkin pie spice
5 tablespoons salted butter, melted
Directions
Preheat the oven to 350 F. Spray a muffin tin with cooking spray or line with baking cups.
In a large bowl, combine the spice cake mix and pumpkin puree until batter is well mixed. Scoop batter into the muffin tin until each muffin cup is about ¾ full.
In a medium bowl, add the sugar, flour, pumpkin pie spice, and melted butter. Use a fork to toss the ingredients together until the mixture is crumbly. Spoon about a tablespoon of the mixture over each muffin cup.
Bake in the preheated oven for 18 to 20 minutes until the muffins are golden and a toothpick inserted into the center of a muffin comes out clean. Allow to cool, then serve.
Nutrition
| | |
| --- | --- |
| Calories per Serving | 278 |
| Total Fat | 7.0 g |
| Saturated Fat | 3.6 g |
| Trans Fat | 0.2 g |
| Cholesterol | 12.7 mg |
| | |
| --- | --- |
| Total Carbohydrates | 51.8 g |
| Dietary Fiber | 1.7 g |
| Total Sugars | 13.7 g |
| Sodium | 257.8 mg |
| Protein | 3.0 g |