The Reason McDonald's And Five Guys Are Losing It Over Liverpool's New Uniforms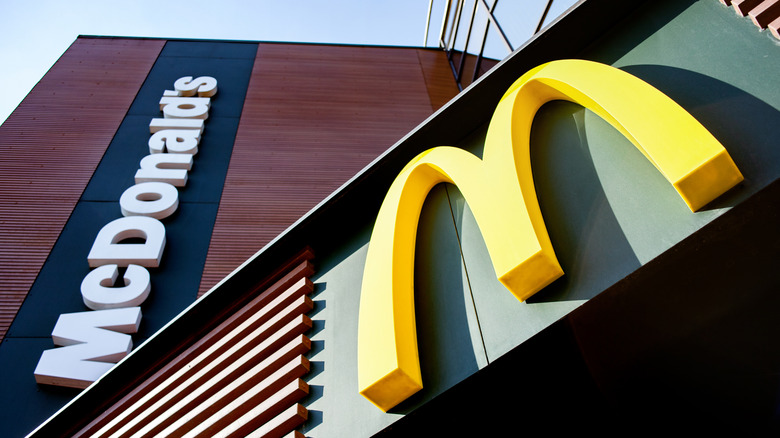 8th.creator/Shutterstock
McDonald's and Five Guys are known for having an array of delicious burger options and other craveable items. In fact, an article by Uproxx reports that both chains are at the top of the list when it comes to which brand has the most mouthwatering fries, with Five Guys slightly edging out with the win. Each brand is also immediately recognized when you see their uniforms and familiar color scheme. So, when Liverpool's Football Club recently debuted its new Nike uniforms that looked very similar to the two fast food giants' famous pigment choices, they couldn't help but weigh in.
The Liverpool team posted a picture of the new shirts that feature red and yellow checkered trim that's strikingly similar to the hues that McDonald's uses. The chain that's known for their Big Mac wrote on Twitter to the football squad, "OMG, I love your top, where did you get it." The club's official merchandising Twitter responded to the jab, saying, "But are you lovin' it though?" Not one to miss an opportunity to poke fun, McDonald's replied, "There's something about it that's just... *chefs kiss*."
Five Guys and McDonald's devotees have mixed feelings about the new gear
Five Guys also noticed the similarities in Liverpool's new uniforms and took to Twitter to give their fans a deal. The popular burger chain wrote, "Inspired by the iconic Five Guys. We've got one limited edition tee up for grabs, today only. Who wants one?" alongside an emoji of a soccer ball. The brand even said it would throw in some socks for some lucky customers too. One excited Twitter user responded to the post, "Yes please. I will wear it to every footbal match (free exposure) and every time im in town ill walk into every McDonalds shouting Five Guys rule."
However, McDonald's patrons seemed to be a little more bothered by the obvious color similarities in the uniforms. One simply wrote on the chain's Twitter post, "Shameless." Another user commented, "@nikefootball have made the worst kits Liverpool have ever had. That 3rd kit is just wrong on so many levels." It appears that whether you love or hate these new shirts, they are clearly generating a lot of buzz.