What Life Was Like For Meghan Gill After Winning Hell's Kitchen - Exclusive
After Meghan Gill won Season 14 of "Hell's Kitchen," her life changed in ways she couldn't imagine. Before her win, the chef honed her skills at L'Academie de Cuisine where she studied French culinary techniques and went on to work at a variety of restaurants in D.C. (via Dormie Network). When Gill made it onto the show, she was no stranger to professional kitchens, and her abilities helped her pull through past the finals, earning her a spot as head chef at the Gordon Ramsay Pub and Grill in Atlantic City.
"So I started on like the busiest day of the year, 4th of July, and I was like, 'What's happening right now?'" Gill said in an exclusive interview with Mashed. "And there were like 1,200 orders. I'm like, 'What does that look like?' And it was like ... Oh my God. I had never seen anything like it. But, I mean, I went in there."
"And my personality is a little bit challenging at times I want to say, for lack of a better word, but I went in there, and I feel like I was doing what I was supposed to do and raise the bar," Gill continued. "And there was one time when the UK team came. That was terrifying. And so, it's basically [chef Ramsay's] right-hand guy coming down from the UK, and Christina Wilson and David Martin, like the whole crew. And they come in, it's the first time I meet them, and the chef, the second hand to Gordon, he terrified me."
Meghan Gill had a challenging role to fill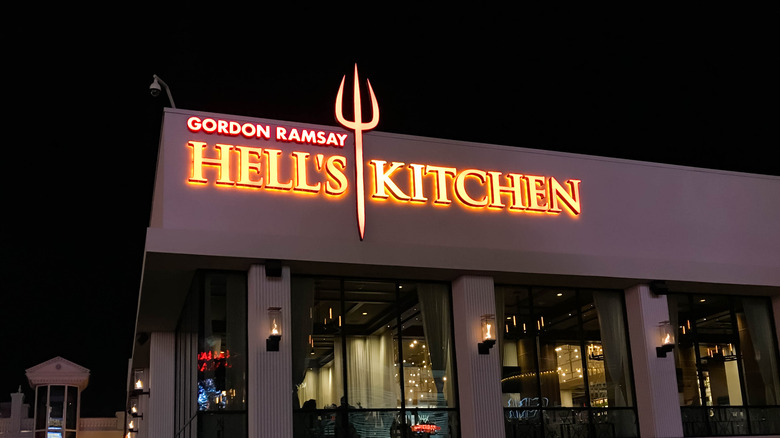 Ceri Breeze/Shutterstock
"I almost started crying," Meghan Gill revealed. "He got in my face and he's like this close to me, and I just said, 'Chef, I'm really nervous right now. I don't know what to say.' And then he just backed off, chilled out, and then we cooked together, and then that was that. So I have so much knowledge, I pulled so much from that experience, and they were just really crazy experiences. You're in Atlantic city, number one. You're in a casino. And then, you're working for Gordon, and it's the most popular restaurant on the strip. And you have fans and your face is everywhere, and you're like, 'Okay.' It's an adjustment, for sure, but, yeah, it was crazy."
Gill also had to make one very famous Gordon Ramsay staple. "I made [Beef Wellingtons] every way you could possibly think of," Gill continued. "I made mini ones. I made big ones. I made small ones. I mean, it was just insane. I can make a Beef Wellington in my sleep."
Eventually, the chef moved on to join the Dormie Network and has since started overseeing the company's kitchens (via Dormie Network). Thank to her experience on the television show, Gill rose above and found new pathways to create amazing food. 
Keep up to date with the chef's latest career moves by following her on Instagram and make sure to catch the latest episode of "Hell's Kitchen" on Fox.