Chef John Reveals How His YouTube Career Really Got Started - Exclusive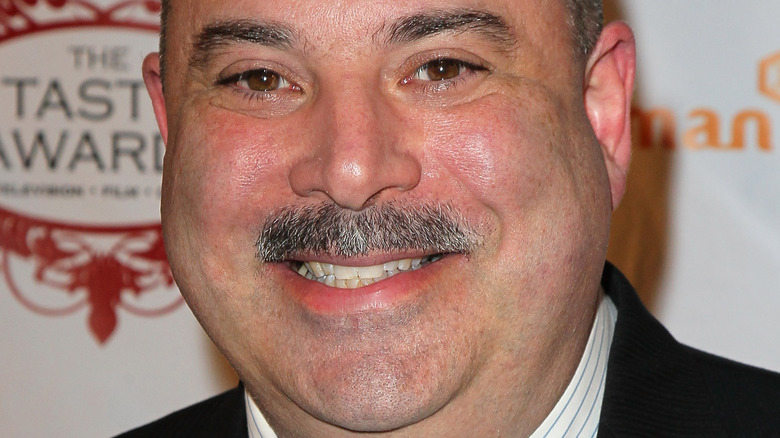 David Livingston/Getty Images
It turns out Bob Ross isn't the only wholesome fella out there who appreciates those "happy accidents" in life. For John Mitzewich, better known as Chef John of YouTube's "Food Wishes," the happy accident wasn't a splotch of paint. Instead, it was a plan to start an online culinary education program that inadvertently grew into a YouTube channel that now boasts well over 4 million subscribers (via YouTube).
Of course, even if he'd never begun to produce affable online cooking tutorials, Chef John was always going to work in food in some capacity. As he explained in an exclusive Mashed interview, Chef John worked in a few restaurants during high school, and then he enrolled in a culinary program at Paul Smith's College in the Adirondack Mountains of upstate New York, becoming one of the first members of the school's chef's training program. He went on to "do the cook thing and then chef thing and then catering thing and all the jobs in the industry that you can pretty much have." Then a unique opportunity arose.
"I was into a little more entrepreneurial era of my life," Chef John said. I tried doing some desktop publishing, and when I was a sous chef at the Carnelian Room, I used to help cooks with resumes, because I was the one that interviewed a lot of the new employees. And I noticed [...] cooks' resumes were just horrible and just filled with typos and just every mistake you could make — so I had this idea as a little side business, I would specialize in designing, developing, printing resumes for cooks."
Soon he was making as much money helping fellow chefs with resumes and placements, and that led to teaching business-oriented classes for cooks at the Culinary Academy of San Francisco. From there, Chef John developed an idea to launch an online culinary school. 
YouTube came calling for Chef John
Chef John never really managed to create an online cooking school. "I quickly realized people didn't want to pay for content online," he explained. But in the course of trying out his idea for an online cooking program, he was making several cooking videos per week and posting them to YouTube. "It was the only way I could share these instructional videos as I was hoping they would take off into some kind of online culinary school. And then one thing led to another and I got a couple of letters from people at YouTube saying: 'Hey, we liked the video. We'd like to make you a content partner.'"
And initially, he passed. "Funny enough," the chef said, "I thought it was spam. I ignored all their emails and calls. Back then, a human used to actually call you. Like: 'Hey, this is so-and-so from YouTube.' And anyway, eventually they got through my thick skull that this was not a scam. They actually wanted to share revenue from ads off the channel."
Chef John wasn't trying to be the next big YouTube personality, he was just trying to make cooking videos. "I didn't have any equipment. I didn't have wireless mics or anything, I just had this old LogiTech web eye you used to put on top of your laptop," he explained. "I had that strapped to a spice rack [...] It was just hands and pans as the format's come to be called these days. So I accidentally kind of stumbled on a format that was just different."
To check out Chef John's video recipes, head on over to his YouTube channel "Food Wishes."