Instagram Is Loving Cindy Crawford's Iconic Pepsi Ad Re-Creation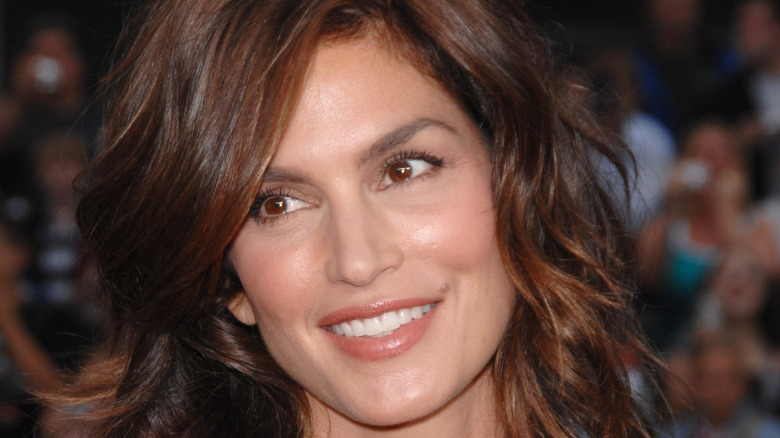 Featureflash Photo Agency/Shutterstock
A whole lot of water may have flowed under the bridge since 1992, but some things don't change — like Cindy Crawford and her ability to rock a white tank top and Daisy Dukes the way she did for her iconic Pepsi commercial. And if we needed proof, the internet got it when Crawford went online to post a photo updating the famous Pepsi ad. "We returned back to the original Halfway House from the famous Pepsi commercial I did in 1992 to re-create the moment," Crawford wrote in her Instagram post.
Crawford wasn't out to fire a shot in the ongoing cola wars – her throwback shoot, which was carried out with photographer David Yarrow, was done for a good cause. The goal: to raise funds for the American Family Children's hospital in Madison, Wisconsin, where her brother was treated for leukemia. "So far, with the help of David's gallery network across the globe supporting the art and its sales, we've already raised 1 million dollars for the cause," she said in her post.
The internet was there for Cindy Crawford's throwback shoot
Now, to be fair, this is not the first time Crawford has re-created her iconic 1992 ad. She did it once before, back in 2016, for a parody with late-night TV talk show host James Corden, which aired after Super Bowl 50 (via Fashionista). But this re-creation was for a good cause, and the throwback shot snagged Crawford plenty of love on social media from both friends and fans. 
Actress Reese Witherspoon liked the Instagram photo and responded, "Truly gorgeous! And for a great cause."
Fellow supermodels Helena Christensen, who threw a string of emojis Crawford's way, saying, "Cool in every way," and Amber Valetta, who responded with two "lit" emojis, also reacted to Crawford's post.
So what does it take to be able to get into the same outfit that made you a household name 30 years after the fact? Three weekly workouts involving cardio and weights, a beauty regime we can only dream about, and a diet where Crawford practices what she calls an "80%" eating rule, where she eats things that are "80% good, 80% of the time" (via Telegraph). Supermodels, they really aren't like you and me.