The Truth About Eva Longoria's New Sipping Tequila, Casa Del Sol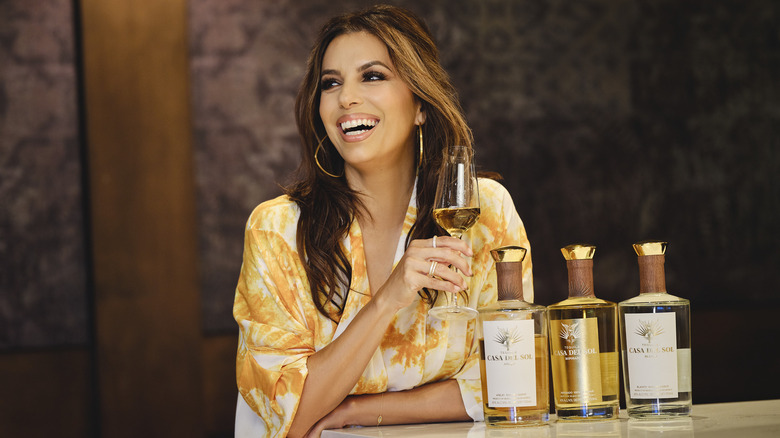 Brian Bowen Smith
Eva Longoria wants you to celebrate the magic of the golden hour and Mayahuel, the Aztec goddess of agave, with her new luxury brand of tequila. According to a press release sent to Mashed, Casa Del Sol, which translates to "House of the Sun," has quite the impressive team. In addition to Longoria, a Mexican-American actress, producer, director, and activist, Alejandra Pelayo, the protégé and goddaughter of the late Francisco Alcaraz, who created Patrón, will serve as the head of production, and Mariana Padilla, an artisan and the daughter of Paco Padilla, the cultural ambassador of Jalisco, will act as Artesana Tequilera.
"Legacy and authenticity are huge components of Casa Del Sol, and it was important for us to pay homage to the past through every facet of the brand, including our logo, which is visibly inspired by Mayahuel, 'The Goddess of Tequila,'" said Padilla. The Aztec legend of Mayahuel describes a young goddess who was hidden away by her jealous and possessive grandmother, Tzitzímitl (via Experience Mayahuel). Mayahuel dreamed of love and passion and escape, causing her to fall into a passionate affair with the Serpent God of the Wind, known as Ehecatl. Tzitzimitl was enraged and took revenge on the young goddess leaving her as only a spiked plant, watered by the tears of Tlaloc, the God of Rain. This plant came to be known as maguey or agave.
Eva Longoria's brand was inspired by the goddess of agave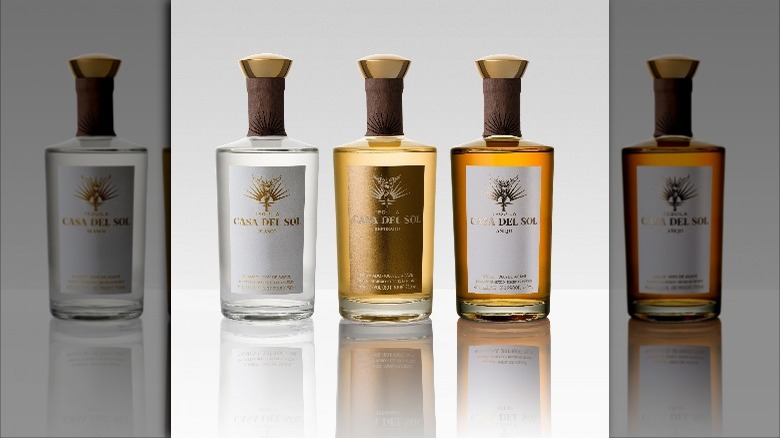 Casa Del Sol
Casa Del Sol uses 100% Blue Weber agave sourced from rich clay soil in the highlands of Jalisco, Mexico. Unlike typical tequilas aged in whiskey barrels, this lux tequila is aged in Cognac barrels handcrafted with French Limousin Oak, which provides a distinctive flavor and aroma. "When creating Casa Del Sol, we wanted to deliver a brand that was set apart from the rest. From the liquid to the legacy, we took the time to develop an ultra-premium tequila focusing on authenticity and a distinct flavor profile," Longoria, who co-founded the brand, shared.
Casa Del Sol is available in three varieties. The first, Blanco, is described as best sipped in the sun. Selling for a suggested retail of $59.99 it is full of fresh agave and mint with hints of caramel green apple. The second, Reposado, is aged for a minimum of four months and sells for $69.99. It has flavors of vanilla, butterscotch, and raisin, and is best sipped at sundown. Anejo, the third selection, is the brand's top-of-the-line tequila, bringing in $99.99 per bottle after being aged, with tastes of dark cacao, dried fruit, apricot, and oak, for at least 14 months.
Find this tequila at select retailers and restaurants throughout California, Colorado, and Florida, and for pre-sale nationwide online at Casa Del Sol, with a wider retail release expected in early 2022.