Angry Orchard Released An Interesting New Product, And It's Not Hard Cider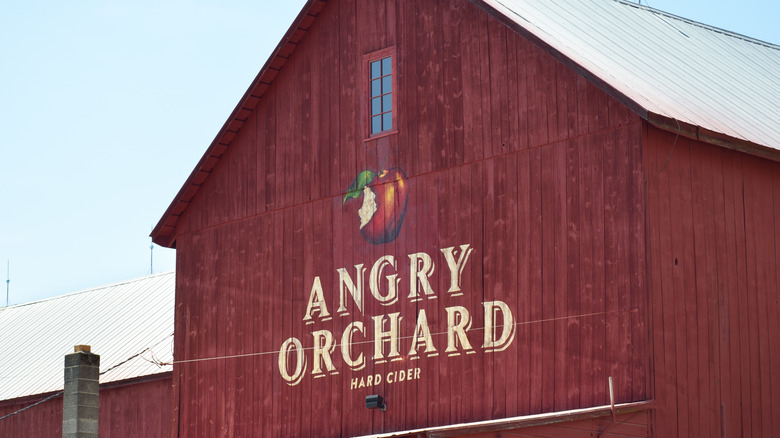 Sean Wandzilak/Shutterstock
Do you love the taste and aroma of Angry Orchard cider but sometimes find the flavor a bit too sweet? Does hot sauce have a section in your pantry all by itself? Are you simply a cider addict who wants more, more, more? If you answered yes to any of these questions, this newly announced partnership is for you. Boston Beer's Angry Orchard brand has teamed up with Bushwick Kitchen for a line of cider-inspired hot sauce featuring Crisp Apple Jalapeno, Peach Mango Scotch Bonnet, and Strawberry Jalapeno (via PR Newswire).
All the respective flavors correspond to an Angry Orchard cider variety. In a press release about the product, Bushwick CEO Daniel Doll expressed ample enthusiasm, saying, "We are so thrilled to be collaborating with such an iconic brand that will help us bring a diverse set of flavor combinations to our customers. We're flavor perfectionists here at Bushwick Kitchen – but we like to think out of the box. Angry Orchard's hard ciders offer sweetness and an edge that brings the best collaboration with our flavorful heat."
Angry Orchard enters a fruitful hot sauce partnership
Bushwick Kitchen, which used to be known as MixedMade, rose to fame almost overnight in 2015 (via Yotpo). Formed by two friends, the company rocketed to prominence thanks to its unconventional flavor pairings. Many have tried the brand's Bees Knees Spicy Honey, Trees Knees Spicy Syrup, or Weak Knees Gochujang Sriracha. Its partnership with a household name like Angry Orchard seems like a recipe for hot news. "Bringing together cider and food is one of my favorite ways to show off cider's versatility and complex flavor profile – especially when heat is involved," said Angry Orchard's Head Cider Maker Ryan Burk in the press release (via PR Newswire). 
As for the sauce line, the flavors are available from Bushwick Kitchen for $13.99. The website recommends adding the Peach Mango Scotch Bonnet to macaroni and cheese, guacamole, or tacos for a bold spice that includes coriander, cumin, and ginger. The Crisp Apple Jalapeno is said to pair well with eggs, burritos, and fried chicken, among other foods. The Strawberry Jalapeno is said to be suited for such foods as pizza, rice bowls, and sushi. Definitely a unique-sounding sauce, this blends the fruitiness found in Angry Orchard's strawberry cider with habaneros, jalapenos, and the OG gochujang paste you might associate with the Bushwick Kitchen's Weak Knees Gochujang Sriracha.
Seriously, this all sounds delicious.