Instagram Thinks This 'Bloomin' Onion' Apple Pie Is 'Food Genius'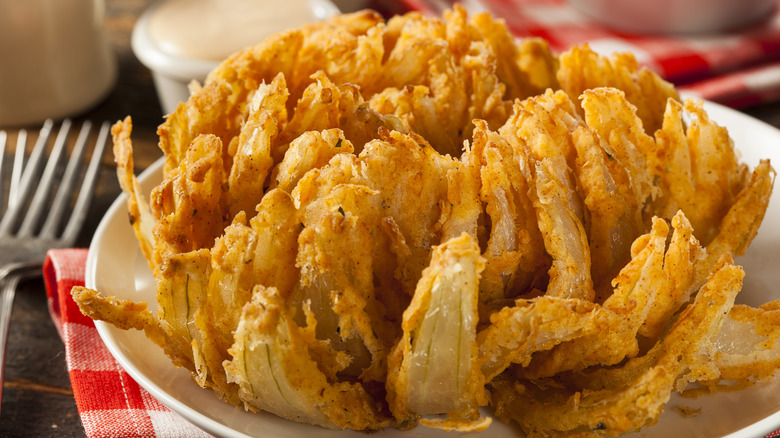 Brent Hofacker/Shutterstock
Rising star Josh Elkin has really hit it out of the park with this recipe for a Blooming Apple Pie. Described by Foodbeast as "Foodbeast fam, Foodbeast Kitchen League champion," this Instagrammer is making all of our mouths water. Inspired by Outback Steakhouse's Bloomin' Onion, this inventive take post puts a sweet twist on the battered and fried appetizer, turning it into a dessert. Simply put, fans think this recipe is brilliant. Instagram user prettychawq exclaimed, "Food genius!!!!!!" while another person praised  as "cute and creative." But perhaps poster yasou.h put it best: "I thought it was an onion as i see everyone doing it but an apple is genius."
So what exactly has got people talking? Using a whole apple, Elkin manages to slice most of the way through it with an apple cutter while keeping the sections attached to the base. This is achieved by placing the apple between two spatula handles that stop the cutter from completely slicing through the fruit. The apple is then battered, floured, fried, and dusted with sugary goodness. Each piece is eaten with a homemade caramel sauce. 
While this idea might seem unique, it won't stay that way, if constantine_spy's suspicion proves true: "I've never seen anyone straight up deep fry an apple like that. Now everyone's gonna do it." Moreover, Elkin shares the recipe, and the ingredients are pretty simple.
Make a Blooming Apple Pie with ingredients from home
Josh Elkin makes his Blooming Apple Pie with buttermilk and eggs for the batter and of all-purpose flour, cinnamon, nutmeg, and salt for the breading (via Instagram). Of course, you'll also need an apple, but what kind? Elkin recommends "granny smith apple or whatever apple of your choice." The apple is fried at 350 F for 5 minutes. You'll also need to mix sugar with cinnamon for the dusting on top. Seeing this dish come to fruition not only had mouths watering but got creative juices flowing.
Instagram user catnieveslopez suggested a way to upgrade this creation: "Some vanilla bean ice cream in that center drizzled with that caramel!!!!!" to which Elkin happily replied, "That's a great move. Blooming apple a la mode." Commenter alex_cassidy55 had a more out-of-the-box suggestion, specifically out of the cereal box: "Try it baked and coated with corn flakes bet it's fireeeee." Someone else was eager to try this recipe with a peach. Honestly, these suggestions sound simply delicious.