Kroger Has Big News For Fans Of Fast Food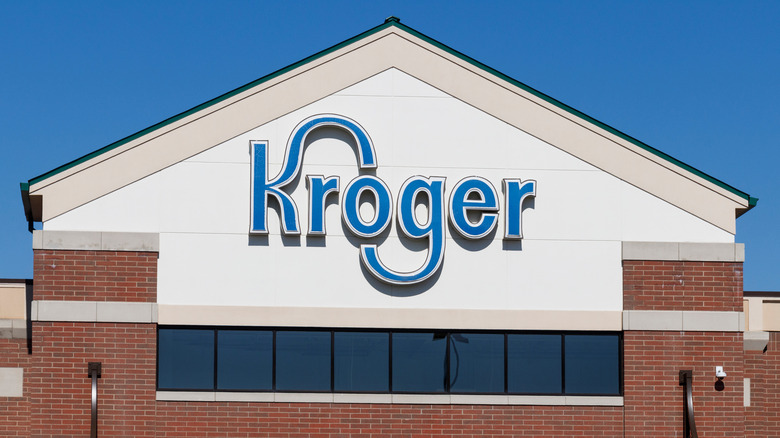 Jonathan Weiss/Shutterstock
If you're making a quick run to Kroger, it could mean you need a few more ingredients to cook up a big meal, but in the future making that run could indicate your dinner has already been made and is ready to serve. According to Marketplace, Kroger announced it has begun a partnership to introduce ghost kitchens in its stores. The announcement comes after the growth in grocery shopping brought on by the pandemic has slowed and consumers are spending more time out of the home, according to the outlet.
To meet the shift in customer needs, Kroger is partnering with ghost kitchen "industry leader," Kitchen United, a company known for co-locating several restaurant brands to offer pickup and delivery options from a singular location, according to a press release from Kroger. Craig Gauden, Kroger's director of partnership development explained, "As we continue to define Kroger as a food destination, this collaboration creates another seamless way for our customers to order lunch or dinner for pick up while they shop for groceries or for delivery to their location of choice."
We have to admit this setup sounds enticing, but it may take shopping while you're hungry into dangerous territory!
What can shoppers expect to see at Kroger?
With the new ghost kitchen concept at Kroger, there will undoubtedly be new food options available in-store. According to Kroger's press release, these kitchens operated by Kitchen United will "feature up to six local, regional or national restaurant brands." Even more exciting, customers will be able to order from more than one of the restaurants in a single transaction by using a website, app, or kiosks. This is promising news for parents who are frequently asked to make more than one stop to pick up dinner!
According to Eat This, Not That!, Kroger hasn't announced which specific restaurants they will be introducing in these ghost kitchens, but the outlet points out that Kitchen United's MIX platform currently offers brands including Greenleaf salads, Trejo's Tacos, and Siri Express Indian cuisine. From a glance at Kitchen United's website, it also looks like the company's partnered with Wendy's and White Castle. The possibilities really seem endless, but we're dreaming of a future where you can pick up a Baconator, a side of chicken rings, and a carton of Kroger Deluxe Strawberry Surf Ice Cream. That's a meal that might just make everyone in the car happy!