Easy Carrot Cake Recipe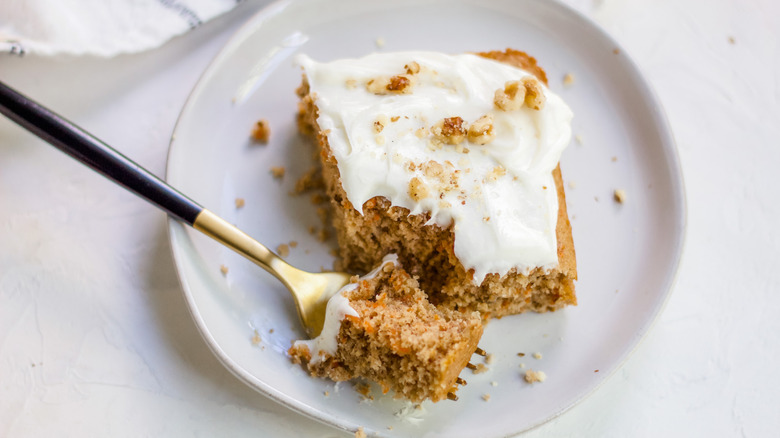 Jaime Bachtell-Shelbert/Mashed
Carrot cake is one of the rare desserts that combines a veggie with cake and still tastes amazing. Like zucchini bread, it's always great to get a serving of vegetables mixed in with a sweet treat, and this carrot cake is no exception. According to Carrot Museum, the true beginning of carrot cake is not entirely known, so we're not sure exactly who to address our thank you cards to. However, it is believed that Europeans used to enjoy carrot pudding which later transformed into carrot cake. You learn something new everyday, right?
Recipe developer Jaime Bachtell-Shelbert of Wholly Nourished came up with this simple and delicious recipe. There's a lot to love about it, but Bachtell-Shelbert specifically points out how she enjoys the ease of the dessert. "I like how quickly this recipe comes together. Easy tweak [of] a box mix, and you have a carrot cake," she says. Whether you need something to make for a family get-together or just because, this is a dessert that you need in your baking repertoire.
Gather the ingredients to prepare this easy carrot cake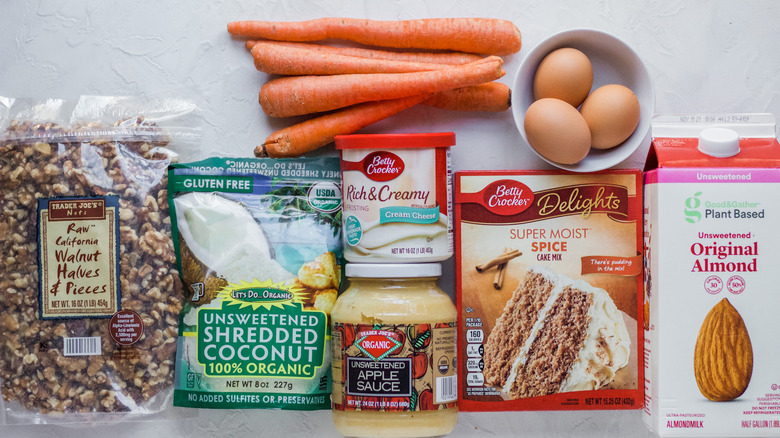 Jaime Bachtell-Shelbert/Mashed
Are you ready to get cooking? Because we are! Go ahead and grab a box of spice cake mix, which is the main ingredient for this recipe. You will also need milk and some unsweetened applesauce. As with most dessert recipes, this one calls for a few eggs. And since this is carrot cake, you will need a couple of large carrots.
Keeping with the easy theme, there are only a few more things that you will need, including unsweetened coconut flakes, chopped walnuts, and a container of pre-made cream cheese frosting, which is much easier than making it from scratch. Now, it's time to get baking.
Preheat the oven, and spray the pan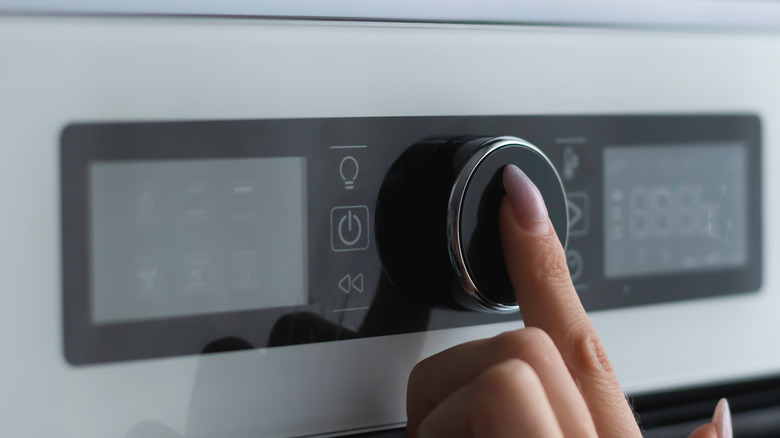 Serhiy_Chaiko/Shutterstock
Since this is a cake, you'll need to begin by preheating your oven to 325 F. We always harp that preheating an oven is important, because if it's not at the right temperature, it can ruin whatever you are making. It may not seem like it, but this is a crucial step in just about any recipe.
Next, take out a 9x13-inch pan, and spray it with nonstick cooking spray. This ensures that nothing will stick to the bottom when it's baking. Set the greased dish to the side, because you will need it in just a minute.
Combine the ingredients to make the cake batter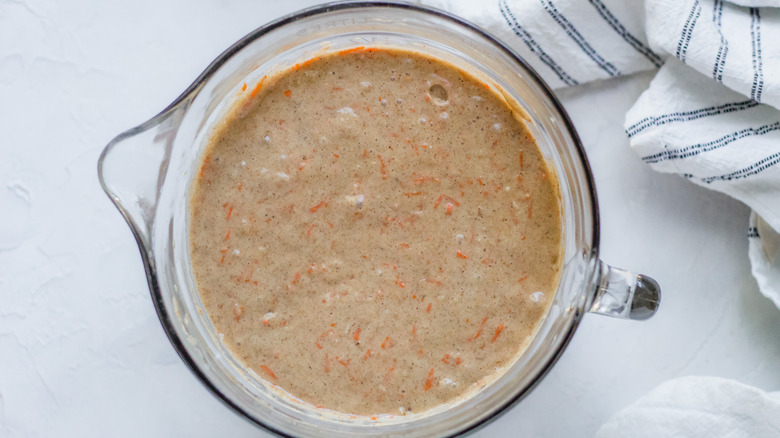 Jaime Bachtell-Shelbert/Mashed
For this step, you will need a mixing bowl and something to mix the batter with. Once you have the bowl, you can add the box of cake mix, followed by the milk and applesauce. Next, add the eggs.
Turn the mixing speed up to medium-high, and beat the batter together until it's combined. This should only take about a minute or so. Then, stir in the carrots, coconut, and walnuts. Give the mixture another few stirs to combine. That's the most labor-intensive part of the recipe, making it pretty easy from here on out.
Bake and frost the carrot cake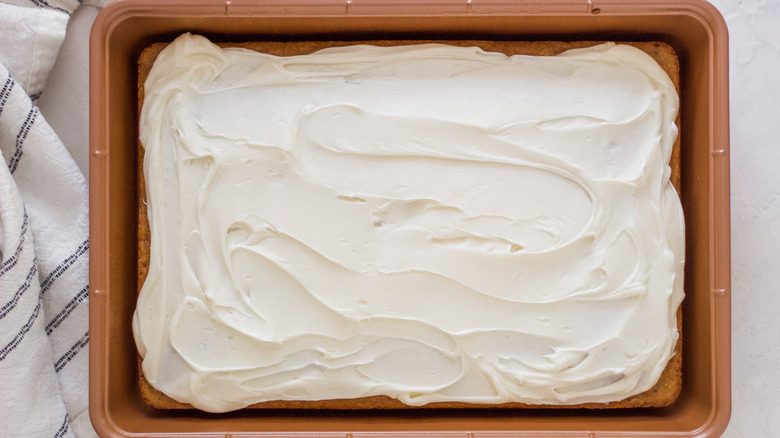 Jaime Bachtell-Shelbert/Mashed
Now that your batter is finished, pour it into your prepared pan. Next, double check that your oven is fully preheated, and once it is, set the timer for 35 minutes. Be sure to keep an eye on the cake, as all ovens have a slightly different makeup, and baking varies a bit. Once you can insert a toothpick and it comes clean, that means the cake is done. 
Remove the cake from the oven, and let it cool. When it's done cooling, frost with the cream cheese frosting and — voila — now you have yourself a delicious dessert.
Slice the cake, and serve on plates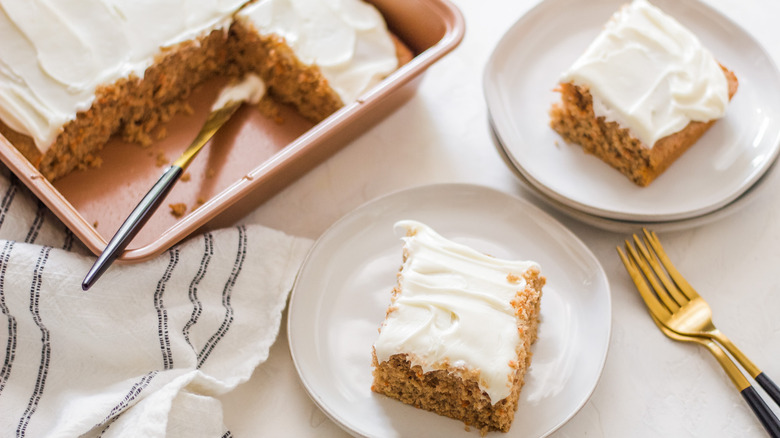 Jaime Bachtell-Shelbert/Mashed
Once you have frosted the cake, it's time to slice it up and eat. This cake would pair well with a number of things, including a scoop of ice cream or a glass of milk. Bachtell-Shelbert also shares that this cake goes well with a little caffeine. "​​In my opinion, this would be lovely with a cup of coffee or hot tea," she suggests. 
As for leftovers? If you happen to have any, be sure to store them covered in the refrigerator for up to one week. We hope you enjoy this delicious cake as much as we do!
Easy Carrot Cake Recipe
Whether you need a sweet treat for a family get-together or just because, this easy carrot cake recipe is one that you need in your baking repertoire ASAP.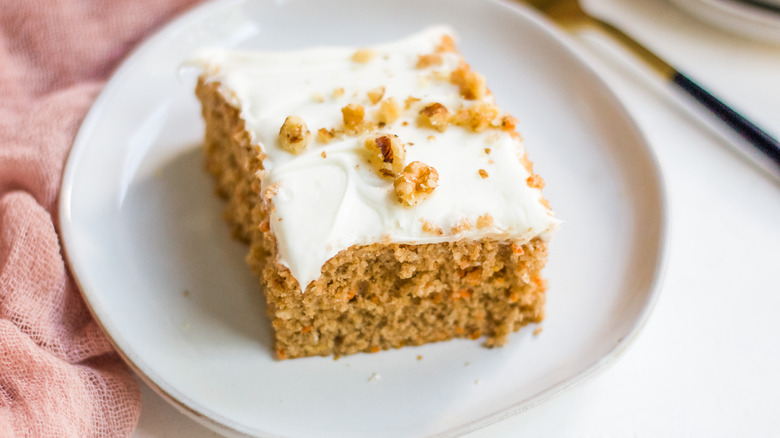 Ingredients
1 (15.25-ounce) box spice cake mix
1 cup milk
½ cup unsweetened applesauce
3 eggs
2 large carrots, grated (about 1 cup)
¼ cup unsweetened flaked coconut
¼ cup chopped walnuts
1 (16-ounce) container cream cheese frosting
Directions
Preheat oven to 325 F.
Lightly spray a 9x13-inch pan with nonstick cooking spray. Then, set it aside.
Combine the cake mix, milk, applesauce, and eggs in a mixing bowl. Beat on medium-high speed for about 1 minute, until combined.
Stir in the grated carrots, flaked coconut, and chopped walnuts.
Pour the batter into the prepared cake pan.
Bake in the oven for 35 minutes until a toothpick inserted into the center comes out clean. Then, cool completely.
Once the cake is cooled, frost it with the cream cheese frosting.
Slice the cake, and enjoy.
Nutrition
| | |
| --- | --- |
| Calories per Serving | 361 |
| Total Fat | 12.4 g |
| Saturated Fat | 3.6 g |
| Trans Fat | 0.0 g |
| Cholesterol | 42.0 mg |
| | |
| --- | --- |
| Total Carbohydrates | 59.6 g |
| Dietary Fiber | 1.2 g |
| Total Sugars | 26.7 g |
| Sodium | 322.2 mg |
| Protein | 4.3 g |