Salted Caramel Iced Coffee Recipe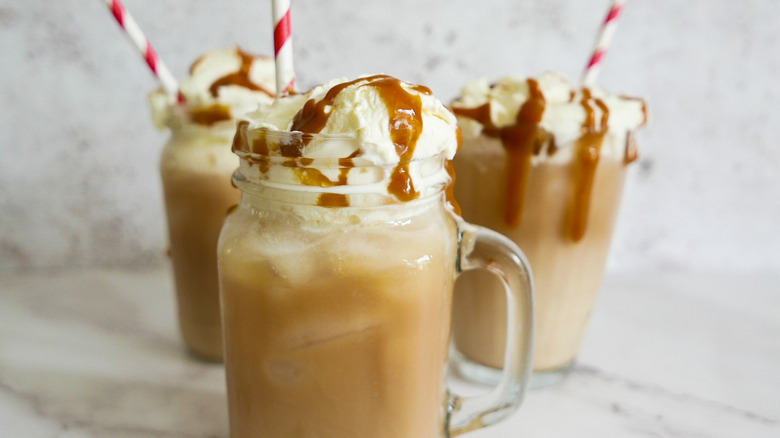 Ting Dalton/Mashed
Some of us like our coffee neat, black, with no frills. But others prefer their cups of joe to come with bells and whistles, like whipped cream and caramel drizzles. If you're a joe fan who enjoys a fancy coffee from time to time, recipe developer Ting Dalton of Cook Simply is here to show you how to make a delightful salted caramel iced coffee in the comfort of your own home. Heading out the door to the nearest coffee shop need not be the only way to enjoy a special coffee anymore. Dalton promises that the recipe offers "a super easy way to get a sweet, creamy coffee fix at home. It's great to drink when you need a caffeine fix, but also want something sweet." Not to mention, you can save yourself some money if you prepare it yourself!
The beauty of this recipe lies in its versatility. Dalton says several of the ingredients found here can be swapped for something else. For instance, "If you didn't have caramel, you could use other syrups like chocolate," she says, just as the beverage doesn't have to be finished with whipped cream. And if you want to adjust the sweetness of this drink, Dalton says, "You can use sweetened condensed milk instead of milk or add a teaspoon of sugar to the hot coffee." Take the recipe, and make it your own for a delightful treat!
Gather the ingredients to make salted caramel iced coffee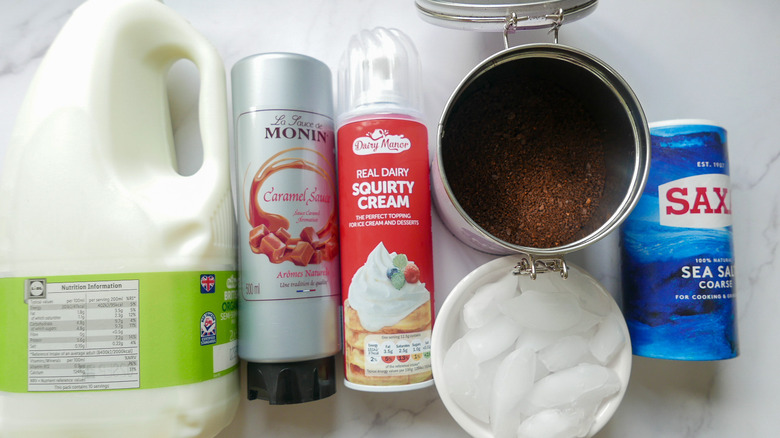 Ting Dalton/Mashed
Even if you don't make fancy coffee for yourself at home, you'll find that the ingredients for this recipe are simple, meaning that pulling them together won't take much effort at all. In fact, you likely have several of them already in your home. You'll simply need strong brewed coffee, milk, caramel syrup, whipped cream in a can, sea salt, and some large ice cubes. If you're not too keen on percolated coffee, Dalton says two shots of strong espresso will also do the trick. Not only will you enjoy making this for yourself, but it's a great treat to prepare for your guests for a special dessert they are sure to love.
Begin with a good, strong cup of coffee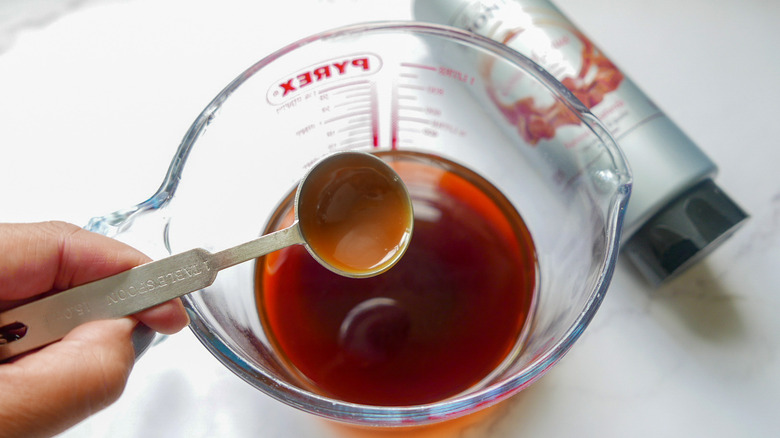 Ting Dalton/Mashed
The first step to making a good coffee beverage is to make a strong cup of your favorite joe, so that it can hold its own on the flavor front. Once your coffee is ready, add the caramel sauce, and mix well before letting the mixture cool.
If you're in the dark over the type of coffee you might want to use to make this drink, know that you won't go wrong by picking a darker or more intense roast coffee, since a lighter roast may not yield a coffee robust enough to withstand the addition of milk, ice, and caramel flavoring (via Cru Kafe).
Assemble the coffee, and garnish with whipped cream and extra caramel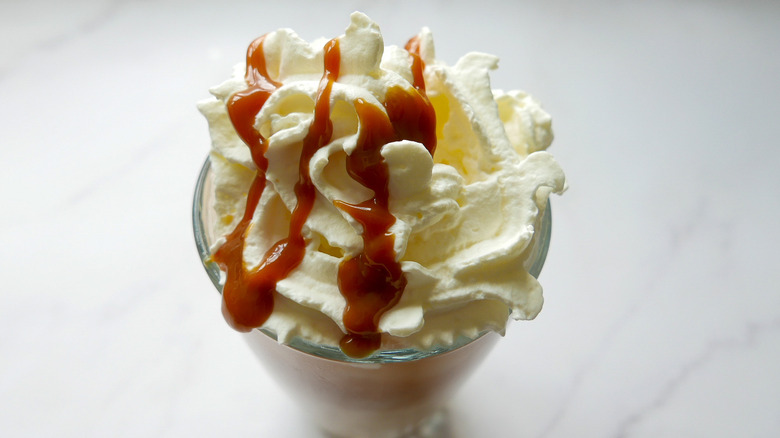 Ting Dalton/Mashed
Fill up your glassware with ice. Once the coffee has cooled, pour into prepared glasses, add a bit of sea salt, and give the mixture another good stir before adding the milk. Up the ante for your coffee by adding a squirt of whipped cream to make it look pretty, drizzle with more caramel, and then serve. 
Pro tip: Don't be tempted to try and hurry the process along by adding cold milk to piping hot coffee. As Kru Cafe pointed out, doing that will destroy the flavor of the brew that you know and love. Plus, there's nothing quite like the contrast of hot coffee and cool whipped cream.
Serve, and enjoy
Ting Dalton/Mashed
Of course, you'll want to enjoy this tasty beverage while it's fresh. It's the ultimate sip to prepare if you're having a group of people over for brunch, or if you and your significant other want to make things extra special for weekend breakfast. You can also whip it up for an afternoon treat when you're craving a sweet caffeinated pick-me-up.
Give it a try, and switch things up each time you prepare it when it comes to toppings. You are sure to become barista status in no time at all!
Salted Caramel Iced Coffee Recipe
This easy salted caramel iced coffee recipe is a snap to make and allows a super easy way to get a sweet, creamy coffee fix without leaving your home.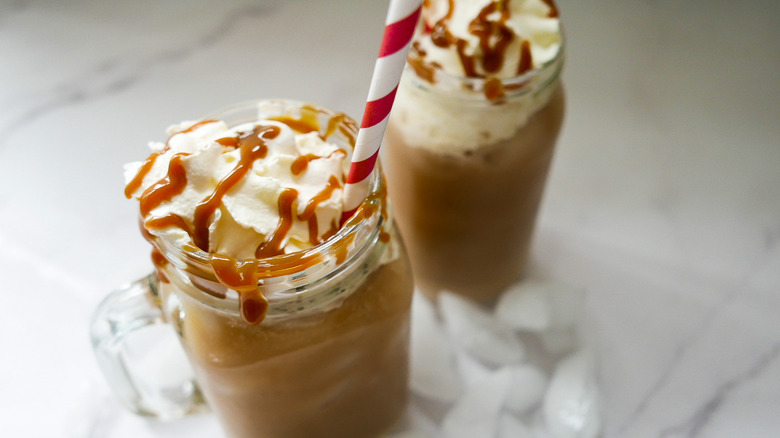 Ingredients
2 tablespoons caramel syrup
1 cup strong brewed coffee
2 cups large ice cubes, divided
⅛ teaspoon sea salt, divided
1 cup milk, divided
Optional Ingredients
whipped cream, for serving
extra caramel sauce, for serving
Directions
Add 2 tablespoons of caramel syrup to strong brewed coffee. Mix well, and allow to cool.
Fill each of your glasses or mason jars with 1 cup of ice cubes.
Pour equal amounts of the cooled coffee into each glass, add a pinch of sea salt to each, and give them a good stir.
Top each glass with ½ cup of cold milk.
If desired, add whipped cream, and drizzle with caramel sauce.
Serve, and enjoy.
Nutrition
| | |
| --- | --- |
| Calories per Serving | 128 |
| Total Fat | 4.0 g |
| Saturated Fat | 2.3 g |
| Trans Fat | 0.0 g |
| Cholesterol | 12.2 mg |
| | |
| --- | --- |
| Total Carbohydrates | 19.3 g |
| Dietary Fiber | 0.0 g |
| Total Sugars | 18.3 g |
| Sodium | 186.7 mg |
| Protein | 4.0 g |