Panera's New Flatbread Pizza Is Perfect For Meat Lovers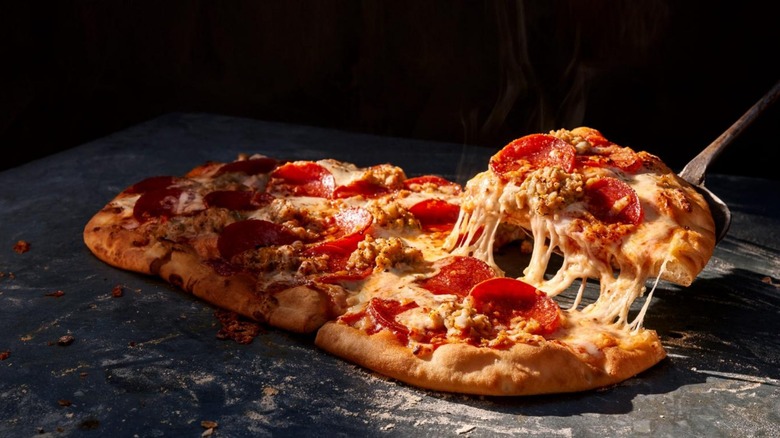 Panera
Sausage or pepperoni? Choosing pizza toppings can be a challenging task. Panera just debuted a new option that's sure to please the meat lovers among us, adding a sausage-and-pepperoni combo to its lineup of flatbread pizzas. According to Chew Boom, Panera's new Sausage & Pepperoni Flatbread Pizza features chicken sausage crumbles, thick-sliced pepperoni, shredded Fontina and mozzarella cheese (the chain's signature blend), and tomato-bell pepper sauce. The sausage-and-pepperoni combo is the fifth pizza variety to join Panera's growing roster of oven-baked flatbread pizzas. 
The sandwich chain added flatbread pizzas to its menu in October 2020, starting with three offerings: cheese, Margherita, and chipotle chicken & bacon. Pepperoni joined the lineup in January 2021. What prompted the new combo? Apparently, the Panera team finds decision-making as challenging as the rest of us, announcing via Facebook, "Team Sausage or Team Pepperoni? We dropped the new Sausage and Pepperoni Flatbread because we couldn't decide." The single-serve pizzas, currently available at participating locations nationwide, are priced under $10 on Panera's online menu.
Panera fans were quick to respond to the Facebook challenge, weighing in with votes for sausage or pepperoni, and sharing their thoughts on the new sausage-and-pepperoni combo. "I like the sausage better," commented Barbara Huryk. "Pepperoni," voted Kathryn Huls Wassil. Lili Stella posted, "I'm team sausage the whole way" and Jode Ferber Keppner responded, "Sausage." Some fans, like Jacob Rosenberg, took the opportunity to suggest new combinations. "How about pepperoni And bacon? That will be a good idea!" Sarah Marie Ashley said she's a fan of Panera's flatbread pizzas, but wished the company allowed customers to create their own topping combinations.
Review: "A lovely situation of meaty goodness"
YouTube food reviewer Ian K. had a lot to say on his channel, Peep THIS Out!, about Panera's new Sausage & Pepperoni Flatbread Pizza, telling his 34.8K subscribers, "Definitely a lovely situation of meaty goodness on top of some flatbread. Gotta say, this is looking pretty good already ... All you pepperoni heads out there, you have something to look forward to. There's a decent amount of pepperoni in addition to sausage crumbles."
As he bit into the flatbread pizza, Ian K. swooned, "MMM. Right away, saltiness, the spicing of the sausage. MMM. Yeah I know this is chicken, but you'd be hard-pressed to tell me this wasn't regular sausage because it really does taste like that. Obviously the spicing has a lot to do with it. It really tastes authentic to me. A leaner protein for sure, especially because it's chicken, but when you add a little bit of heat of the pepperoni and the flavor of the pepperoni, along with the Fontina, the mozzarella, all that good stuff, that is a very tasty first bite."
Unfortunately, Ian K. thought the crust on the slice he tested was a little undercooked, so he gave the new combo a rating of 8.2 out of 10. "It needed to be a little bit crisper on the bottom. That really would have made it just ultra primo."