The Internet Can't Get Over Marcus Samuelsson's Met Gala Suit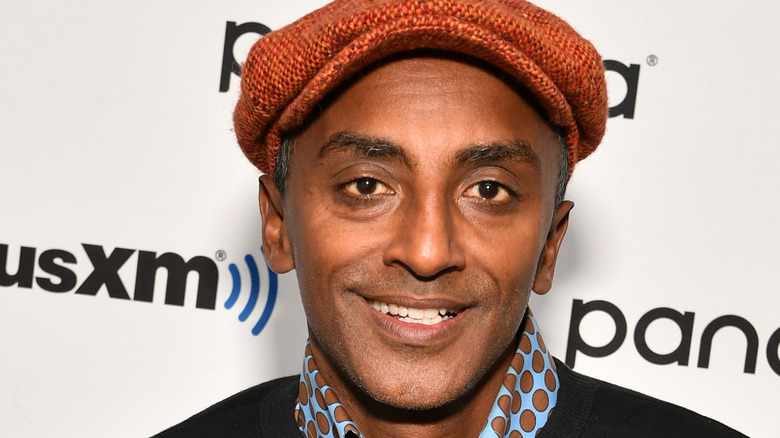 Slaven Vlasic/Getty Images
Marcus Samuelsson has never been shy about showing off his fashionista vibe. He once told Men's Journal, "I think being stylish as a man means you don't have to have any rules." So it should have come as no surprise when he showed up at this year's Met Gala decked to the nines in a bold black-and-white suit with a geometric waistcloth, black-and-white Oxfords, and a red-brimmed hat.
Making his entrance, Samuelsson gave a shout-out to the designer who created the look, posting on Twitter, "In addition to curating the team of chefs for this year's #MetGala, I'm also honored to attend wearing a custom suit designed by Harlem icon @DapperDanHarlem. This fashion legend burst onto the scene in the '80s by fusing high fashion & hip hop culture and created a lasting legacy."
And almost instantly replies began rolling in. One commenter @mishanti2 posted, "You don't even have to show his face, just the clothes and immediately you know it's Chef Samuelsson!" Another follower @LitLuisa said, "Dapper, indeed. Great look on a great chef." And user @Supernalwings said, "He such an amazing person and this outfit embodies his personality ... Passion for food and authenticity just showing!"
Samuelsson's love of fashion is matched by his love of food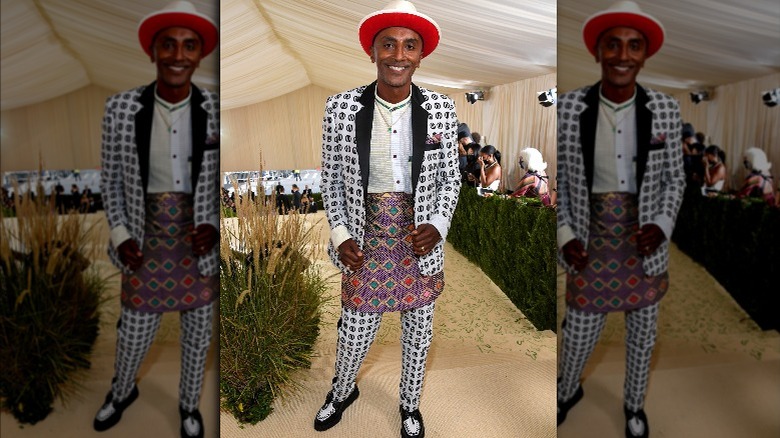 Kevin Mazur/mg21/Getty Images
To some, it might seem like Marcus Samuelsson burst onto the scene about 10 years ago when he competed in — and won — Season 2 of Bravo TV's "Top Chef Masters." Truth is, he was already making waves in the restaurant industry long before he bested his peers on the popular cooking challenge series. By the time Samuelsson stepped into the "Top Chef Masters" kitchen, he already owned two successful New York City restaurants, another two restaurants in Sweden, and cooked for President Obama (via NPR).
Born in Ethiopia, Samuelsson was 3-years-old when he and his sister were adopted by a Swedish family following the death of their mother. And clearly his love of food is matched by his love of fashion. Asked by Stylecaster to describe the intersection of food and style in his life, Samuelsson responded, "I think you should dress yourself like you would create a recipe. Add what you want, then learn how to edit properly for the best results."
Some observers would say Samuelsson's outfit for the Met Gala represented the perfect balance of ingredients. Others, not so much. The bold ensemble made Highsnobiety's "Worst Dressed" list along with the comment, "Why did Marcus Samuelsson show up to the Met Gala dress [sic] like my sleep paralysis demon?"