What Tiffany Haddish Really Eats In A Day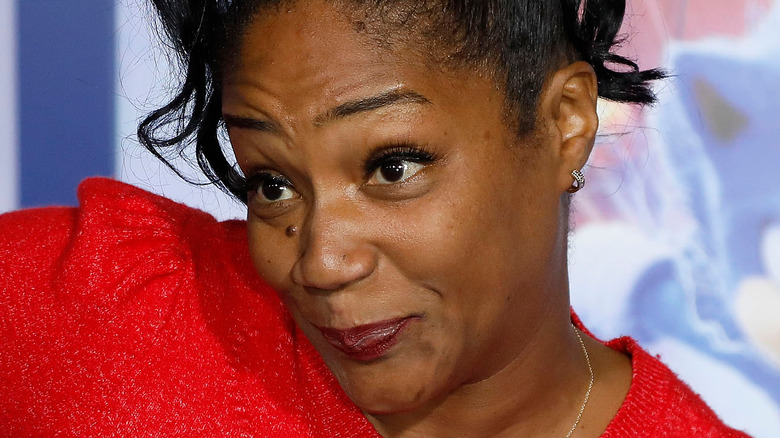 Joe Seer/Shutterstock
Tiffany Haddish is one of the busiest women in Hollywood these days, but she manages to keep her energy levels up thanks to a varied combination of healthy and fun foods. In a 2020 episode of Food Diaries for Harper's Bazaar, the funny lady gives a behind-the-scenes peek into her typical day, food-wise.
Naturally, she starts off with breakfast, when she laments that she typically never has any food in the refrigerator or cabinets. If she's lucky enough to have leftovers from the night before, like chicken, she'll heat that up in the oven and serve it alongside strawberries that she eats "right out of the dirt" from her garden. She'll also pick some kale, char, and celery, then put it through the juicer for a healthy beverage.
Speaking of beverages, she also notes that she drinks tea on a daily basis, but keeps turmeric and ginger tea on hand for those days when she stays in hotel rooms.
Tiffany Haddish's lunch and beyond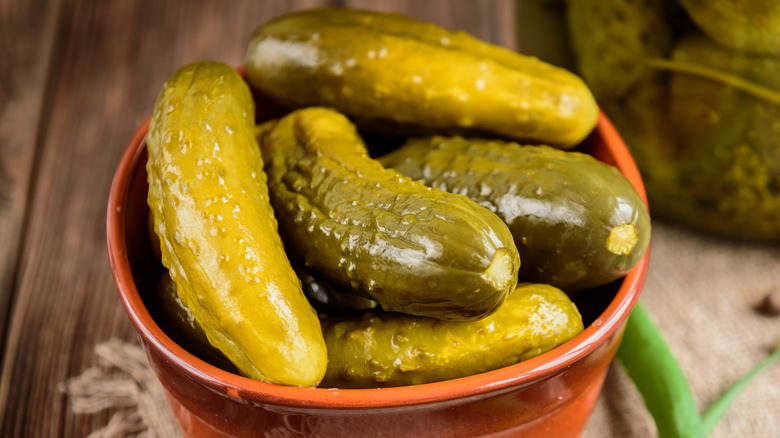 natali_ploskaya/Shutterstock
Haddish often noshes on salads for lunch, but if she's in a city that's cold she prefers a pastrami sandwich or lentil bean soup. Her special craving is fried red snapper from Mel's Fish Shack, saying, "I'm known to pop up there often."
For dinner, she prefers "expensive stuff" like steaks and lobsters, but she notes that "chicken is a main thing in my diet." Occasionally, she tries to eat lamb, but notes that lamb "tastes a little bit like musty armpit to me."
One healthy side that she loves are cucumbers and tomatoes cut up together, to which she adds a little bit of apple cider vinegar, black pepper, garlic seasoning sauce, and Lawrie's seasoned salt.
Her preferred snack is a mixture of almonds and dried apricots. "This is the best thing in the world," she says. "I don't know why they don't sell dried apricots and almonds together as one."
She also loves a good dill pickle for a snack. Her favorite way to enjoy this treat is to take a bite off of the top part, then put a Jolly Rancher, peppermint, or Now and Later into it. "Delicious flavors to savor," she says. Haddish also likes to dip a dill pickle in Kool-Aid powder. "Sounds like diabetes but imma tell you it feels like success." Delish points out that these are some strange flavor combos, but, as Haddish notes, "You can't knock it 'til ya try it!"