Wendy's Fans Won't Want To Miss This National Cheeseburger Day Deal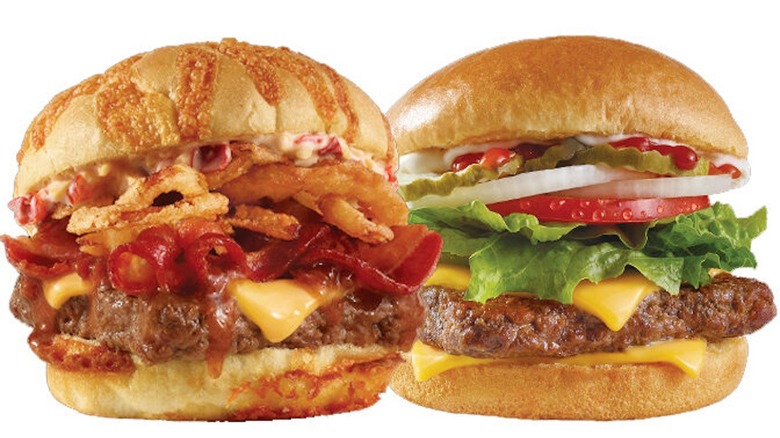 Wendy's
If you ask the folks at Wendy's, National Cheeseburger Day is more than just a day. It's a weeklong bonanza for burger lovers. The burger chain is celebrating with a buy-one-get-one offer, but there's a catch. According to Chew Boom, you have to claim the deal via the Wendy's app. The BOGO offer is good on the purchase of any premium cheeseburger, including Wendy's new Big Bacon Cheddar Burger, which is topped with applewood-smoked bacon, a "custom bacon sauce," crispy onions, American cheese, and cheddar cheese spread served on a toasted cheddar bun.
Of course, the BOGO offer also applies to other Wendy's premium cheeseburgers, including the ever-popular Baconator. According to the Wendy's website, the BOGO is available through September 19 at participating locations. The offer applies to a la carte orders only and is limited to one offer per customer visit. If the order includes two different items, the offer applies to the lower priced item.
Wendy's app-only BOGO promotion for National Cheeseburger Day is part of a larger initiative to drive traffic to its mobile app. Its website also currently mentions that "for a whole bunch of days," you can get a free Coca-Cola Freestyle drink every day when you order through the app. The deals don't stop there — Thrillist notes you also can get a free item with purchase every weekend in September.
What's up with National Cheeseburger Day?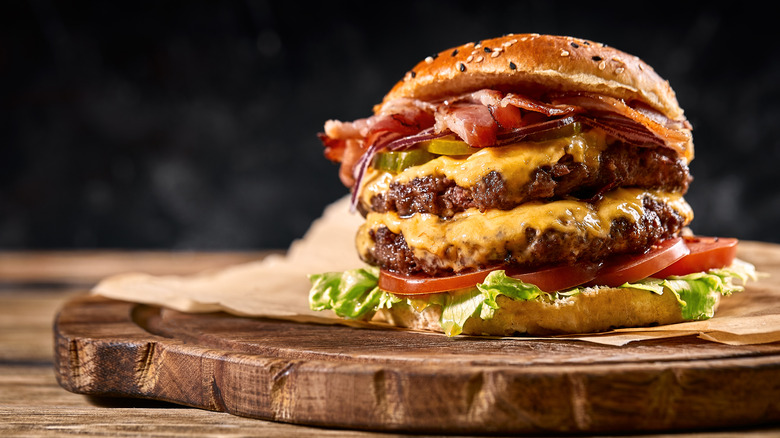 Gerain0812/Shutterstock
According to National Day Calendar, National Cheeseburger Day, an annual homage to the cheeseburger, takes place on September 18 to mark the origins of this cheesy, beefy delight. Theories abound, but National Day Calendar is partial to the idea that 16-year-old Lionel Sternberger created the first cheeseburger in the 1920s while working the grille at his father's sandwich shop in Pasadena, California. He dropped a slice of American cheese on a burger patty as an "experiment," and the rest was history.
Or did he? No one knows for sure. According to The Spruce Eats, lots of people lay claim to creating the original cheeseburger, including Charles Kaelin of Kaelin's restaurant in Louisville, Kentucky. Kaelin's sandwich came later than Sternberger's, but it looks like he may have been the first to coin the term "cheeseburger." Louis Ballast felt differently: he trademarked the term in 1935 when he was serving up burgers at Humpty Dumpty Drive-In in Denver, Colorado.
While its origins may be subject to debate, we can all agree the cheeseburger is worthy of praise, especially on National Cheeseburger Day. Why not celebrate with some free Wendy's?