Donatos New Ultra Cheesy Pizza Is Inspired By This Comfort Food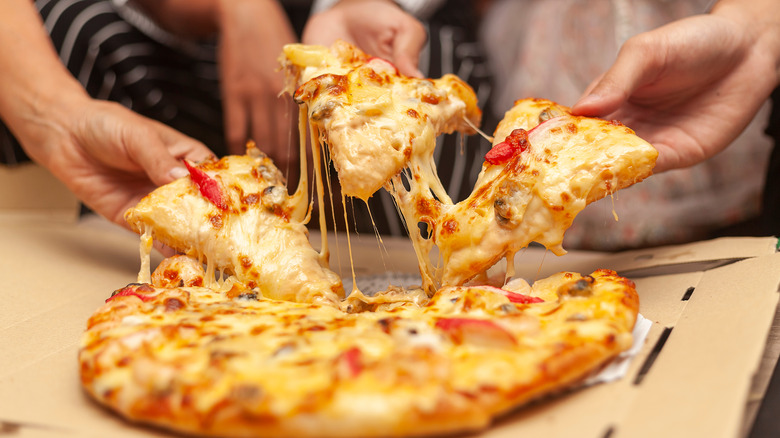 JOKE_PHATRAPONG/Shutterstock
Pizza can be the perfect food item to rely on when you want to ensure that you won't be let down by your meal. It helps when you have trustworthy restaurants to turn to whenever a craving strikes. Donatos is one of those family owned companies that has been around for a long time — since 1963, to be exact. According to its official website, Donatos is focused on ensuring that the quality of its dishes is top-notch. 
The menu is appetizing with loads of pizza options, side dishes, wings, salads, desserts, and more. And guess what? The company has now introduced a new pizza item that pays tribute to a classic treat. Per Chewboom, the new dish is going to be included in the restaurant's signature pizza menu and will be available for delivery orders, as a dining option, as well as for takeaway orders. If you love cheese, you're not going to be able to resist this one.
Say hello to the Ultimate Grilled Cheese Pizza
You've got to admit it, grilled cheese is one comfort food that's simply ideal for almost any occasion that you can think of. It's gooey, cheesy, and easy to customize. What's not to love? Well, Donatos has taken this a step further and announced the addition of the Ultimate Grilled Cheese pizza to its menu (via Chewboom). What's on there? A heavenly combination of smoked Provolone cheese, Asiago cheese, garlic, Roma tomatoes, smoked bacon, and toasted bread crumbs. But be warned, the delicious looking dish is only available for a limited period of time at participating outlets.
Donatos CEO, Tom Krouse, spoke about their latest product acknowledging that grilled cheese and pizza are high on the list of comfort foods. He also said that his team is excited to watch their customers sample the new pizza (via PR Newswire). Krouse added, "Whether it's trying something new for lunch or dinner or ordering for a late-night snack, this pizza has something for everyone from pizza lovers to cheese lovers to foodies."