Kroger's New Delivery Service Will Have Your Pantry Stocked In Record Time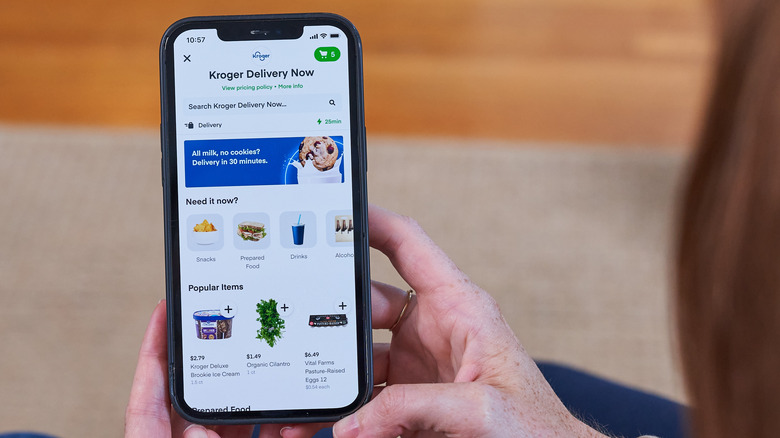 Kroger
If you thought Instacart couldn't get more convenient, it just did: The grocery delivery platform has partnered with Kroger to launch Kroger Delivery Now nationwide. According to a press release published on the Instacart website, the new service guarantees customers that they will receive their deliveries in as fast as 30 minutes. The innovation, which is available on both the Kroger website and app as well as the Convenience Hub on Instacart Marketplace, means you can get everything from groceries and household items brought to your doorstep just minutes after ordering them. 
Kroger Delivery Now sources groceries not only from Kroger locations, but also from the entire Kroger family of stores including Food 4 Less, Ralphs, and King Soopers (via Kroger). That's a network of more than 2,700 stores reaching up to 50 million households, the announcement elaborates. The new service addresses increasing consumer demands for convenience, with Instacart orders up 150% since this past May and many customers opting for expedited delivery.
Kroger first began working with Instacart in 2017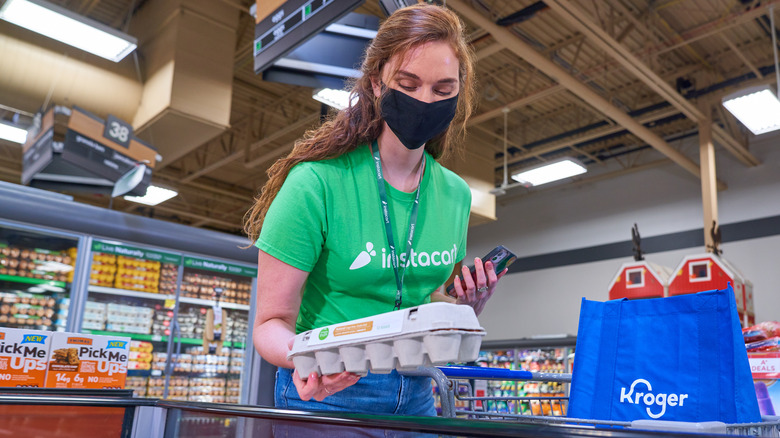 Kroger
Back in 2017, Kroger announced a pilot project in which select Ralphs grocery stores in Southern California would offer home delivery through the Instacart platform (via Kroger). Although this occurred when Instacart was still considered a startup and was in major competition with Amazon's Whole Foods delivery service, reports Forbes, the Kroger partnership ended up being so successful that in 2019, Instacart announced it would be adding one-hour alcohol delivery, giving Kroger customers another thing to quickly check off their grocery lists.
Since then, as Kroger chairman and CEO Rodney McMullen shared in the Kroger Delivery Now press release, Kroger has grown exponentially through the Instacart platform. The company raked in more than $10 billion in e-commerce sales last year and plans to double that number by the end of 2023, partly thanks to Kroger Delivery Now. Business strategy aside, we're just happy we can get our groceries delivered expeditiously.