Here's How Belgium Serves Its Fries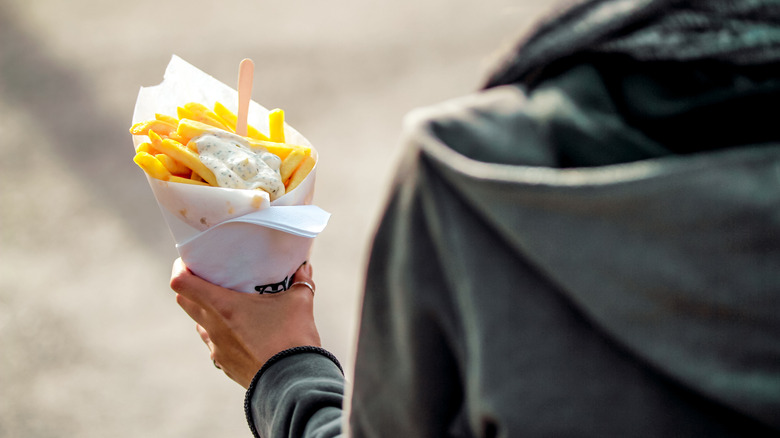 PM20/Shutterstock
The U.S. is often referred to as a bit of a melting pot, especially when it comes to cuisines. We've adapted pieces of culinary delights from all over the world to create long-standing, celebrated fusion dishes. Aside from a few claims to fame, such as hot dogs and meatloaf, there aren't many true American dishes. French fries are such a staple cheeseburger companion in the States that it often feels like it's America's very own creation, but, as the name suggests, the popular french fry can't be credited to Americans.
Considering the name, many assume the tasty fried potato hails from France, however, Belgium claims to have created the popular fry. According to National Geographic, the delicious dish was only ever referred to as French because it's the most prevalent language of southern Belgium. Belgian fries, or "frites," aren't the same fries you'll see smothered in ketchup in the U.S. These frites are much more than just a sandwich sidekick.
Double-fried, double the flavor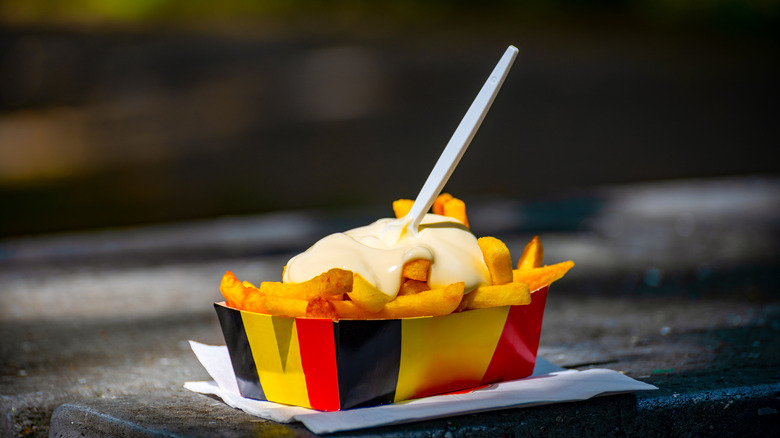 barmalini/Shutterstock
Belgium takes their frites up a notch. Salty, and double-fried, these appetizing bites are irresistible. Just when you think they can't get any better, they're typically served with creamy mayonnaise and precious teeny forks to guarantee ample mouthfuls (via Business Insider). They are traditionally made with bintje potatoes and aren't treated as a secondary dish, but as the star of the show. "We don't see fries as fast food, but as art," Belgian Chef Wim Ballieu told Visit Flanders. It's fair that Belgium takes great pride in its fries, considering they've been falsely attributed for so long.
If you're seeking these delectable fried bites, they can be found anywhere from five-star restaurants to the streets of Belgium. As of 2016, you could find a fry stand in each village of the country, putting the number of vendors at over 4,500. More than half of Belgian locals will tell you they eat frites at least once a week, so the country clearly caters to its hungry residents.