California Pizza Kitchen Fans Won't Want To Miss This 2 Meal Deal
California Pizza Kitchen (CPK) revolutionized the pizza game when it first debuted in Beverly Hills, California, in 1985. The chain was founded by former criminal defense lawyers Larry Flax and Rick Rosenfield, who decided to quit their jobs and enter the restaurant business together (via Mental Floss). "Everybody was saying, 'Two lawyers going into the pizza business? That's crazy,'" Rosenfield shared in an interview with the Wall Street Journal back in 2009. However, the longtime business partners definitely proved everyone wrong. After over 30 years, CPK has more than 200 locations across eight countries and U.S. territories (via CPK). The casual chain popularized California-style pizza by creating unique and innovative flavor combinations such as Thai Chicken, Wild Mushroom, and their signature BBQ chicken pizza.
Known for its fresh, homemade pizza dough, California Pizza Kitchen also boasts an extensive food selection that goes beyond the famous pies. According to Thrillist, pizza only makes up one-third of the menu, and customers at this popular pizza chain can enjoy a wide variety of delicious soups and salads, some of which are plant-based and gluten-free. For all you frequent CPK diners out there, you're in luck! According to Chew Boom, there's an incredible new deal that CPK is offering, and trust us, you won't want to sleep on it.
You can now get a world-famous CPK take-home pizza for just $8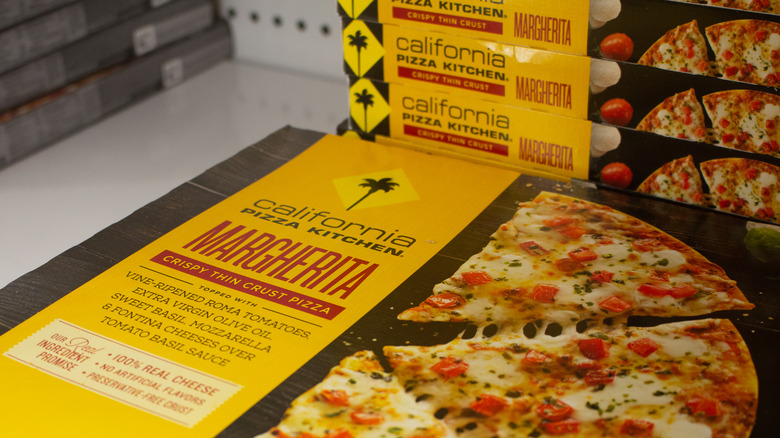 David Tonelson/Shutterstock
While we all love the convenience of a frozen pizza, they often pale in comparison to fresh, hot pies from your local pizza joint. However, if you happen to live in one of the 27 states with CPK restaurants, we have great news for you. Right now, CPK is offering a limited-time "Two Meal Deal" promotion, granting dine-in customers a CPK Take & Bake Pizza for $8 with the purchase of any entrée (via Chew Boom). With an increasing amount of people choosing to dine from the safety of their own homes, this incredible deal couldn't have come at a better time.
"Our guests want the same high quality California inspired food they'd expect at one of our restaurants when they take home CPK, and Take & Bake delivers," said Jim Hyatt, the CEO of California Pizza Kitchen, in a press release via Pizza Marketplace. "We think we've got the world's best tasting take-home pizza, and we're excited to share it with our guests through our new Two Meal Deal promotional offer."
These gourmet pizzas, usually priced at $16.99, are available in nearly 30 varieties, including restaurant fan-favorite options like the Original BBQ Chicken Pizza, Mushroom Pepperoni Pizza, Thai Chicken Pizza, and more. CPK fans can opt for a Take & Bake pizza made with hand-tossed dough or gluten-free cauliflower crust. The best part: These premier take-home pizzas are made with the same ingredients used in CPK restaurants around the country.