Chick-Fil-A Fans Are Trying To Make Sense Of This Absurdly Small Order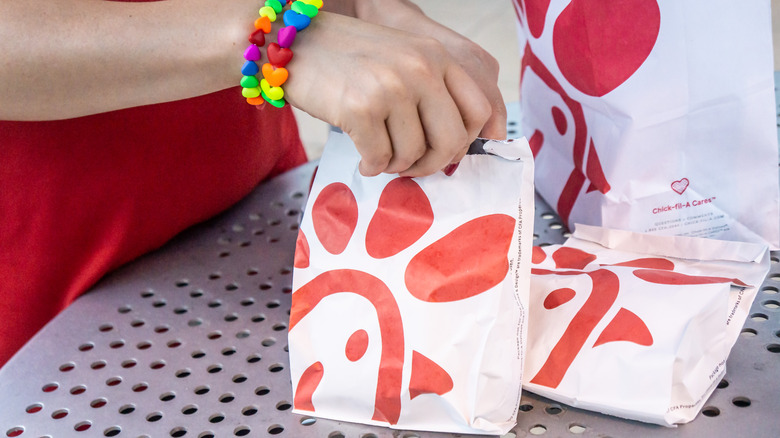 Jaimieandkyleshootstock/Shutterstock
Chick-fil-A is a common topic of discussion among foodies, so the question of what you should or shouldn't order inevitably comes up. Eat This, Not That! has an article focusing on must-try items on the chain's secret menu, like the spicy  Buffalo Chicken Sandwich, The Double Decker, or the Fried Chicken Club, which replaces the standard club sandwich's grilled chicken with the tastier (and some would argue naughtier) fried option. 
According to The Chicken Wire, the most popular Chick-fil-A dishes of 2020 included the chain's nuggets, the Original Chicken Sandwich, and Chick-fil-A Chicken Biscuits as far as entrées were concerned. Waffle Fries topped the list of sides. However, while many options might make sense in terms of enjoyability, some purchases might not add up in terms of dollars and cents. And Redditors were baffled by someone's decision to place a delivery order for just one item that they argue isn't even worth the cost of service.
Is there a big picture that explains this small order?
User TroopRoboto was so troubled by a pickup order they saw that they had to share it on Reddit for responses from the masses. They posted a picture of a single iced coffee in the pickup container with the caption, "I saw this questionable Uber Eats order today. Who orders 1 ice coffee from Chik-Fil-A (sic) and nothing else? That drink isn't even worth the service fees." 
Multiple users agreed that it made little monetary sense to order a single iced coffee for delivery from Chick-fil-A, saying things like "You'd think you'd throw on at least a snack too," and "Most people who are broke are broke because they waste money." However, others disagreed. In a comment with more than 50 upvotes, DCNupe83 said, "You have to realize not everyone looks at something with the same value proposition. Costing more with fees may not matter to someone who really just wants the convenience." They provided the hypothetical example of someone with a broken leg who badly wanted an iced coffee without having to drive.
Another user, rastikk, pointed out that "there are always special cases in situations like this. They might've had a gift card or some other balance that they might've needed to use up and they just wanted a drink and they had food already at home." So while it's easy to cast a side-eye at an order like this, some reasonable explanations might have been overlooked.