Wienerschnitzel Has Good News For Bratwurst Fans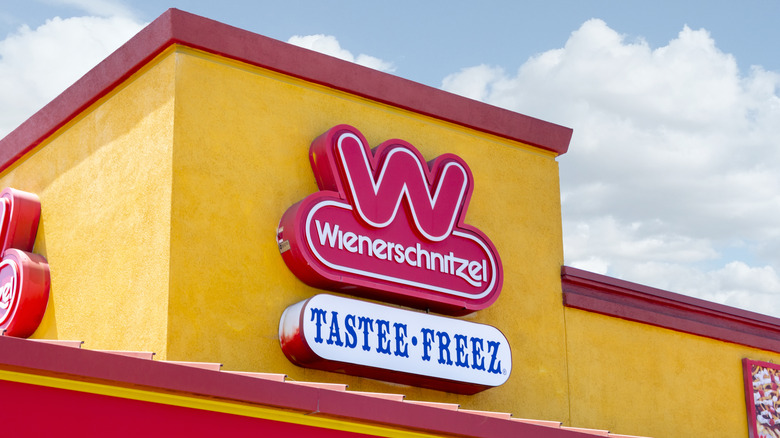 TonelsonProductions/Shutterstock
The fall season is almost upon us. While classic festivities like apple picking, state fairs, and Halloween preparations might be getting most of the attention, one special occasion is also coming up that deserves some of the focus: Oktoberfest. From September to early October, this German festival celebrates German culture, beer, and, of course, food. Though this cultural festival might not make it onto everyone's radar, the world's largest hot dog chain certainly hasn't forgotten about the event.
Wienerschnitzel has just announced that it will ring in the Oktoberfest celebrations with the release of its limited-edition grilled bratwurst sausages, according to Chew Boom. For many years, the chain has delighted fans every fall by adding this authentic German fare to its menu, and 2021 is no exception. The tasty seasonal offering features a savory grilled bratwurst sandwiched between a warm hot dog bun, topped with tangy mustard and your choice of either grilled onions or sauerkraut.
Customers are ready for these limited-edition sausages
Even if you don't live near an Oktoberfest festival, you can still partake in the fun by enjoying an authentic grilled bratwurst from the comfort of your local Wienerschnitzel. Bratwursts, unlike the sausages that are on the restaurant's menu year-round, originated in Germany, so there's no better edible way to celebrate the country's biggest beer holiday. There are many regional variations of the sausage, but they usually contain pork, veal, and seasonings such as coriander, nutmeg, and caraway, according to The Kitchn.
Fans of Wienerschnitzel's hearty grilled sausages won't want to wait, since this offering will only be available at participating locations nationwide for a limited time, per Chew Boom. And if social media is to be believed, there are certainly quite a few fans that are looking forward to this seasonal release. On Wienerschnitzel's Instagram post about the brats, one excited fan commented: "Mmmmmmm save me one I am on my way!"