KFC Australia's New Double Combines 2 Of America's Favorite Comfort Foods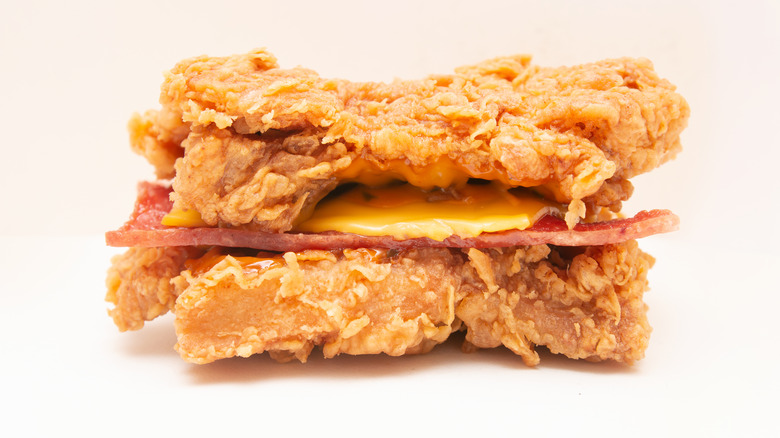 catinsyrup/Shutterstock
KFC Australia just launched a new Double menu item, combining two of the USA's favorite comfort foods. Previously, the Australian leg of the company offered a different "Double," namely The Zinger Tower Double (via Taste). This earlier creation answered the question: "What would happen if you used two pieces of fried chicken as a bun, instead of bread?"
Whether this was a long-asked question or what feels like what would come out of a college dorm room, KFC Australia was happy to make it happen. The Zinger Tower Double featured Zinger fillets in place of a bun, a crispy hash brown, a slice of cheese, and tomato sauce.
Now, the fast food juggernaut has a new meaty, cheesy member of the Double family: the Pizza Double (per Taste). Fortunately for Aussies who love fried chicken and pizza, this comfort-food mashup will be available at KFC locations across the country. The bad news, at least for American taste buds, is that it's not currently available in the U.S.
KFC Australia's new Pizza Double
Yup, the new Pizza Double is basically what the name implies: classic pizza toppings placed between two "slices" of breaded chicken. It has two spicy Zinger fillets, pepperoni slices, pizza sauce, and cheese. This debut also doubles as the return of a popular offering.
"After making a delicious first impression on Aussies 10 years ago, we're excited to bring back the iconic Double with a mouth-watering pizza twist," A KFC Australia representative told 7 News. "Long-time fans of the Double know that this beauty doesn't hang around for long though, so don't miss out this time around as we can't say when it'll be back again."
According to Chew Boom, the Pizza Double will set customers back $6.60 in U.S. dollars ($8.95 in Australian dollars). If you're currently in Australia or are hungrily planning to swim there if you have to, you can order it at the restaurant or through the KFC app until October 4th. While it's not available in the U.S., who knows? If it gets popular enough, maybe the fried chicken chain will bring it across the ocean.