The Maker's Mark Family Home Is A Bourbon Lover's Dream Rental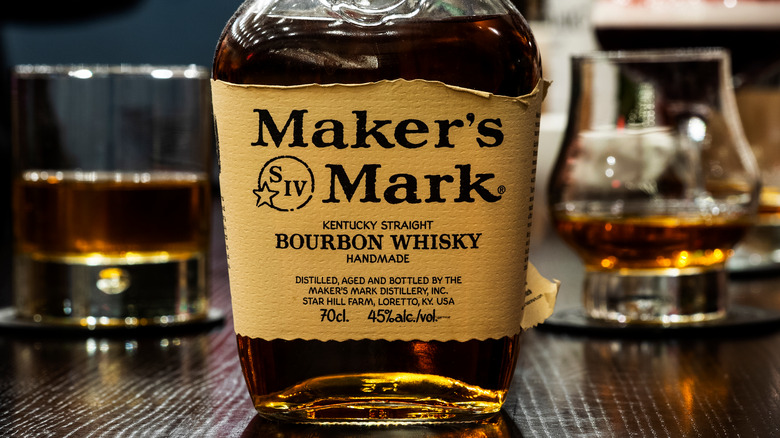 IgorGolovniov/Shutterstock
When picking out a vacation rental home, there are several factors to consider: the number of guests it can accommodate, the area it's located in, and, you know, whether or not it has a bar filled with 150 years' worth of whiskey made by the family who owns the home. If that last factor is non-negotiable, then The Samuels House has exactly what you're looking for, according to The Samuels House website. The historic home near Bardstown, Kentucky is owned by the family behind bourbon brand Maker's Mark; unsurprisingly, it's everything whiskey dreams are made of.
A stay at the vacation rental means experiencing "the Kentucky Bourbon Trail like a bourbon icon." Guests who are willing to shell out the $1,000 or more for a night at the 200-year-old three-bedroom home will find space for eight guests, a "chef's kitchen equipped with high-end appliances and custom-designed dinnerware," and (most importantly) a "whiskey ice maker" and specially made glassware for properly enjoying some Maker's Mark bourbon. For whiskey history buffs, a rewarding part of staying at Samuels House is seeing actual pieces of Maker's Mark history.
Some cool Maker's Mark family artifacts are on display at the Samuels House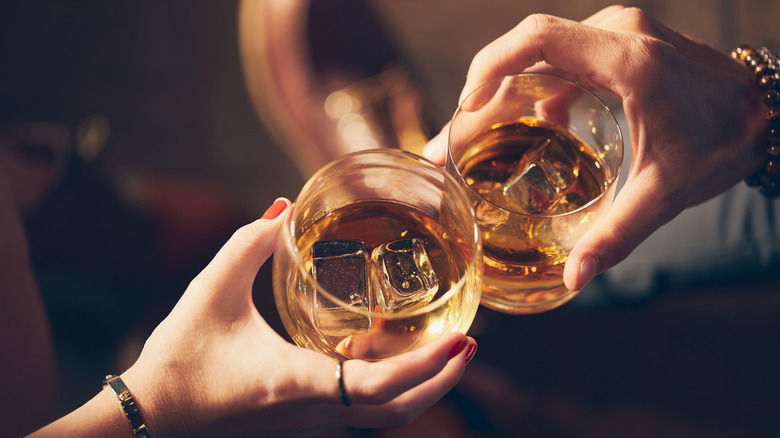 agbstock/Shutterstock
Even for non-whiskey drinkers, Maker's Mark is easy to spot on any liquor shelf with its telltale red wax seal. Though it was Bill Samuels, Sr. who created the recipe for Maker's Mark, according to the company's website, it was his wife Margie who came up with the product's name, the shape and look of the bottle, and that signature wax topper. Margie gave the bottles their signature red dip in her kitchen using a home fryer to melt the wax, and today, that appliance is on display at the Samuels House, says the website. (Though, we're assuming you can't actually use it to fry up anything during your stay.)
According to American Whiskey Magazine, the Samuels House also contains "a piece from [Maggie's] pewter collection" and a book on topic that became integral to the Maker's Mark story. Apparently, the book "inspired the name for Maker's Mark," as Maggie's idea came from the practice of English pewter makers leaving an identifying symbol on their creations, explains Whisky Magazine. If guests desire more drinking than history lessons, they can book add-on experiences like distillery tours and even one-on-one time with former Maker's Mark chairman Bill Samuels, Jr. (via The Samuels House).
A weekend filled to the rim with bourbon and history at the Samuels House? Sounds like a wonderful gift for any whiskey enthusiast. (Hint, hint).