Slow Cooker White Bean Soup Recipe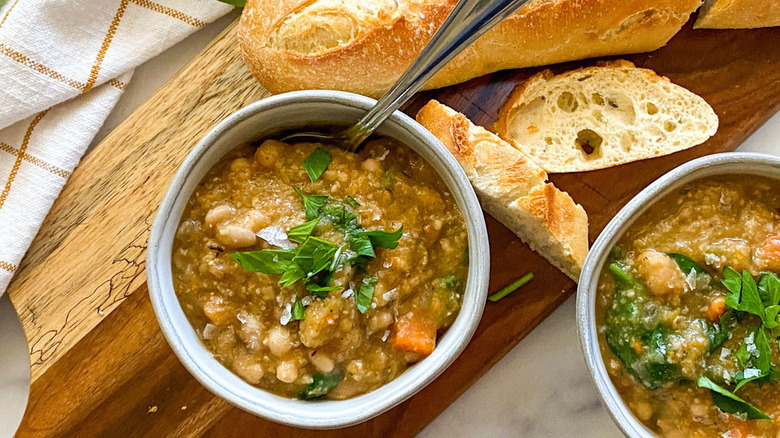 Miriam Hahn/Mashed
Whether it's a chilly autumn evening or a warm summer afternoon, soup is a hearty, filling dish that always pleases the palate. There are lots of different kinds of soup out there, and the possibilities are virtually endless when it comes to flavors and ingredients. Typically, you can count on a soup being super nourishing, thanks to plenty of vegetables, and this slow cooker white bean soup recipe definitely checks that box.
Recipe developer and wellness coach Miriam Hahn has the perfect white bean soup recipe to ease you into a colder season. Not only is this soup jam-packed with wholesome vegetables, but your slow cooker will do all of the work, making it as easy as it is fulfilling. "The flavor of this soup is rich and savory," Hahn says of the recipe. "[It's] warm and cozy!" Although this soup does take a few hours to cook, the effort you'll put into making it is incredibly minimal, making it the ideal recipe to prepare earlier in the day and serve for dinner. If you love soup and want a recipe to celebrate fall, give this slow cooker white bean soup a try!
Gather the ingredients to prepare slow cooker white bean soup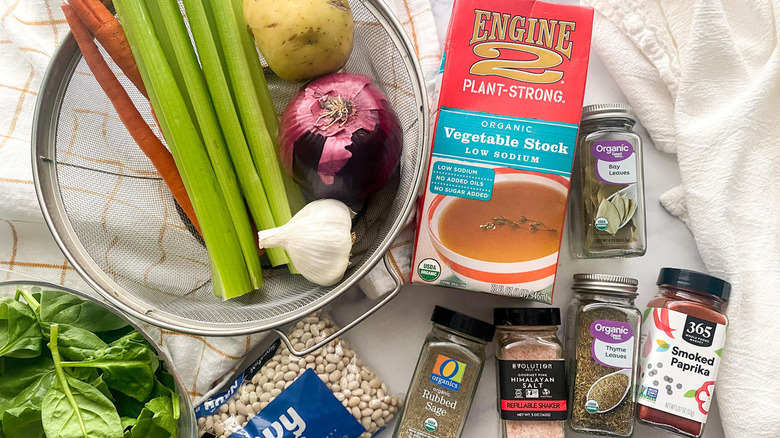 Miriam Hahn/Mashed
Before you can make this slow cooker white bean soup, you'll want to make sure that you have the right ingredients. You'll need white beans (either navy or northern), along with a diced red onion, chopped celery, diced carrots, minced garlic, a chopped Yukon Gold potato, vegetable broth, water, dried sage, dried thyme, salt, smoked paprika, a bay leaf, and spinach. Optionally, you can also garnish the soup with fresh parsley and scallions. You may also want some crusty bread for serving as it pairs wonderfully with this warm and hearty soup!
Rinse the beans, and then add the soup ingredients to the slow cooker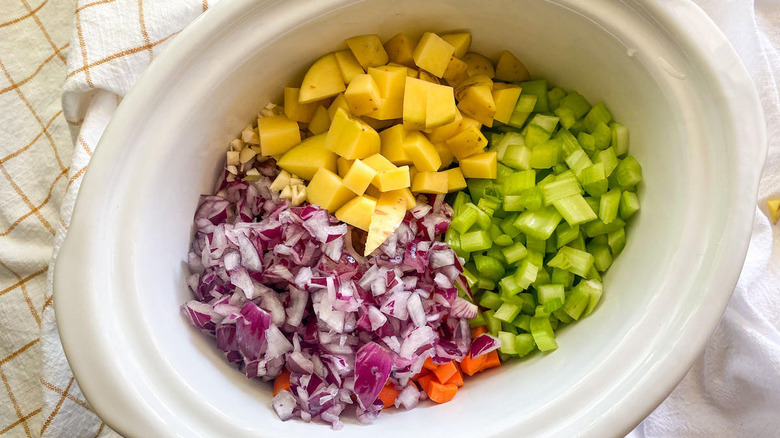 Miriam Hahn/Mashed
After you've finished chopping and preparing all of your vegetables, you can begin preparing the soup. Since everything will cook inside of the slow cooker, you can simply load all of the ingredients in there. Be sure to rinse your beans first, and then put them into the slow cooker, along with the red onion, celery, carrots, potato, vegetable broth, sage, thyme, salt, smoked paprika, and bay leaf. Stir all of these ingredients, and then set your slow cooker to high, and allow the soup to cook for four to five hours. Alternatively, you can cook the soup on low, and allow it to cook for eight hours.
After the soup cooks, use an immersion blender to thicken it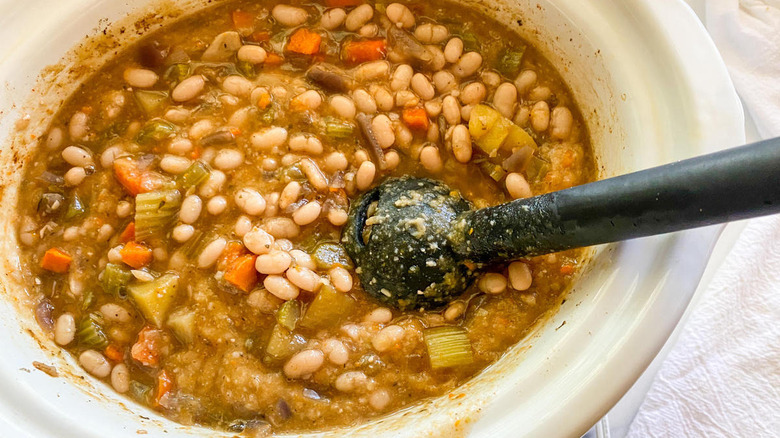 Miriam Hahn/Mashed
Once your soup has cooked, take an immersion blender, and stick it right into the soup within the slow cooker. Blend about half of the soup so it thickens up a little bit, but don't blend all of it so you still have plenty of vegetable chunks and beans. You can skip this step altogether, but by using an immersion blender, you can help add some extra texture to the soup and give it a heartier feel. 
Finally, add in the spinach, and give the soup one last stir, allowing the spinach to quickly wilt thanks to the heat of the soup. You're then ready to move on to the most exciting step!
Serve your white bean soup, and enjoy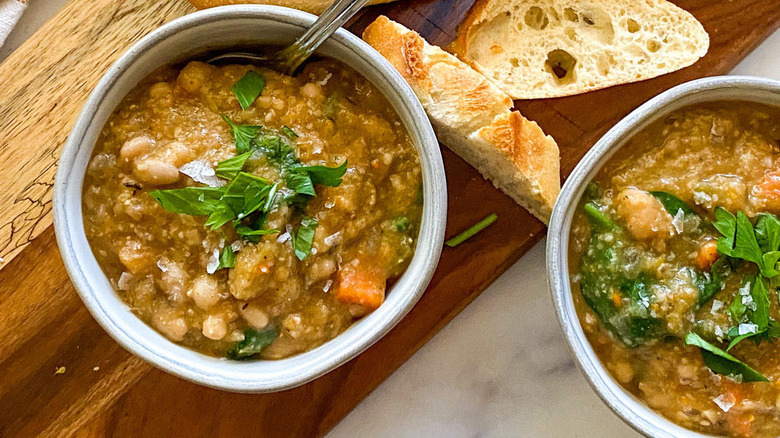 Miriam Hahn/Mashed
Now that you've stirred in the spinach, you're ready to enjoy this slow cooker white bean soup! Optionally, you can top each serving off with fresh chopped parsley and scallions. Hahn notes that this recipe pairs well with crusty bread, salad, or it can simply be enjoyed all on its own. Best of all, it reheats wonderfully both on the stovetop or simply in the microwave, making it the perfect option to meal prep at the beginning of the week. 
Soup doesn't have to be loaded with meat or dairy in order to be fulfilling. With this white bean soup recipe on deck, you can eat well knowing that each bite is filled with wholesome vegetables!
Slow Cooker White Bean Soup Recipe
If you love a hearty bowl of soup and want a recipe to celebrate fall, give this slow cooker white bean soup a try!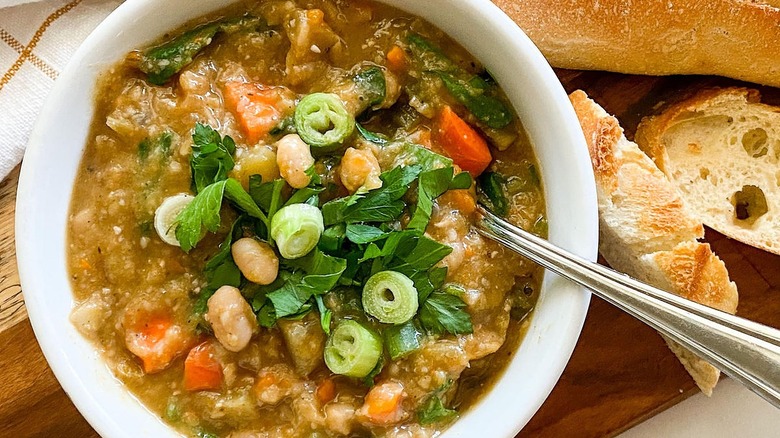 Total time: 4 hours, 7 minutes
Ingredients
2 cups uncooked white beans (navy or northern)
1 small red onion, diced
3 celery stalks, chopped
4 carrots, diced
6 cloves garlic, minced
1 Yukon Gold potato, chopped
4 cups vegetable broth
2 cups water
1 teaspoon dried sage
1 teaspoon dried thyme
1 teaspoon salt + more for serving
1 teaspoon smoked paprika
1 bay leaf
4 cups spinach
Optional Ingredients
chopped parsley, for serving
scallions, for serving
Directions
Rinse the beans under cold water in a colander.
Add the beans, onion, celery, carrots, garlic, potato, broth, water, sage, thyme, salt, smoked paprika, and the bay leaf to the slow cooker. Stir to combine.
Turn the slow cooker to high, and cook for 4 to 5 hours (or 8 hours on low).
Using an immersion blender or a stand-up blender, blend roughly half of the soup which will thicken the soup.
Add the spinach, and let wilt by stirring.
Serve, and enjoy!
Nutrition
| | |
| --- | --- |
| Calories per Serving | 289 |
| Total Fat | 1.0 g |
| Saturated Fat | 0.2 g |
| Trans Fat | 0.0 g |
| Cholesterol | 0.0 mg |
| | |
| --- | --- |
| Total Carbohydrates | 54.8 g |
| Dietary Fiber | 13.5 g |
| Total Sugars | 4.6 g |
| Sodium | 488.8 mg |
| Protein | 18.0 g |