Over 24% Of People Agree This Sandwich Shop Has The Best Bacon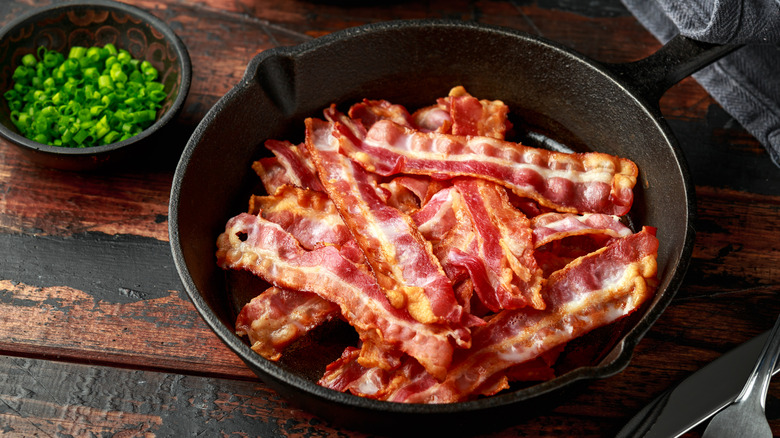 DronG/Shutterstock
Just as the old adage says there are many ways to skin a cat, the world's best chefs may tell you there are many ways to cook bacon so it can be served up in a memorable way. PopSugar rounded up some of the ways famous chefs make bacon, which you may have tried. These include oven-roasted (Ina Garten), candied with light brown sugar and finely ground black pepper (Alex Guarnaschelli), glazed with maple syrup and dijon mustard (Bobby Flay), or brined in a mix made with different sugars, salt, as well as apple cider (Alton Brown).
But what happens when you're cooking bacon for a crowd the way sandwich shops do? In 2016, Epicurious consulted New Jersey's The Greeks diner, whose owner John Koutsouris said he smothers the fatty pork in oil and then sticks it under a broiler to cook halfway, allowing the bacon to be ready to serve in just 2 minutes, after a quick session on a flat-top. Doing it this way makes it easy for this diner to cook up as much as four pounds of bacon at a time.
Of course, not all sandwich shop bacon is created equal. Mashed wanted to find out which place people believe has the best bacon, so we conducted a survey with 599 respondents based in the U.S.
Mashed readers think Firehouse Subs makes the best bacon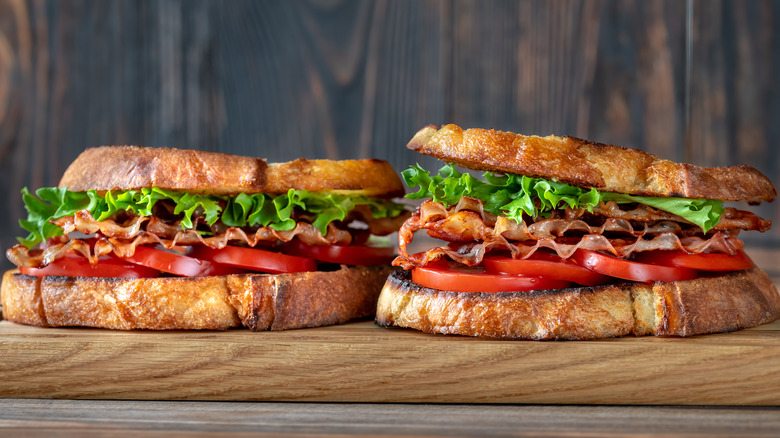 Alexander Prokopenko/Shutterstock
Given that your favorite sandwich shop probably needs to cook more than a few pounds of bacon every day, we can't imagine any chain going too fancy with the bacon prep, but we can see a place coming up with a way to make sure the bacon is at least uniformly cooked and hopefully tasty.
So which of your favorite sandwich shops delivered on the bacon front? According to the results of the Mashed survey, more than 24.37% of participants gave a shoutout to Firehouse Subs. Not far behind was the bacon at Jersey Mike's which 22.2% of respondents favored. Another 19.2% of respondents said Jimmy John's had the best sandwich shop bacon. 13.69% and 12.35% cast their ballots for Subway and Quiznos respectively, but just 7% showed Penn Station some love, and Blimpie brought up the rear with just over 1.17% saying that their bacon ruled.
You may not agree with the results, but they might also give you a good idea of where to go to get your next BLT fix.