Five Guys Has Good News For Fans Living In Australia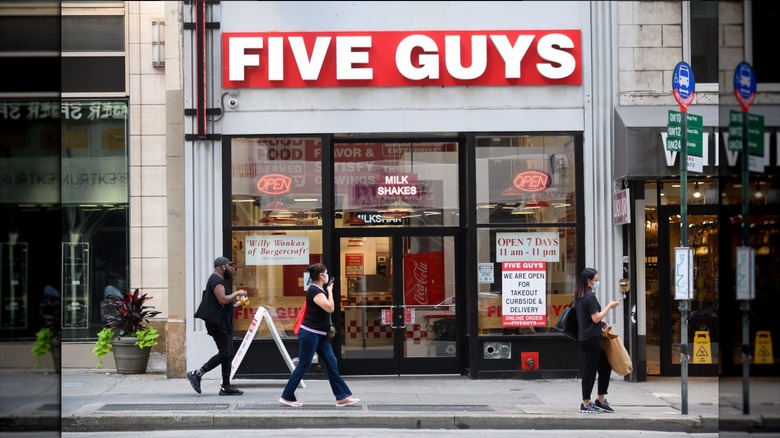 Noam Galai/Getty Images
Five Guys has arrived in Australia. New Chant reported yesterday that the beloved burger chain has opened its first location in Penrith, a city located 31 miles west of central Sydney. Despite this being the grand opening of the brand in a new country, they are only serving takeaway meals due to coronavirus restrictions. Still, the piece notes that the reception has been overwhelmingly positive. "Best milkshakes," one customer stated, also giving a nod to their "fresh and juicy" burger. "Chips properly-seasoned and yummy. Quantities larger than different burger joints," they added.
Vague details for this expansion have been floating around since at least July of 2020 when Hospitality Magazine carried the story. Five Guys has licensed out the expansion into Australia and New Zealand to Seagrass Boutique Hospitality Group. "Our commitment is to open approx. 20 stores nationwide in the right locations and with the right staff," David Ovens, chief marketing officer for Seagrass, explained. So, even if you cannot drive out to the Western Sydney area, you can expect a Five Guys to open in closer locations soon.
Is Five Guys different in Australia?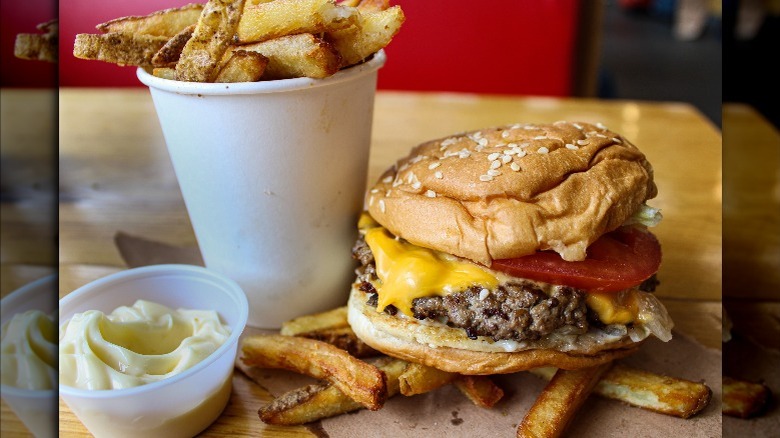 Irati Ventoso Cenzano/Shutterstock
When a franchise expands overseas, people often wonder what differences emerge to appeal to the locale. Obviously, Five Guys has only touched down, so there's plenty of time for them to develop their own specialties. Still, a difference is present.
On the Five Guys menu shared by News Chant, we can see that Australian Five Guys has beer, including Corona, Budweiser, and Young Henrys Pale Ale. The beer isn't too crazy as The Travel notes that McDonald's franchises in South Korea and across Europe serve alcohol. Besides this, the menu is a faithful recreation of what is on offer in the United States.
Whether the franchisee will push off into further independence is debatable as Five Guys seems to stick closer to a template. For example, in a comparison between Five Guys in the UK and the US, Business Insider explained that the only special items the British Five Guys have are HP Sauce, special milkshakes like the Biscoff biscuit​​ milkshake, and beer. So, nothing too bonkers. At least, however, that means that potentially new customers in Australia can expect the same quality that made Five Guys the success it is.