Doja Cat's Fiery Tweet Grabbed Taco Bell's Attention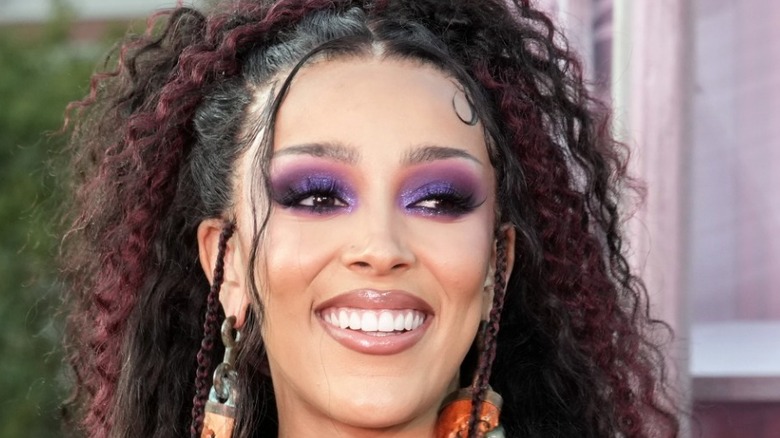 Ethan Miller/Getty Images
Rapper Doja Cat is just like the rest of us and enjoys grabbing a treat from Taco Bell every now and then. She's super passionate about it, too. Back in May this year, she wrote about one of her favorite discontinued items from Taco Bell: the Mexican Pizza. Her tweet was straightforward and made her intentions clear. "I will do everything in my power to bring back the Mexican Pizza from Taco Bell," Doja Cat wrote.
People were impressed by the declaration. A Redditor wrote that they're not a big fan of the singer, but her tweet was making them reconsider. Someone else added that the pizza should have stayed on the menu. "There really was no reason to discontinue a lot of items," they stated. "Taco Bell corporate has made lots of bad decisions lately."
That said, Doja Cat is staying true to her word and still petitioning for the Mexican Pizza on social media. Seems like she means business.
Doja Cat is not backing down
Doja Cat is not the only one who's a hardcore fan of Taco Bell's Mexican Pizza. According to Complex, the brand decided to remove the item last year while reworking the menu. Many customers were upset and tweeted about it. A fan expressed their sadness and wrote, "RIP Mexican Pizza. Got me through college when I was broke. Definitely in the fast food hall of fame."
Well, Doja Cat tweeted again about the Mexican Pizza yesterday and asked Taco Bell to explain why it hasn't responded to her yet. She also added a few other tweets, demonstrating her undying love for the menu item. The brand chose to come up with a response for the singer. "Doja wants Mexican Pizza," it tweeted. The text was accompanied by a series of note-taking emoji. Seems like her cries for the pizza haven't gone unnoticed, after all.