Red Lobster Fans Won't Want To Miss Its National Lobster Day Deals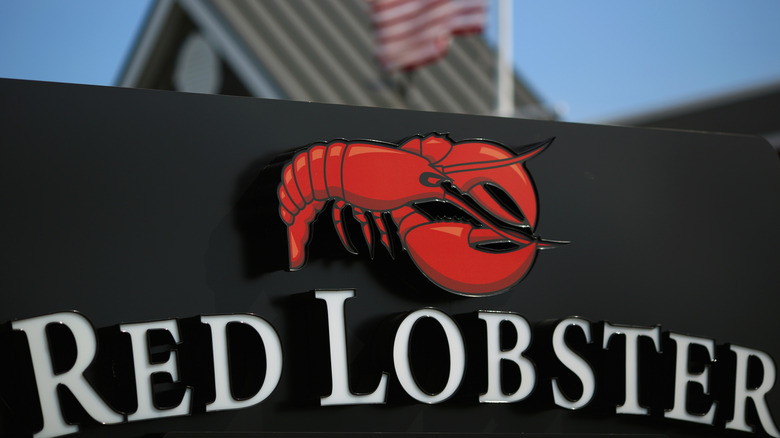 Bloomberg/Getty Images
Attention lobster fans: you matter. In fact, you matter so much that even the U.S. government has gotten in on the act. Every year since 2015, the U.S. Senate has passed a resolution at the behest of members from various New England states (this year's resolution was authored by New Hampshire's lawmakers, according to an announcement from Senator Jean Shaheen's office), to designate National Lobster Day. This year, that day is September 25. And if you're lucky enough to dwell within an even vaguely reasonable traveling distance of any participating Red Lobster restaurant, then the news is about to get even better. 
Throughout the month of September, the buzz has been strong with regard to how popular national seafood chain Red Lobster is going "all in" with its celebration of National Lobster Day 2021. As it happens, Red Lobster is offering two National Lobster Day deals, some of which are going on even as we speak, and all of which Red Lobster fans (or, really, anyone with an affinity for the Day's namesake crustacean) won't want to miss. Here's everything you need to know to keep you rich in all the lobster love through September 25, 2021.
The Million Points Giveaway at Red Lobster leads the way in National Lobster Day deals
On September 9, Red Lobster announced an unprecedented "Million Points Giveaway" in celebration of National Lobster Day (via PR Newswire). Specifically, since then, 100 lucky members of "My Red Lobster Rewards" have been receiving 500 Bonus Points each day. This deal is set to continue through National Lobster Day (September 25), when each of 250 even luckier members will receive a full 1,000 Bonus Points. These "lucky members" are being selected via daily lottery. Gold and Platinum members were awarded one entry apiece at the outset, with the opportunity to earn up to two additional entries daily during the promotional period by visiting their local Red Lobster or placing an order to go or via touchless delivery on the Red Lobster website's order platform. All the details are available here.
"We're thrilled to celebrate our most loyal My Red Lobster Rewards members and give them even more reason to celebrate one of our favorite days of the year, National Lobster Day!" said Lillian Murphy, Red Lobster's vice president, customer experience and loyalty, in a statement. "We love our members, and the One Million Points Sweepstakes is the perfect opportunity to reward them in a big way for simply doing what they do best — enjoying craveable seafood." 
But, as noted, the Million Points Giveaway is just one of Red Lobster's National Lobster Day deals for 2021.
But wait, lobster fans, Red Lobster has your back with another National Lobster Day deal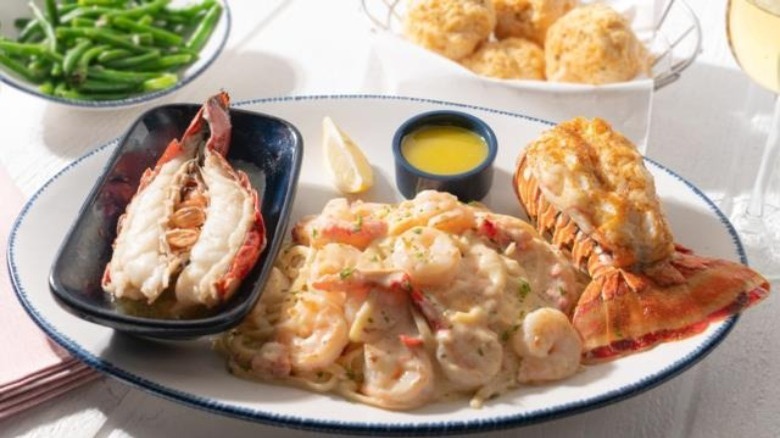 https://www.redlobster.ca/menu/lobsterfest-early-dine/lobster-lovers-dreamr
When Red Lobster announced its Million Points Giveaway in a press release, that might have been enough to have lobster lovers flocking to their closest location of the restaurant; but apparently it was NOT enough for the powers that be over at the popular national chain. On September 25, aka the actual National Lobster Day, Red Lobster will offer three of its popular lobster appetizers for just five dollars with the purchase of an adult lunch or dinner entrée.
The three appetizers being offered by the chain for five dollars on National Lobster Day 2021 are: the Lobster & Langostino Pizza, Langostino Lobster-Artichoke-&-Seafood Dip, and Bowl of Lobster Bisque.
Now all that's left is for you to gather up your fellow lobster lovers and high-"tail" it over to your local Red Lobster restaurant.