This Whimsical Restaurant Serves Food On Toilet-Shaped Dishes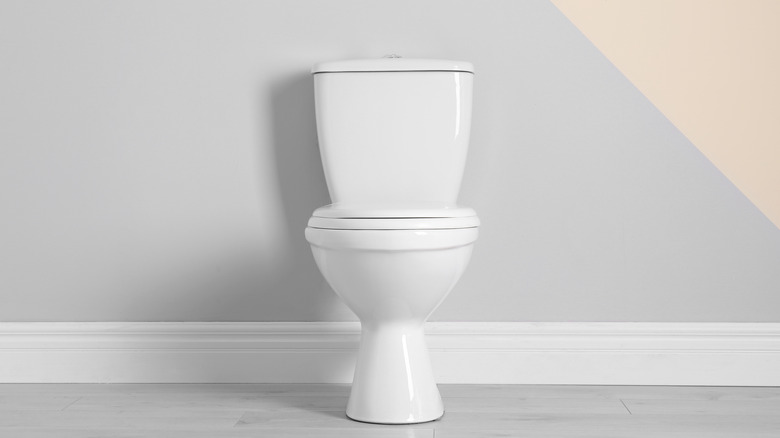 New Africa/Shutterstock
Eating out of a toilet doesn't seem very appealing, but Modern Toilet somehow makes the deed a little more appetizing. Located in Taipei, Taiwan, the restroom-themed restaurant was the brainchild of a group of friends who began selling chocolate ice cream out of dishes shaped like squat toilets (via Modern Toilet Restaurant). The business then expanded into a physical restaurant with menu items ranging from Chicken Spaghetti with Cream Sauce to Thai Spicy Stir-Fried Pork. According to One Step 4Ward, certain non-veggie meals, such as curry, come in a toilet.
It also has dishes with names that are more explicit yet comical at the same time. These include the Toilet Chicken Nuggets and The Poop Stuffed Pancake. However, its most recognizable dish is its Swirly Poop Ice Cream, which is chocolate ice cream that comes in a toilet-shaped dish. According to the food blogger, this dessert was complimentary with his meal.
Planning your visit to Modern Toilet
The One Step 4Ward blog post 100% recommends a visit to Modern Toilet. The restaurant was centrally located in Ximending, accessible by the MRT subway system, and open for lunch and dinner every day. Unfortunately, the restaurant announced in a recent Instagram post that it was closing for a "hiatus indefinitely" due to complications caused by COVID-19. Sadly, Modern Toilet is one of many beloved restaurants that was forced to close due to the effects of the pandemic. In 2020, an Independent Restaurant Coalition predicted that 85 percent of independently-owned restaurants would go out of business that year.
Certainly, Modern Toilet would make our list of themed restaurants you need to visit if it was still in operation. After all, it's hard to compete with a restaurant that makes eating out of a toilet such an enjoyable experience. If this iconic restaurant decides to reopen in the future, it is definitely worth "squatting" by.